Ten Things To Do In Victoria, British Columbia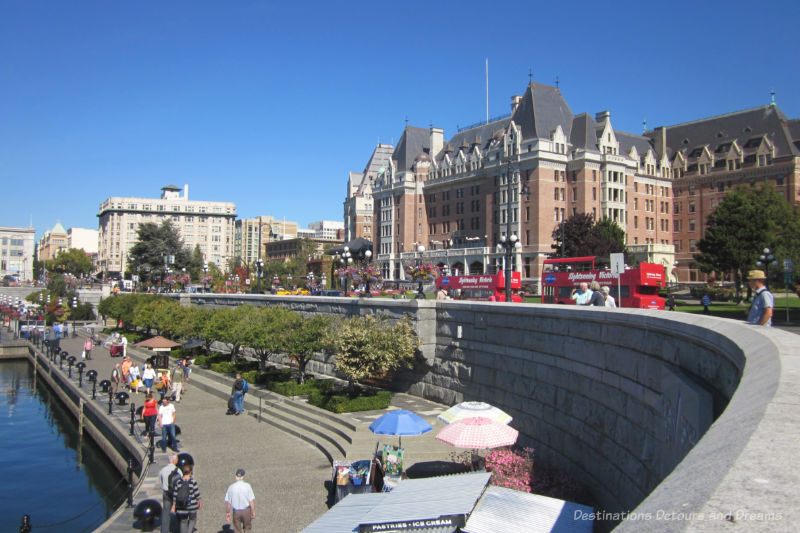 Top attractions and things to see and do in Victoria, British Columbia, Canada
The mildest climate in Canada, the natural beauty of the Pacific Coast, colourful gardens, interesting architecture, a rich history, arts and culture, a diverse cuisine scene featuring locally-sourced food, and a relaxed atmosphere make the city of Victoria, British Columbia, popular with tourists year-round.
The oldest city in the Pacific Northwest sits on the southern tip of Vancouver Island. Archaeological records show the presence of First Nations people on the island for over 13,000 years. The three main First Nations groups on the island are the Kwakwaka'waka, the Nootka, and the Coastal Salish. British explorer Captain James Cook set foot on Vancouver Island in 1778.
Permanent European settlement came with the gradual movement of the fur trade companies to the Pacific Coast. In 1843, Chief Factor of the Hudson's Bay Company James Douglas selected the site for Fort Victoria, a fur trading post. In 1858 gold was discovered on the lower Fraser River on British Columbia's mainland. Many miners came through Victoria, where they needed to get a mining license, on their way to the Fraser Valley. Victoria was incorporated as a city in 1862. It was proclaimed the provincial capital when British Columbia became a province of the Dominion of Canada in 1871.
Today, Victoria remains the capital of British Columbia. It is home to Canada's western naval base and a major fishing fleet. It boasts a beautiful harbour.
Victoria has a warm-summer Mediterranean climate. Dry, sunny summer weather makes summer time popular with visitors, but tourism is a major industry year-round. Victoria enjoys the mildest winter weather in Canada. Rain and grey skies are common in winter, but there are typically only 15 days in the year when the temperature dips to freezing or below.
The Victoria International Airport is located an approximately 30-minute drive north of downtown Victoria. BC Ferries runs several ferries a day for both vehicle and foot passengers between mainland British Columbia and Schwartz Bay, which is about a 35-minute drive from downtown Victoria. The Black Ball Ferry Line operates a ferry between the Inner Harbour and Port Angeles, Washington. The high-speed Victoria Clipper passenger ferry runs between Victoria and Seattle, Washington. (Note: this service is currently suspended because of the Canada/U.S. land border closure.) Seaplanes come into Victoria's Inner Harbour from Vancouver, British Columbia and Seattle, Washington.
I've visited Victoria many times over the last several decades. My sister has lived there for more than 35 years. Like me, she loves to travel and explore. She's shared favourite local attractions with me when we've visited. I explored further when my husband and I spent several weeks housesitting in the city. Here are my recommendations of things to see and do in Victoria.
1. The Inner Harbour
Explore the scenic Inner Harbour on a sight-seeing cruise. Look for local marine life, see historic buildings along the shore, and watch the activity of boats and seaplanes in the harbour. Whale-watching tours that take you beyond the harbour run from April through October. Victoria's waters are home to three resident pods of orca whales.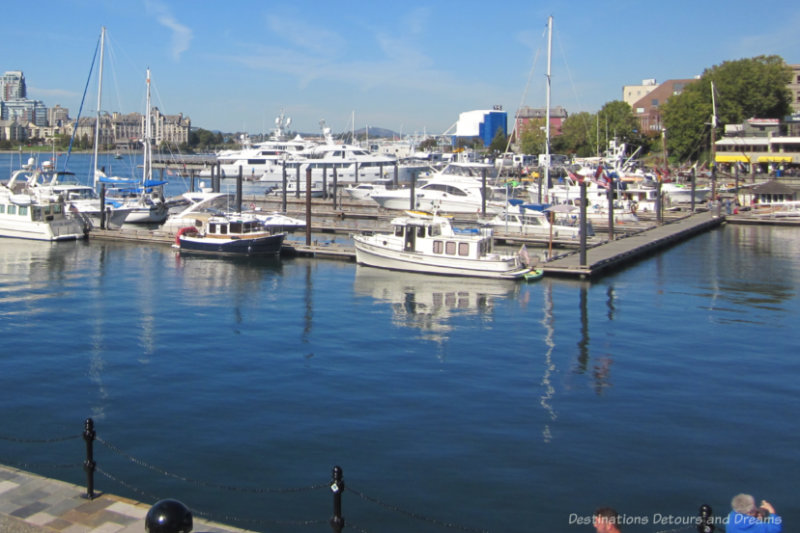 Tiny bright yellow water taxis, known as "happy boats" or "pickle boats," sail between 14 stops along the harbour. Hop on and off as you explore the city. This service usually runs from March to October. They also stage a unique, fun, and free show during the season: the Ferry Water Ballet. Read more about it here.
2. Victoria Downtown
Victoria's downtown borders the Inner Harbour. With historic landmarks, heritage buildings, modern shops, pubs, restaurants, and beautifully landscaped area, walking and browsing through downtown is a wonderful way to spend an afternoon or an entire day. Read more about why I love wandering in downtown Victoria.
3. Canada's Oldest Chinatown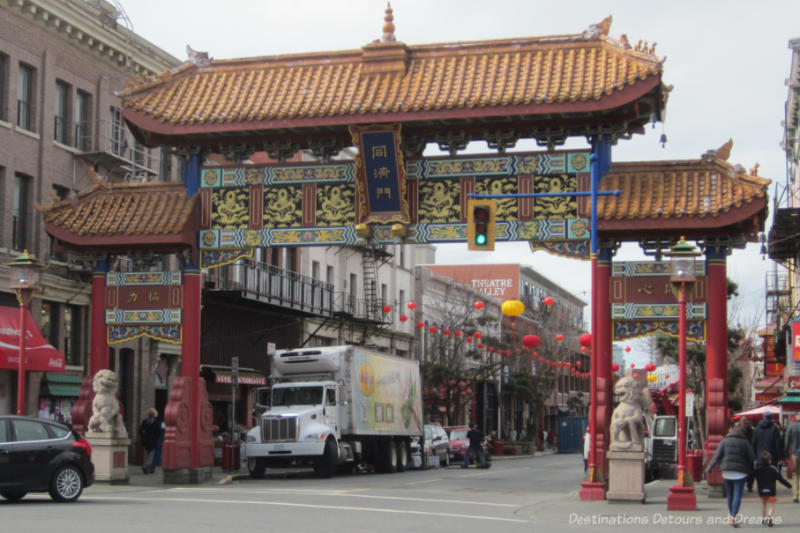 Victoria is home to Canada's oldest Chinatown and the second oldest in North America, after San Francisco. Dating to the mid-1800s, the area just north of downtown remains a colourful lively place today. You'll find heritage buildings, Chinese history and culture, trendy restaurants, unique shops, and the narrowest street in Canada (Fan Tan Alley). Take a guided tour, use this heritage map to create your own self-guided tour, or simply wander through the area.
4. Fisherman's Wharf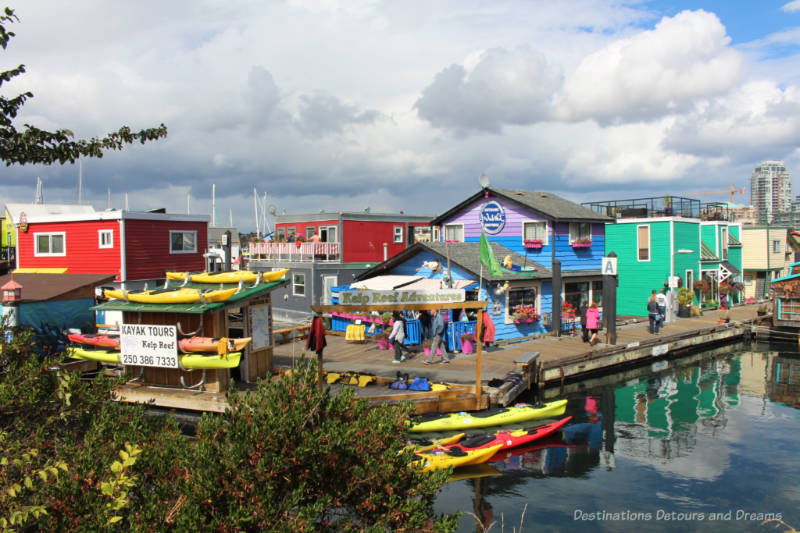 Around the corner and a ten-minute walk from the Inner Harbour you'll find a part of Victoria I love to return to again and again. Food kiosks featuring fresh seafood and a handful of unique shops line the docks where you can watch fishing boats unload their catch and otters and other sea life play in the waters. A community of colouful float home sit at one end of the Wharf. For more photos and information. read my Fisherman's Wharf post.
5. Gardens
Victoria is known as the City of Gardens. Its downtown is beautifully landscaped and its temperate climate brings out the green thumb in residents. There are also several gardens for visitors to enjoy.
Butchart Gardens
The most well-known of the city's gardens is Butchart Gardens, which was built on the site of a former limestone quarry in Brentwood Bay 30 minutes from downtown Victoria. The view of the lush greens and swaths of colourful blooms of the Sunken Garden upon entry takes your breath away. You'll find many other delightful garden areas beyond that. Each year the Gardens plants millions of bedding plants in over 900 varieties. This National Historic Site offers garden beauty in all seasons.
Abkhazi Garden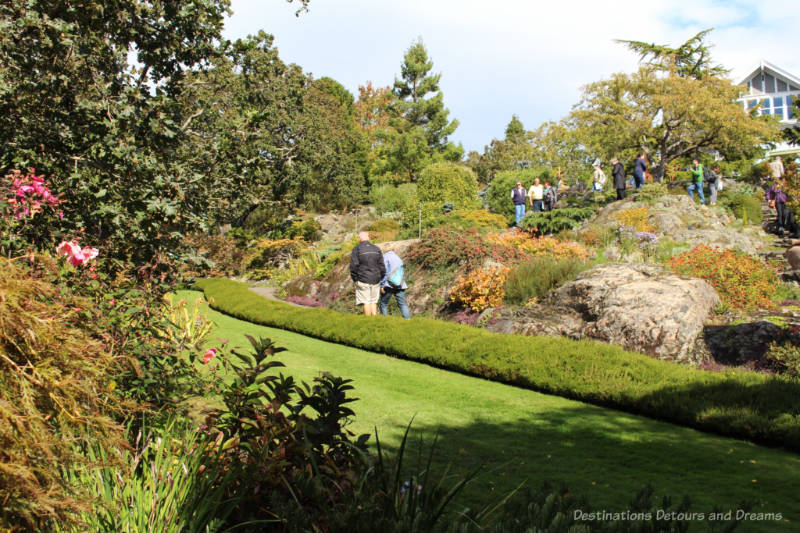 Abhkazi Garden, nestled in a residential area of the city, is known as "The Garden That Love Built." Prince and Princess Abhkazi created this tranquil haven over a period of 40 years and carefully chose plants to enhance the natural beauty of their property with its glaciated rock outcroppings and native Garry oak trees.
Government House Gardens
Paths connect a series of gardens on the grounds of Government House, the official residence of the Lieutenant Governor of British Columbia. The gardens, which are free to visit year-round, are maintained by a dedicated group of volunteers. The southern slope of the grounds contains an urban woodland of native Garry oak trees and wildflowers.
Finnerty Gardens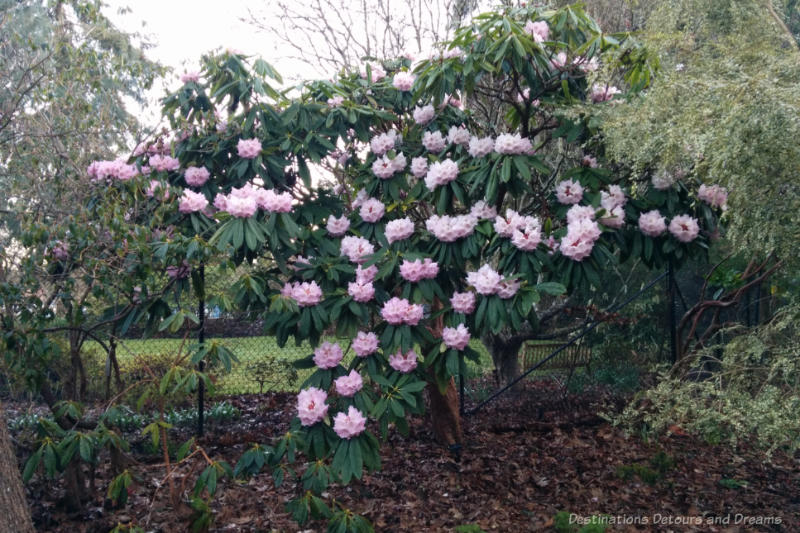 The south-western edge of the University of Victoria houses the peaceful Finnerty Gardens. Paths meander through wooded areas from one garden area to the next, each feeling like its own little sanctuary. The gardens were developed after Jeanne Buchanan Simpson left her Cowichan Lake Estate with its notable collection of rhododendron species to the university. The university moved many of the rhododendrons to the campus to become the nucleus of a new garden. The rhododendrons are at their best in April and May, but there is plenty to enjoy in the garden all year. Entrance is free. Use this map as a guide.
Hatley Park Gardens
In 1910, the Dunsmuir family moved into their retirement home built by Samuel Maclure to look like a medieval castle. Hatley Castle was then the largest private residence on the west coast. Between 1913 and 1914, the family hired landscape architects to design the grounds. Today those gardens, situated on the shore of Esquimalt Lagoon with a spectacular view of the Olympic Mountains across the Strait of Juan de Fuca, remain largely intact. The estate is now the home of Royal Road University, but Hatley Park Gardens are open to the public. There is an Italian Garden, a Rose Garden, and Japanese Gardens.
The Gardens at HCP
The Gardens at the Horticulture Centre of the Pacific (HCP) include many types of gardens with year-round interest. Herbs, small lot urban gardening, Mediterranean plants, drought-resistant gardening, and medieval cloister gardens are just a few of the garden types represented. The largest outdoor Bonsai Garden in Canada can be found here. The Gardens at HCP is the only garden listed in this section I have not yet visited. Something for my next visit to Victoria.
Beacon Hill Park
Beacon Hill Park is a 200-acre park within walking distance of downtown hotels and the Inner Harbour. It contains several garden areas which include a sundial garden, an alpine garden, and a rose garden, but there is a lot more than gardens to the park. Beacon Hill contains walking trails, ponds, treed areas, sports fields, tennis courts, playgrounds, and a children's farm. You'll find the world's tallest free-standing totem pole here. Peacocks roam freely through the park. Use this map as a guide.
6. Royal BC Museum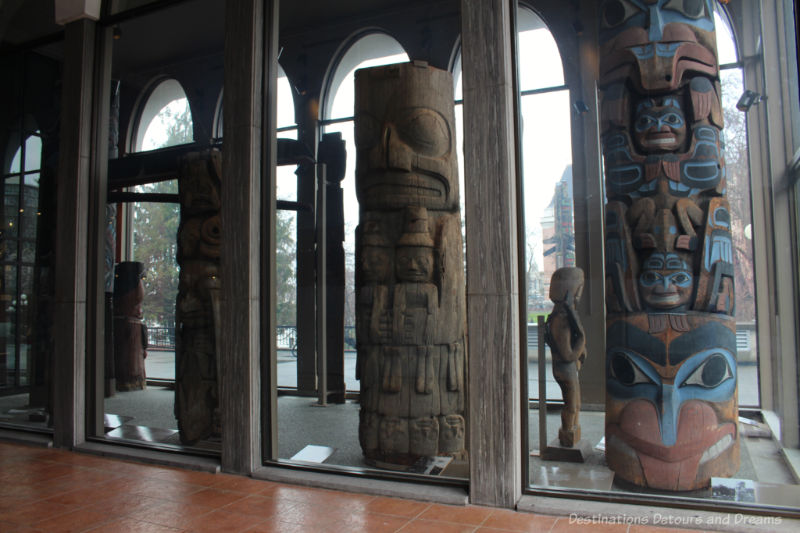 The world-class Royal BC Museum tells the stories of British Columbia. Displays recreate the magnificent landscapes of the province and tell its natural history. Human history includes First Peoples traditions and art with an impressive Totem Hall as a central exhibit. More modern history contains information about the mining and lumber industries, a replica of Captain George Vancouver's 1789 H.M.S Discovery ship, and a recreation of a late 1800s town. This is a museum that invites one to visit again and again.
7. Craigdarroch Castle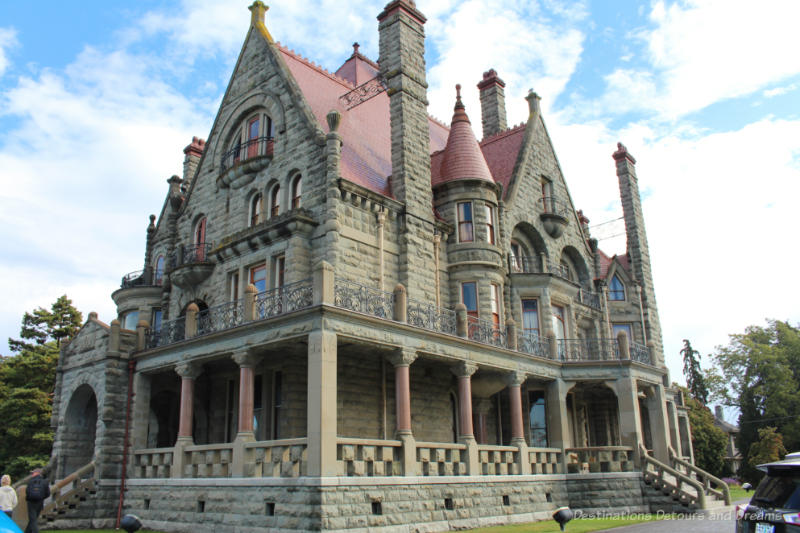 Craigdarroch Castle, now a Designated National Historic Site, was built in the late 1880s as a stately home for the wealthy Dunsmuir family. From 1919 to 1979, the house served a variety of other purposes, including being used as a hospital, college, and music school. Today it is a house museum restored to what it would have looked like in 1890. As you tour the house you get a glimpse into what life in the house would have been like at the time. Additional information as to how the house was used over time and the role it played in the history of Victoria, British Columbia makes the tour feel like a living walk through history.
8. Tea Time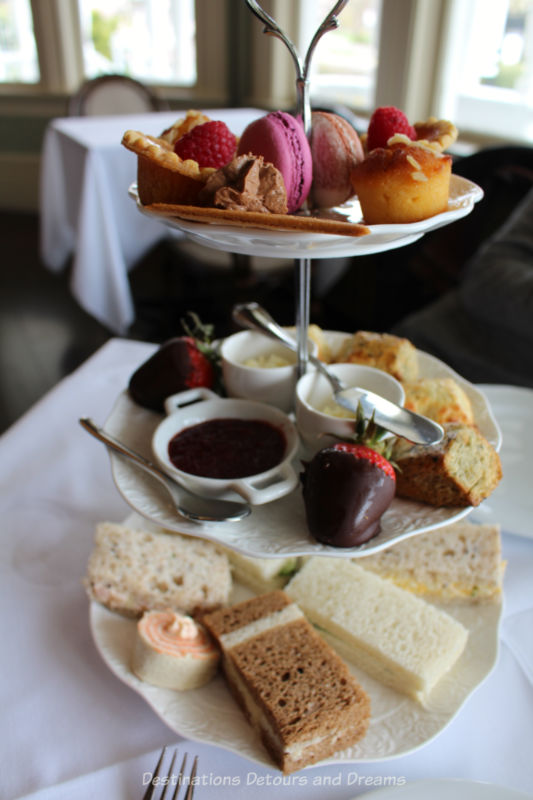 Victoria is sometimes called the most British city in Canada. What can be more British than afternoon tea with fancy sandwiches, scones, clotted cream, and sweets? The tradition, with some West Coast twists, is alive and well in Victoria.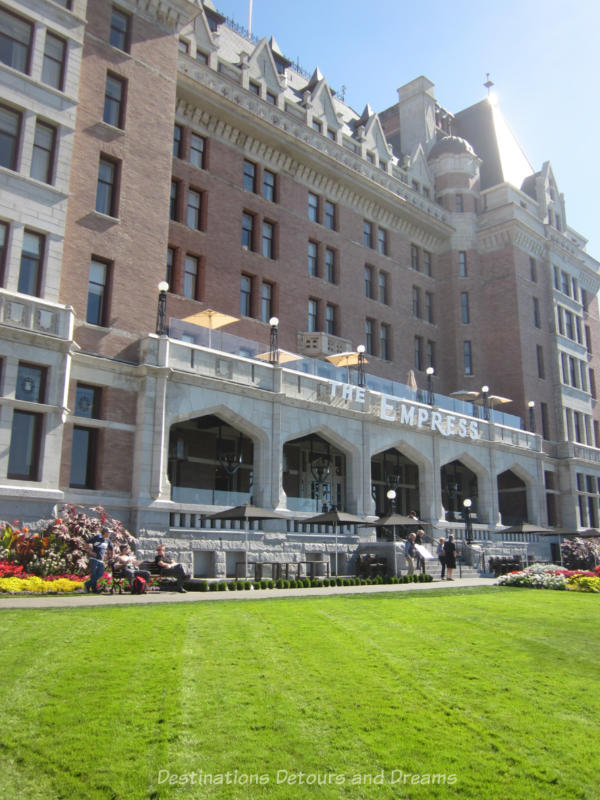 The most iconic place to take afternoon tea is at the elegant Fairmont Empress Hotel. A National Historic Site, the hotel was built in 1904. With stone and brick clad walls, a steep-pitched copper roof, and lovely landscaped grounds, the hotel, designed by preeminent British Columba architect Francis Rattenbury, is an impressive site. It serves half a million cups of tea annually.
The Empress is not the only place in Victoria to take afternoon tea. I wrote about my tea at the Pendray Tea House, in a restored Victorian mansion.
Other places in Victoria for afternoon tea include the Teahouse at Abkhazi Gardens, Butchart Gardens, Government House, the Pacific Hotel, and the White Heather Tea Room. Most feature West Coast specialties. Many offer vegetarian, vegan, or gluten-free options.
Murchie's Tea & Coffee has been importing and blending tea since 1984. They have over 130 varieties of tea you can purchase to brew at home. There are several locations in Victoria and in Greater Vancouver. At Murchie's Café in downtown Victoria, you can enjoy delicious baked goods while sipping on one of their unique blends.
9. Beaches and Oceanside Walks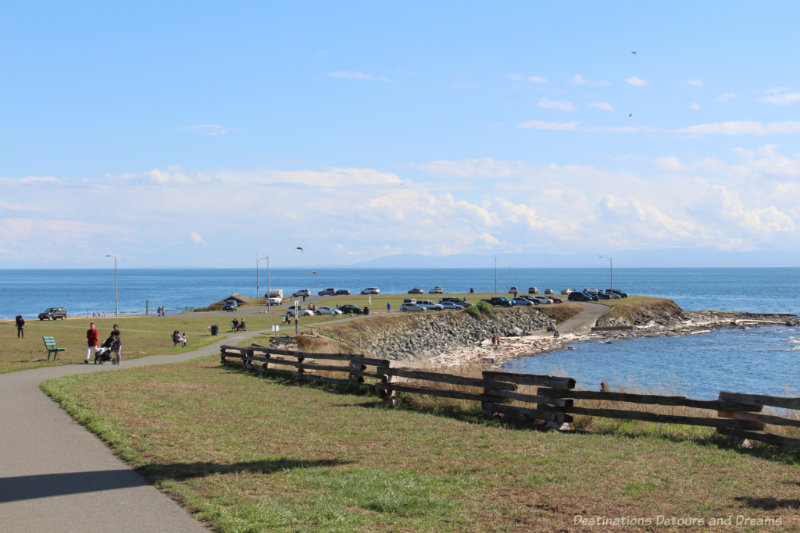 Surrounded by water on three sides, Victoria boasts a number of beaches and walkways with ocean views.
Cattle Point in Uplands Park runs along the coastline of Oak Bay, a seaside community east of downtown with character homes, unique shops, and coastline views. You'll find a boat ramp and picnic tables at Cattle Point as well as paved walkway to Willows Beach.
Willows Beach is one of Victoria's most popular swimming beaches. It features views of Mount Baker, a wide, sandy beach and shallow, protected waters. You'll also find a playground and concession stands.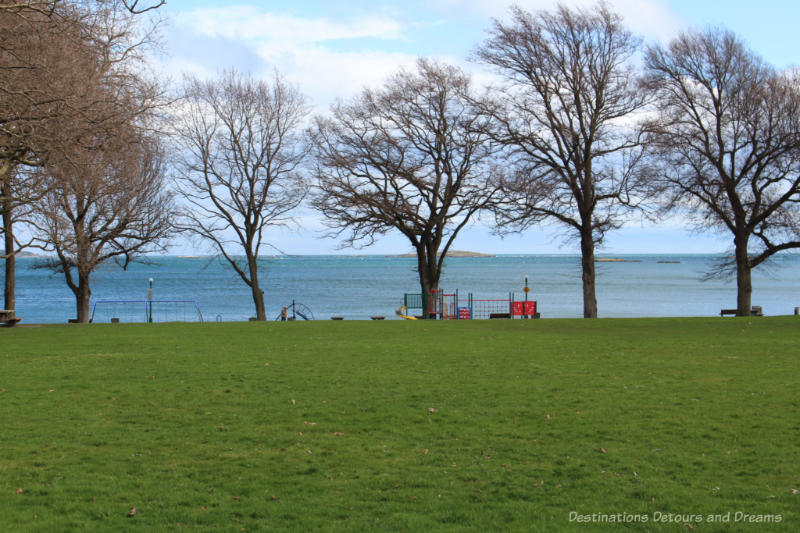 Cadboro-Gyro Park offers a sandy, log-strewn beach, a playground with a giant octopus structure, a zip-line, and views of the Strait of Juan de Fuca and the Olympic Mountains.
The Ogden Point Breakwater, a large concrete pier jutting into the sea from Dallas Street, is a popular walk not far from downtown. Cruise ships dock at Ogden Point. There is also a heliport. Walkers can watch harbour traffic as well as sea life and seagulls as they stroll the pier.
The Songhees Walkway, also known as the West Bay Walkway, in Victoria West offers views of the Juan De Fuca Strait and the Olympic Mountains. Benches scattered along the walkway offer a chance to rest and take in the views as you walk, run, or jog the trail. At one end, the Johnson Bridge with walking and bike lanes takes you into downtown Victoria.
10. Art
Housed in a combination of contemporary exhibition spaces and the 1889 Spencer mansion, the Art Gallery of Greater Victoria is the largest public art gallery on Vancouver Island. In addition to historical and contemporary art, it holds one of the largest collections of significant works by celebrated Victoria artist Emily Carr and has the most comprehensive collection of Asian art in Canada.
The Bateman Gallery hosts the largest collection of works by world-renowned artist and naturalist Robert Bateman. Bateman's paintings feature wildlife in its natural habitat and encourages the viewer to closely observe the natural world. Bateman has received numerous honours and awards and is recognized by the Audubon Society as one of the 20th century's "heroes of conservation." The Gallery also stages a rotation of nature-inspired exhibits.
Other private galleries in downtown and Oak Bay carry Northwest coast native art, contemporary Canadian art.
Bonus: More Things To Do In Victoria
British Columbia Parliament Buildings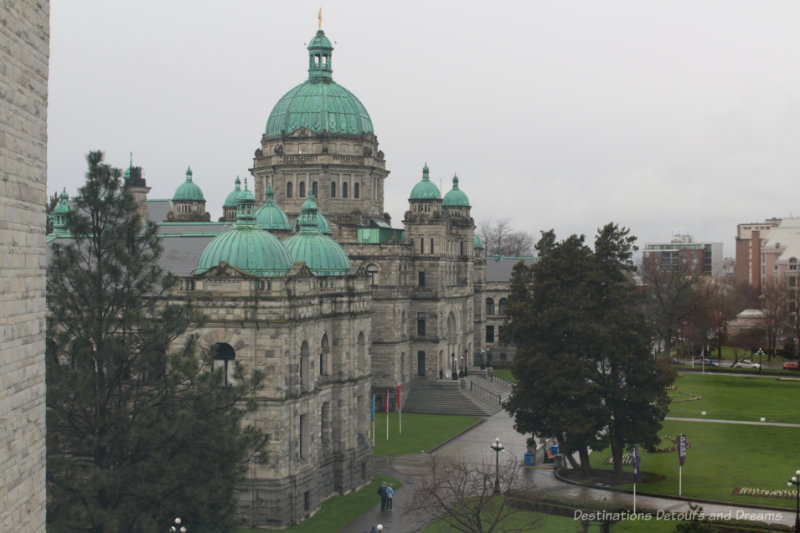 The British Columbia Parliament Buildings, seat of the Legislative Assembly of Canada, overlook the Inner Harbour. A competition was held in 1892 to select a design. Sixty-five sketches were submitted. Architect Francis Rattenbury won and construction began in 1893. After the success with this building, Rattenbury went on to design many other well-known buildings in British Columbia. Free guided tours of the Parliament Buildings are offered Monday to Friday. See here for more information.
Fort Rodd Hill and Fisgard National Historic Site
Tour through secret bunkers, explore coastal gun batteries built over 100 years ago, and see original 19th century buildings at Fort Rodd Hill. Visit Canada's oldest west coast lighthouse and enjoy stunning ocean views. Wander trails through a rare Garry oak meadow.
Wentworth Villa Architectural Heritage Museum
Wentworth Villa is a museum focused on Victoria's residential heritage. It highlights the architecture of heritage homes and tells the stories of those who lived in them. The museum itself is housed in a heritage home.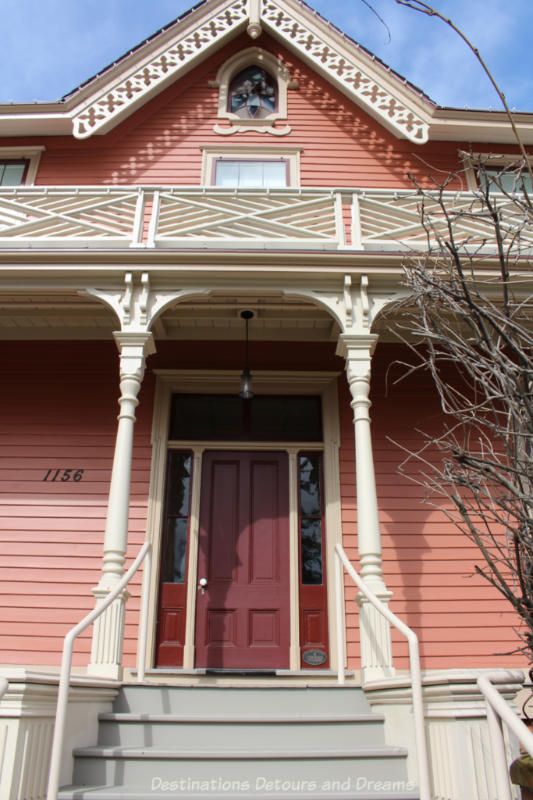 The home was built in 1863 and underwent extensive restoration from 2012 to 2016. Restoration focuses on returning a space to its original appearance retaining the maximum number of original building materials, doing repairs with minimal changes to the original building, and using the same methods as were originally used.
I have not yet visited the museum since it opened, but I did tale a tour after most of the restoration was complete and the museum prepared for future opening.
Ross Bay Villa House Museum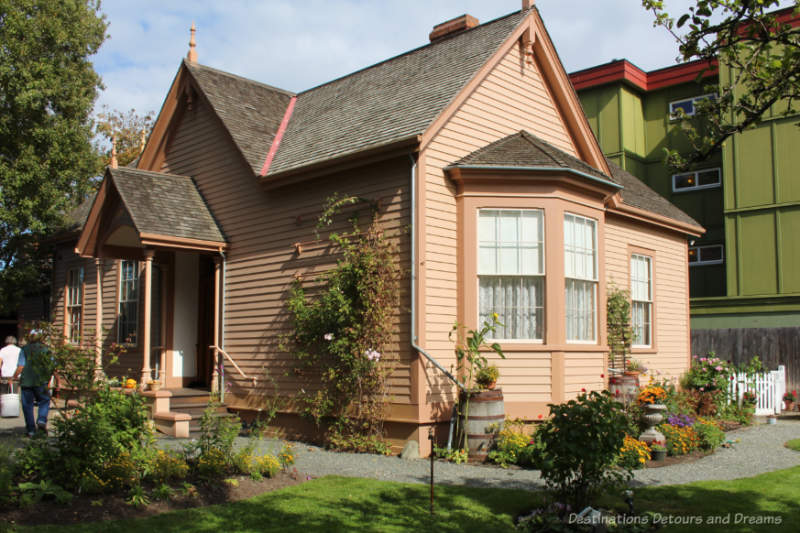 Ross Bay Villa is an historic house museum that has been restored to what it would have looked like when the Ross family lived there after the house was built in 1865.
The house was restored and is maintained by a volunteer community group. Tour times are limited. Check the website for the schedule or call to arrange a special tour.
Carr House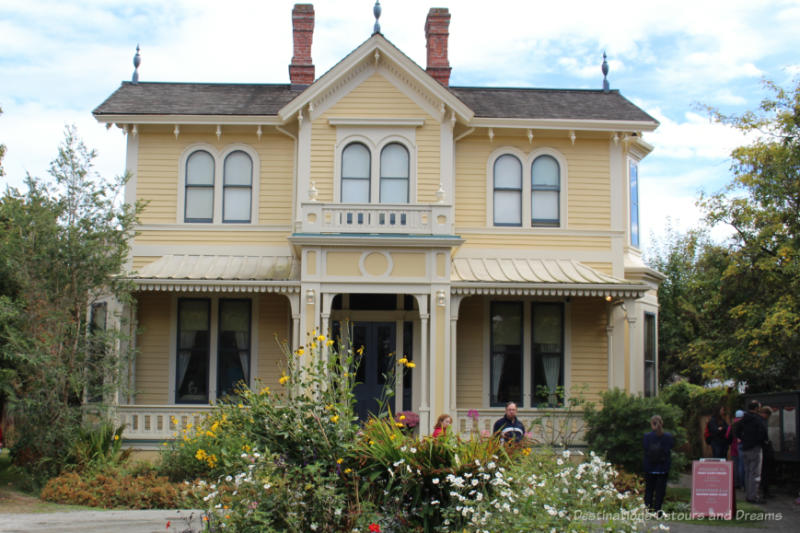 Emily Carr, born in 1871 in Victoria, was a painter and writer inspired by the coastal environment of British Columbia. The trees, forests, and coastal skies of British Columbia were principal themes in her works. She also painted Indigenous subjects. She wrote several books. Her first book, Klee Wyck published in 1941, won the Governor General's Award.
Her childhood home has been restored and is now a National Historic Site. It operates as an interpretive centre dedicated to her life, her art, and her writings.
Point Ellice House
Built in 1861-1862, Point Ellice House is one of Victoria's oldest homes. The O'Reilly family sold the home complete with 108 years of family possessions to the Province of British Columbia in 1975. Today the house museum can be toured on weekends. I have not yet visited this National and Provincial Historic Site myself, but have been told by a friend that it is well worth visiting.
Self-guided Heritage Tours
Several self-guided heritage walking tours available at this site (or in printed copy at the Tourism Victoria Information Centre) explore the hidden secrets of Victoria. Learn about Chinatown, the Gold Rush madness, the oldest police force in Canada which had its hands full during the Gold Rush era, and ghosts and ancestral spirits haunting the city.
Historic Cemeteries
While some may find visiting cemeteries when you travel a macabre thing to do, other travellers seek out gravestones of famous people and appreciate the glimpse cemeteries can give into a city.
The oceanside Ross Bay Cemetery, a good example of a Victorian-era cemetery, has been in continuous use since 1872. Mature trees and views of the water make this a peaceful spot to inspect the monuments. Prominent people buried here include Sir James Douglas, British Columbia's first governor, Emily, and Billy Barker, the man responsible for the Cariboo Gold Rush. The Old Cemeteries Society conducts guided tours through the cemetery and operates a visitor's centre at Ross Bay Villa across the road from it. Find more information here.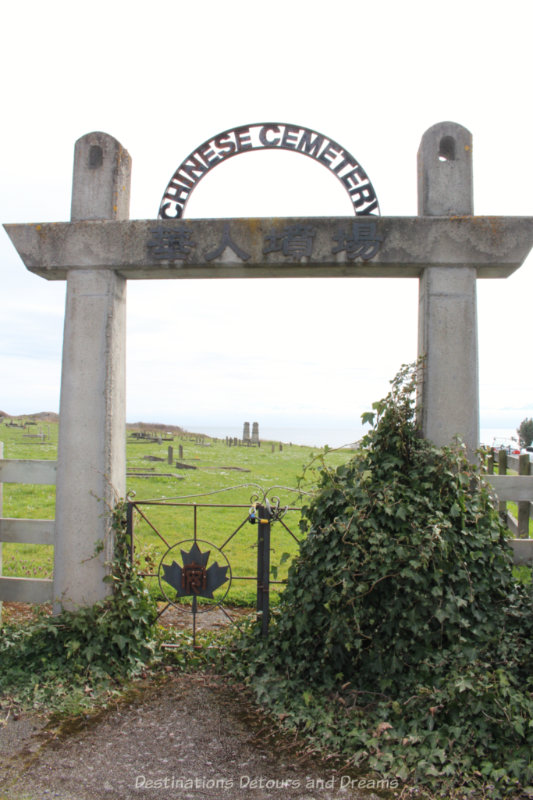 The Chinese Cemetery, a National Historic Site, lies beside the rocky shore of Harling Point in Oak Bay. Established by the Chinese Consolidated Benevolent Association in 1903, it was a temporary sanctuary before final interment in China, a pattern which reflected aspirations of early immigrants to return to their homeland. After the Sino-Japanese war broke out in 1937, it was no long possible to ship remains back to China. In 1961, bones of 849 Chinese pioneers whose return to China had been blocked since 1937 were finally laid to rest here. At that time, burials on the site ended and the cemetery became a memorial site in honour of Chinese-Canadian pioneers.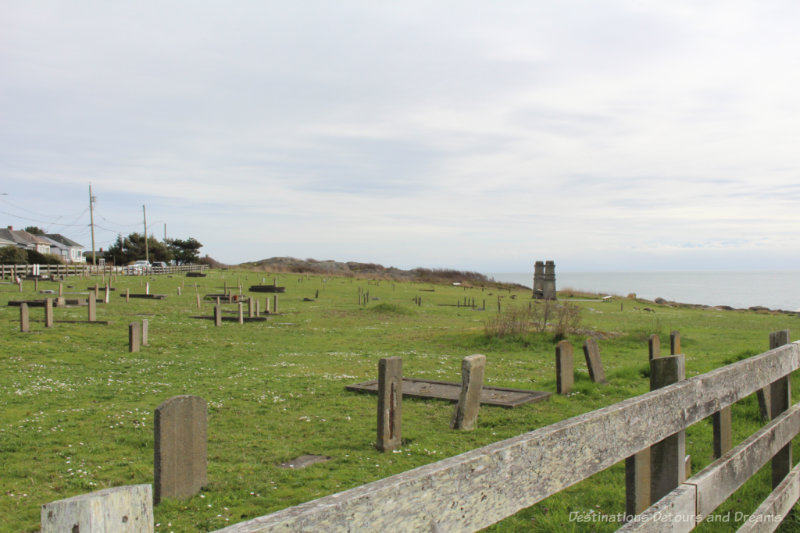 Spring Time Cherry Blossoms
Cherry and plum trees, imported from Japan in the 1930s, line streets in downtown and nearby neighbourhoods. Blossoms begin as early as mid-February and run through March, depending on the particular winter. The neighbourhoods of Fairfield and James Bay have the highest concentration of trees. James Bay also has a large collection of heritage homes and is within walking distance of downtown.
Fall Salmon Run at Goldstream Park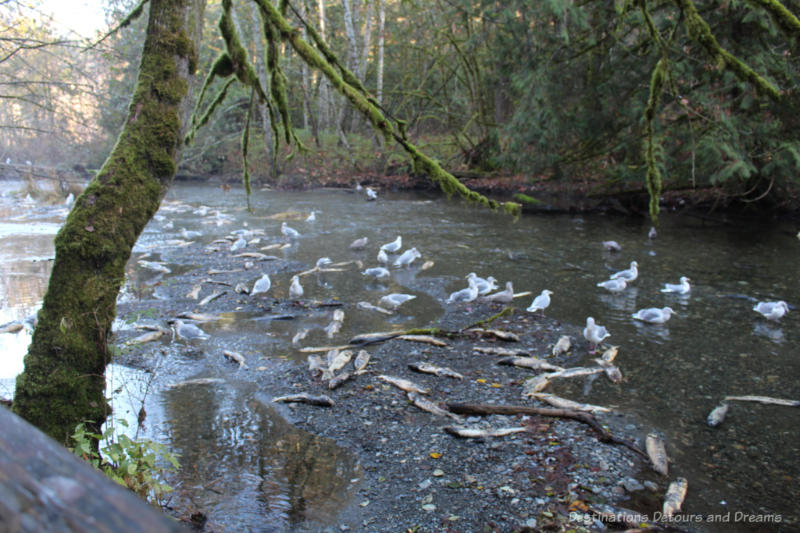 In late fall, salmon leave the ocean and return to the stream of their birth to spawn a new generation. Goldstream Provincial Park, located about 15 kilometres northwest of Victoria, is a great place to view this amazing natural spectacle. Riverside trails and observation platforms offer viewing opportunities. The salmon run usually occurs from mid-October to early-December. A visitor centre in the park has interactive displays and information about salmon and the area. The wooded park also has a number of hiking trails, ranging from easy wheelchair accessible walks to strenuous hikes.
Never miss a story. Sign up for Destinations Detours and Dreams free monthly e-newsletter and receive behind-the-scenes information and sneak peaks ahead.
PIN IT