Enjoy The Moment At Kilter Brewing In Winnipeg, Manitoba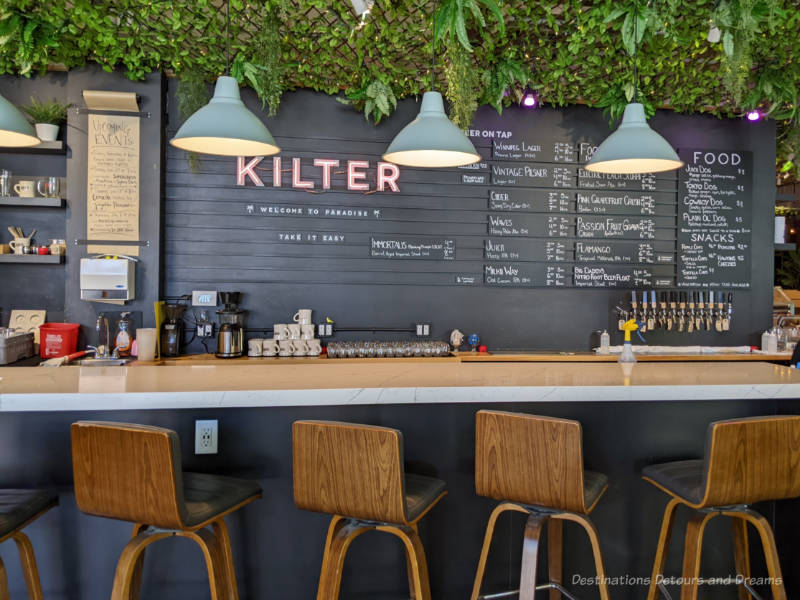 A visit to the welcoming retro-vibe taproom of craft brewery Kilter Brewing in Winnipeg, Manitoba, Canada
The craft beer scene in Winnipeg, Manitoba, Canada, has blossomed over the last decade. There are now about 20 craft breweries, three-quarters of which have taprooms. Winnipeg craft brewery Kilter Brewing Co. opened its taproom in August of 2020.
The taproom sounded like an interesting place when I read about its opening, but with the pandemic and other things going on in my life, I didn't get there until June of 2022. I found a funky, relaxing, welcoming space, one that invites return visits.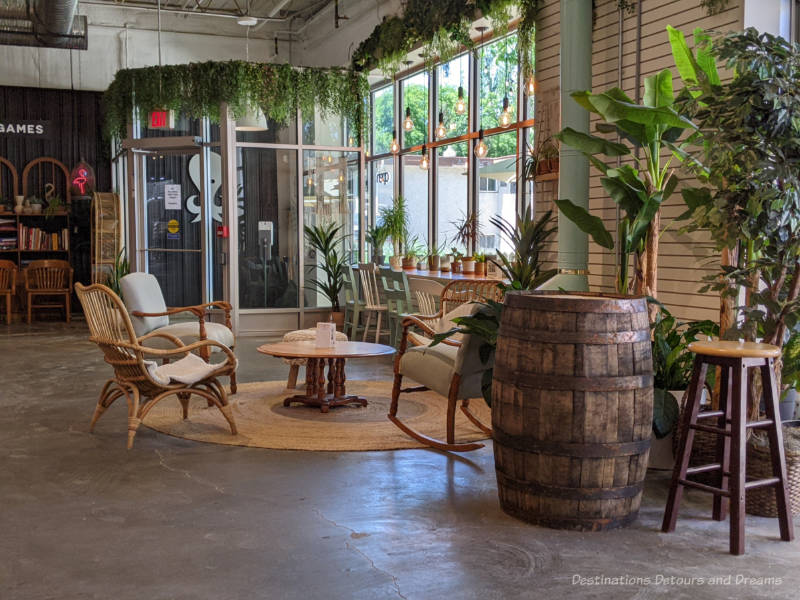 Kilter Brewing is a family business launched by brothers Miguel, Julien, and Jerik Cloutier in 2018. They initially started brewing on the premises of another craft brewery, One Great City Brewing, before they moved into their own space on Rue Deschambault in the Saint Boniface area of the city. The brewery and taproom are tucked away at the end of a residential side street off Des Meurons Street.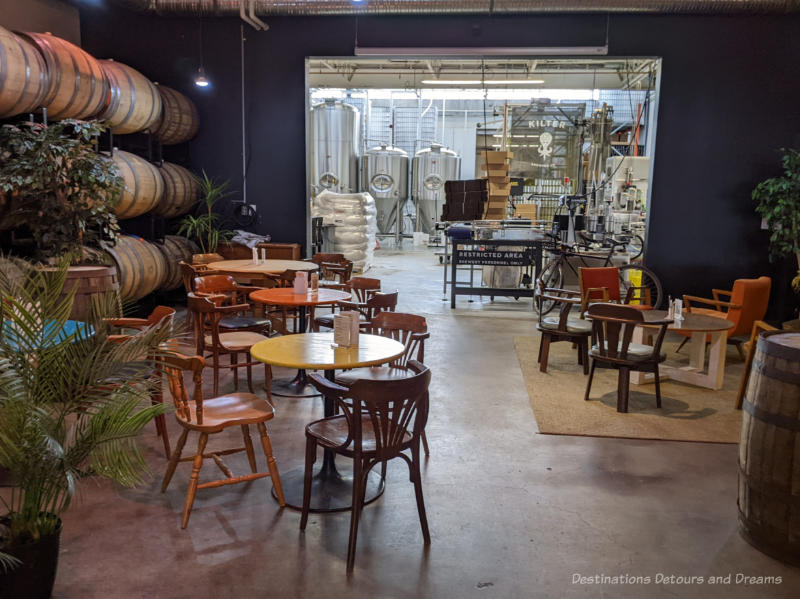 The eclectic décor of the large taproom has a bit of retro vibe. It feels very comfortable. At the back of one end of the taproom, you can see into the brewing area.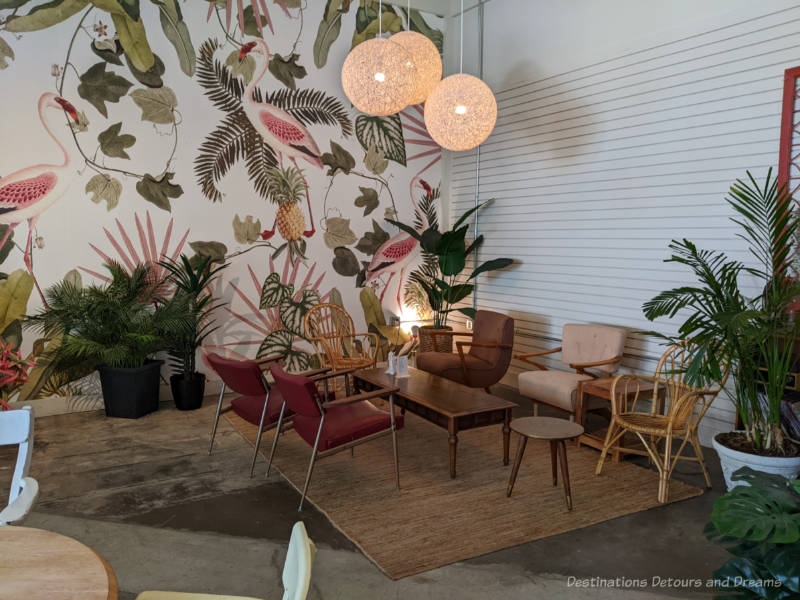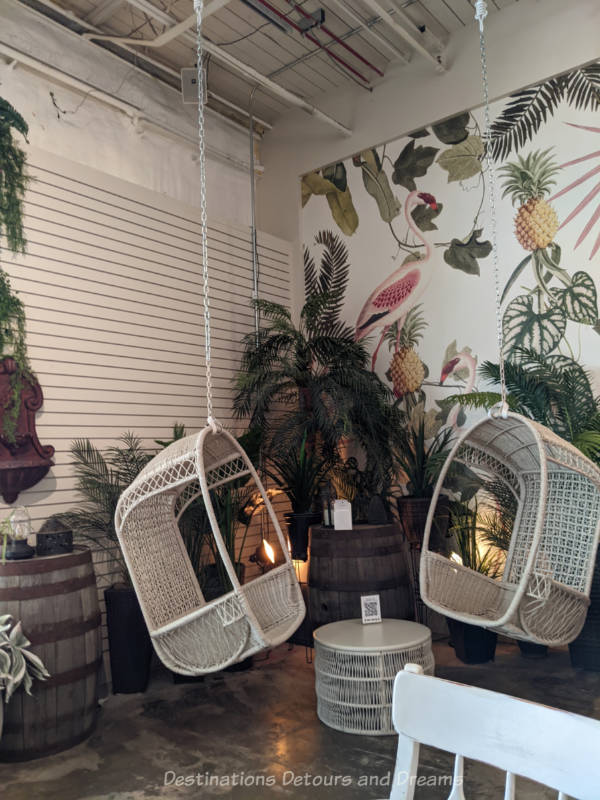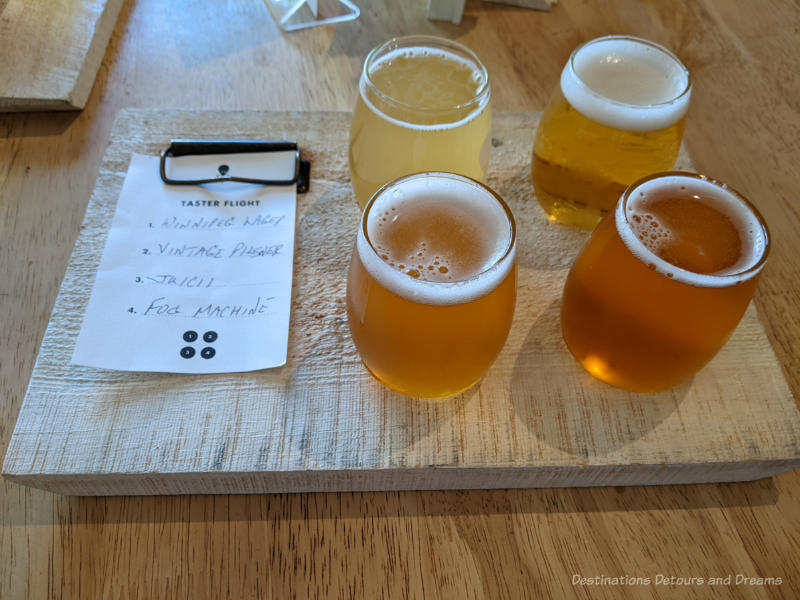 When I visited, the taproom offered a choice of 9 beers, 2 radlers, and one cider on tap. I had a tasting flight of 4 beers: Winnipeg Lager, Vintage Pilsner, Juicii, and Fog Machine. My favourite of the four was the Fog Machine, a double IPA. Juicii is listed as a tropical, hoppy, juicy IPA. The Vintage Pilsner is a crisp, herbaceous lager. The Winnipeg Lager is described as an easy drinking prairie lager with local hops, barley, and wheat. It had a very light, clean taste. I thought all of the beers contained hints of citrus flavour.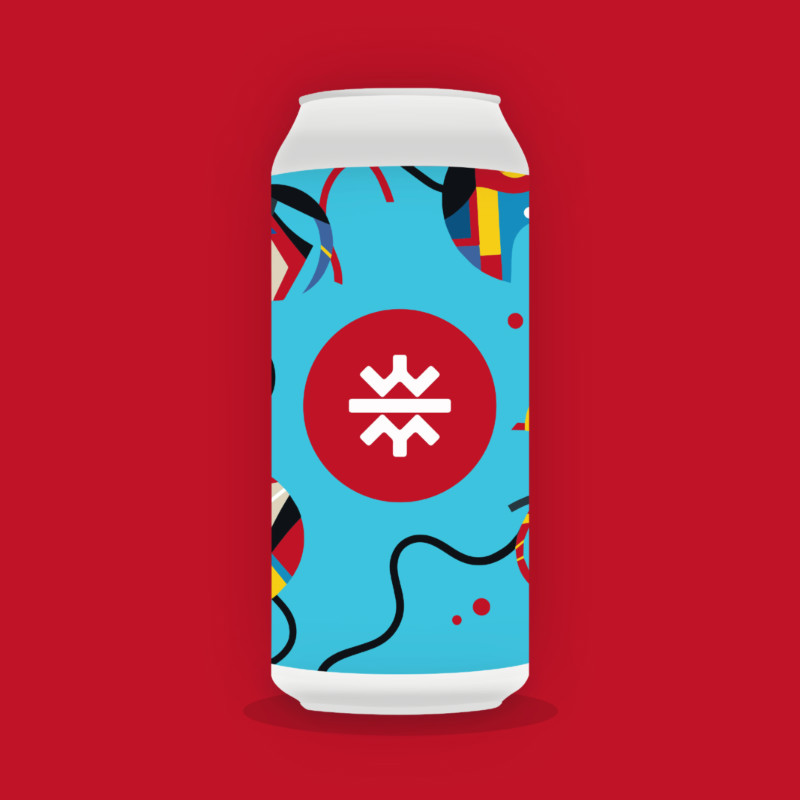 Winnipeg Lager is part of a collaboration with Tourism Winnipeg as part of their new "Winnipeg: Made from what's real" promotion campaign. Artist Dee Barsy worked with Kilter to design the vibrant label on the Winnipeg Lager can. The blue she uses in all her work makes her think about open spaces like the sky and water. The lines represent waterways.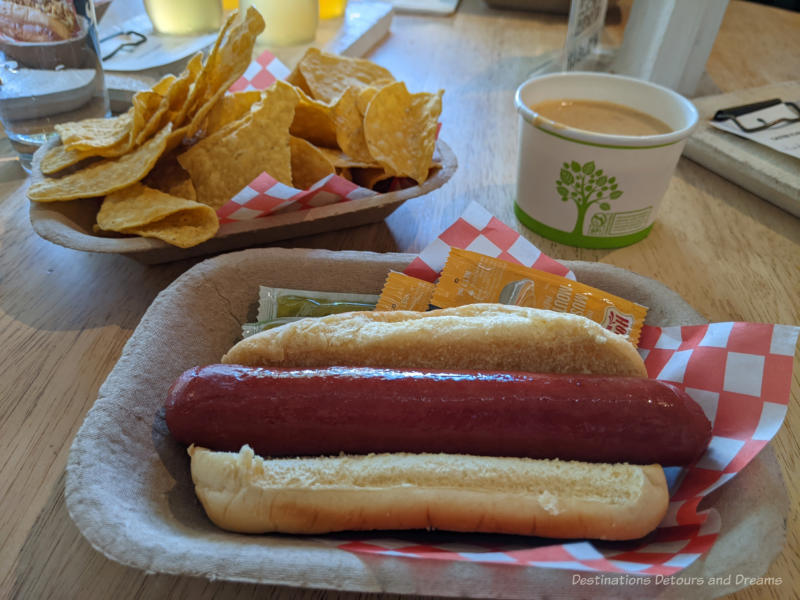 On the small food menu, you'll find four types of hot dogs and snacks such as popcorn, potato chips, tortilla chips, and Cheezies. I opted for the plainest of the hot dogs and it was delicious.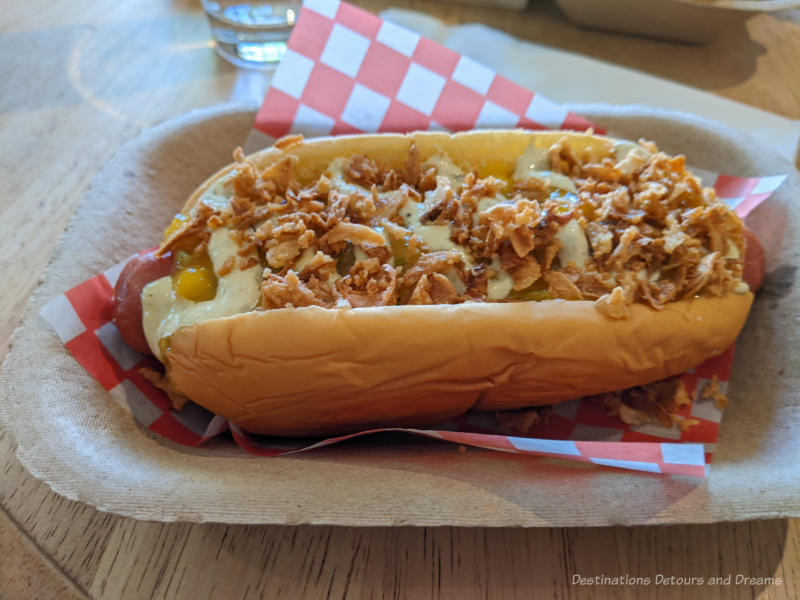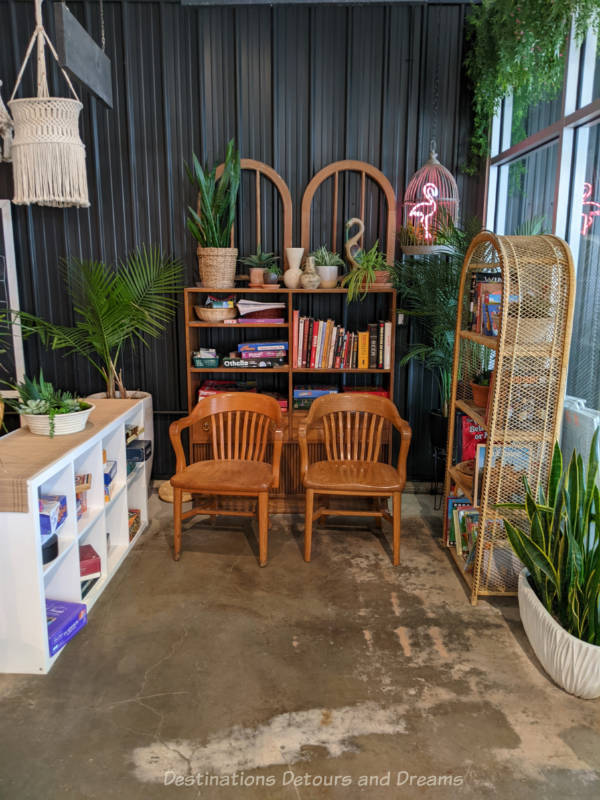 Special events at Kilter include music nights, comedy performances, beer and yoga flow, and the weekly Wednesday Board Game Nights hosted by Victory Pints, whose team of experts are on site to recommend a game from their library and help explain how to play.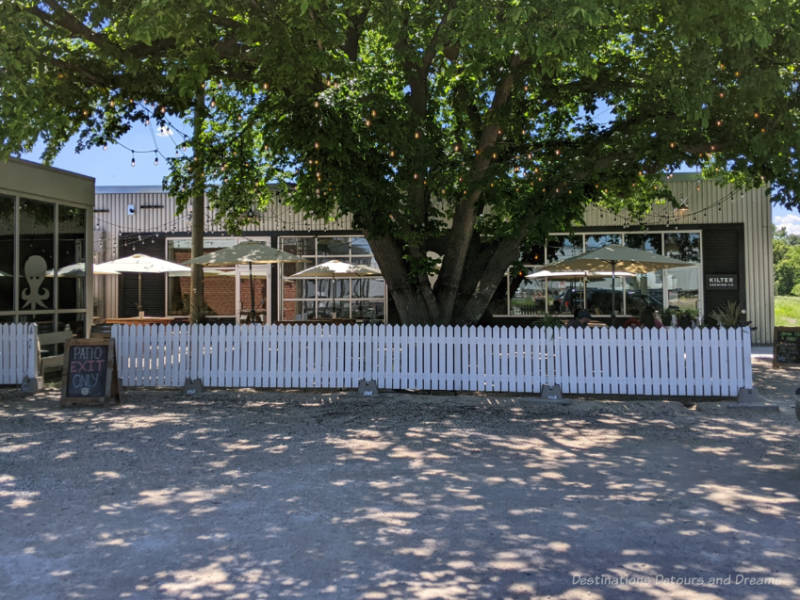 The taproom is accessible with everything on one level. I did not go into the washrooms to see how accessible those are. There is a small parking lot at the front of the building with more parking available on the street.
If you are interested in taking some beer home, Kilter Brewing Beer is available for pickup or home delivery directly from the taproom and can also be found at select beer vendors and liquor marts in the province.
See the Kilter Brewing website for more information on their beers, taproom hours, and special events.
By the way, the website says their name originated from a desire to live a balanced lifestyle, in harmony and peace, and to create meaningful memories and enjoy the simple pleasures in life.
Never miss a story. Sign up for Destinations Detours and Dreams free monthly e-newsletter and receive behind-the-scenes information and sneak peaks ahead.
PIN IT