Greater Phoenix East Valley Guide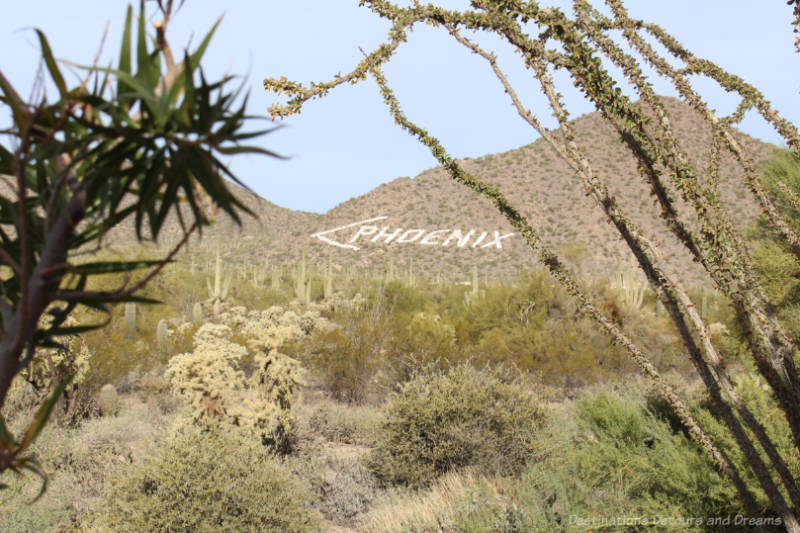 Things to do in the East Valley of Greater Phoenix, Arizona
Surrounded by mountain ranges, the Phoenix metropolitan area covers almost 15,000 square miles, encompasses two dozen cities and suburbs as well as several unincorporated communities, and has over 4.5 million residents. Over 500 of its square miles are part of the Sonoran Desert, a subtropical desert with a rich diversity of plants. Warm temperatures, sun, and a multitude of attractions make Greater Phoenix a popular tourist destination, particularly in winter.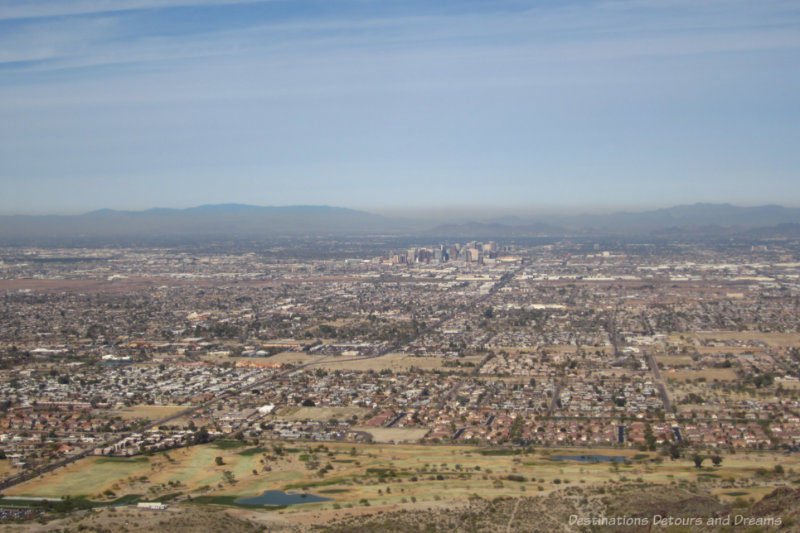 Tourist season typically runs from November through April, when temperatures are pleasant enough for outdoor activities (although keep in mind that temperatures in December and January can dip to freezing at times). You'll find lower prices in summer, but along with that you'll deal with extremely hot temperatures and you may find seasonal attractions closed.
A car is the best way to get around Greater Phoenix. There is a light rail and a bus system, but both are limited in size and overall reach. An extensive freeway system provides a more efficient means for getting around, although parts of it can get congested during rush hours.
Phoenix is known as the Valley of the Sun. The communities around it are referred to as being part of the East Valley or the West Valley. Most of the larger cities that make up the metropolis are in the East Valley and that is where you'll find many of the area's well-known attractions. It is also the area I am more familiar with. It was where I lived when I wintered in Arizona. Following are my recommendations for things to do and see in the East Valley, organized by city or town. Note that this list does not include every community within the East Valley, but it does include plenty of things to see and do.
Across The Valley
Things To Do In Phoenix, Scottsdale, and Mesa
Things To Do In Apache Junction
Things To Do In Chandler
Things To Do In Gilbert
Things To Do In Paradise Valley
Things To Do In Queen Creek
Things To Do In Tempe
Across the Valley
Although each city and community with the metropolitan area offers its own attractions, there are some activities that are popular throughout the entire area such as desert and mountain hiking and golfing (with over 200 golf courses, Greater Phoenix is known as one of the top destinations for golf). Baseball lovers come to the area in February and March to take in the spring training games of the Cactus League.
Things To Do In Phoenix, Scottsdale, and Mesa
The cities of Phoenix, Scottsdale, and Mesa are top tourist destinations within the Greater Phoenix area. Because there is so much to see and do within each one, I have created separate posts for each of them. See:
Ten Things To Do In Phoenix, Arizona
Ten Things To Do In Scottsdale, Arizona
Ten Things To Do In Mesa, Arizona
Things To Do In Apache Junction
Apache Junction is located in the far eastern part of the East Valley. It is bounded by the rugged Superstition Mountains on the east, the Goldfield Mountains on the north, and the city of Mesa on the west.
Apache Trail
Apache Junction is the starting point for a popular scenic drive and day trip along the Apache Trail. The Apache Trail (State Highway 88) winds and climbs through mountains, offering beautiful views of canyons, rock formations, and desert landscape.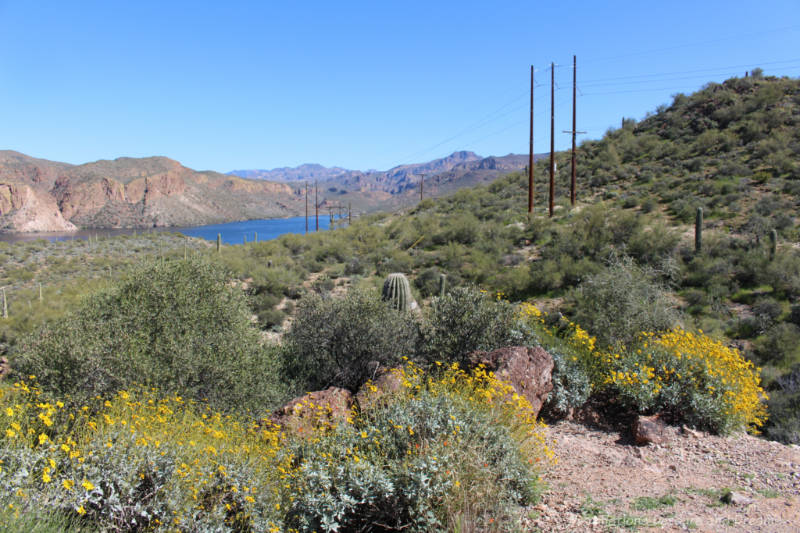 The road was originally built between 1903 and 1905 to get building materials to the Roosevelt Dam, then under construction. Today the highway runs to the Roosevelt Dam, but most people drive about half the distance to Tortilla Flat, where Old West buildings house a restaurant, store, and small museum, before turning around and returning to Apache Junction. The road beyond Tortilla Flat can be harrowing in spots. As of the time of writing this post, the section of it between Fish Point Creek and Apache Lake Marina is closed indefinitely pending road repairs.
Goldfield Ghost Town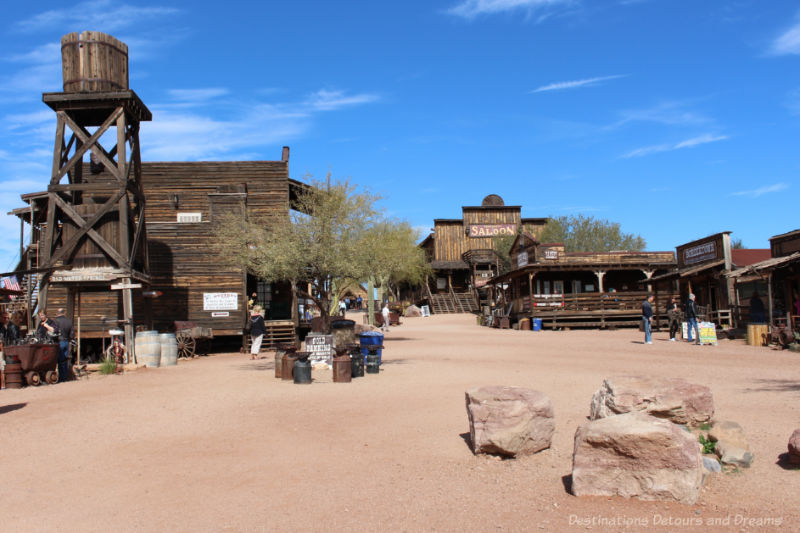 Goldfield was a thriving mining town in the 1890s. It declined when the vein of gold ore ran down. Today it has been resurrected as a tourist attraction, with old west buildings, stores, restaurants, mine tours, a narrow-gauge railway, and a reptile exhibit. Staged gunfight presentations are scheduled on weekends.
Goldfield Ghost Town is located at the start of the Apache Trail. It makes a good stop before or after your scenic Apache Trail drive.
Superstition Mountain Museum
The Superstition Mountains are rich with history and legends. Displays at the Superstition Mountain Museum speak to that history with rock samples, ancient native American Indian artifacts, and information on the geological history of the area, Indian folklore, animal life, and modern legends. The surrounding grounds contain replicas of 19th century buildings, a 20 Stamp Mill used to crush ore, and nature walks.
On the grounds you'll also find a chapel and barn from Apacheland Movie Ranch, a western town movie setting that opened in the Superstition Mountains in 1960 and was used until 2004, when it burned. The chapel and barn are the only remaining buildings.
Things To Do In Chandler
Chandler is located southeast of Phoenix. In 1891 veterinarian Dr. Alexander John Chandler bought 80 acres of land from the federal government with the purpose of studying the fairly new science of irrigation. He became instrumental in building an early canal system. By the turn of the century, he owned an 18,000-acre ranch and began drawing plans for a townsite. Chandler incorporated in 1920.
Downtown Chandler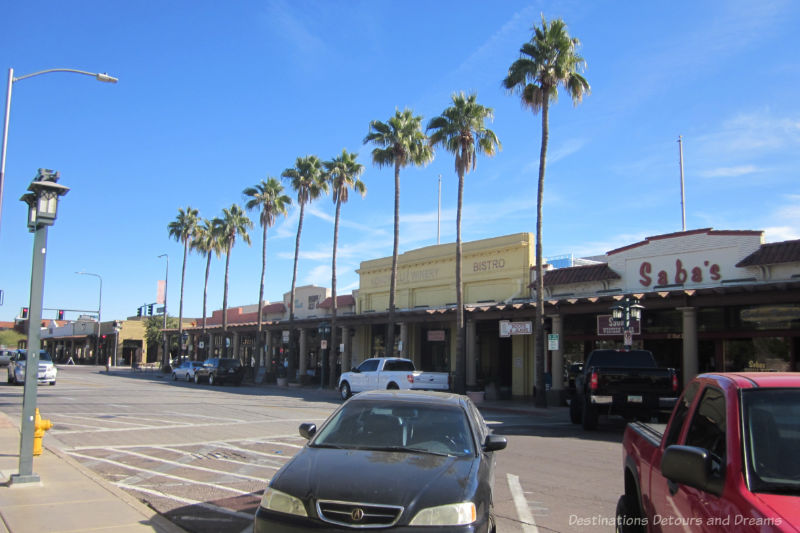 My personal experience with Chandler consists mostly of pleasant afternoons wandering through its pretty downtown area. A tree-lined square contains unique boutique and Arizona stores as well as a great choice of eateries. There are art galleries and public art. Chandler has a public art program that has installed pieces throughout the city. See its interactive art tour. Note that there is plenty of free parking in downtown Chandler.
Zelma Basha Salmeri Gallery Eddi Basha Collection
The Eddie Basha Collection in Zelma Basha Salmeri Gallery of Western American and American Indian Art is an impressive collection of art. The gallery was created by the late Arizona supermarket owner Eddie Basha and houses pieces he collected for over 40 years. It is one of the largest private collections of contemporary Western American and American Indian art in the world. The 11,000-square-foot gallery is located at the company headquarters at the site of the first Basha's store in south Chandler.
Other Chandler Attractions
Other attractions in Chandler include the open-air Arizona Railway Museum, Veterans Oasis Park with wetlands and a Sonoran Desert landscape, and horseback riding at the Koli Equestrian Center.
Things To Do In Gilbert
Gilbert is a family-friendly suburb with agricultural roots.
Gilbert Heritage District
The Heritage District, Gilbert's historic and cultural downtown centre, contains a diverse mix of restaurants, eclectic shops, a historical museum, art galleries, and a growing collection of murals. The Gilbert Art Walk takes place on select Saturday mornings from October through April. Local bands perform Thursday evenings at the water tower plaza.
San Tan Village
There are many shopping opportunities through Gilbert. I want to note one of these. San Tan Village is a destination open-air mall with national retailers and an array of eateries. Its wide pedestrian walkways and lovely landscape give it a resort-like feel.
Riparian Preserve at Water Ranch
The town of Gilbert has turned its water recycling plant into an opportunity to explore riparian wildlife and vegetation in the midst of an urban desert. Trails for walking, hiking, and cycling run through the preserve around seven ponds and a fishing lake. Information is posted about vegetation and wildlife. Over two hundred species of birds have been found here. There is also an observatory, open for public viewing on Friday and Saturday evenings, weather permitting.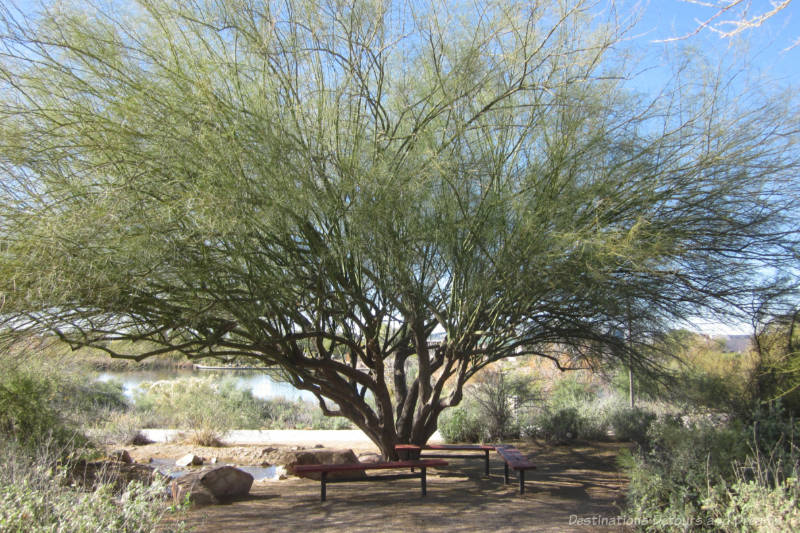 Things To Do In Paradise Valley
The town of Paradise Valley is Arizona's wealthiest municipality. Its approximately 15 square miles lie nestled between Scottsdale to the east (and north and south) and Phoenix to the west (and north and south). It is known for its luxury golf courses, resorts, and real estate. There is one attraction here I took visitors to. We'd ooh and aah at the properties we passed on the way.
Cosanti Originals
Cosanti Originals was the gallery, studio, and residence of Italian-American architect Paola Soleri, who coined the word "arcology" by combining "architecture" and "ecology." Here he made his famous bronze and ceramic windbells.
Soleri died in 2013, but artisans carry on his work at Cosanti, producing windbells in the Soleri style. Those windbells are on display and for sale. They have beautiful tones.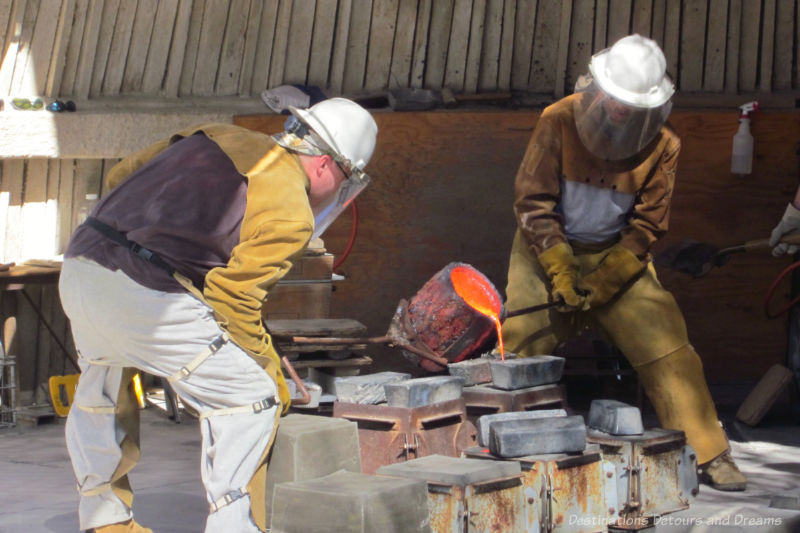 Sixty-minute tours, offered Mondays through Saturdays at 9:15 and 10:45 am, provide the opportunity to see how the windchimes are created, tour the grounds, peek into the experimental buildings Soleri created in the 1950s, and learn more about the man. Register in advance.
Read more in my post Cosanti: Windbells and More.
Things To Do In Queen Creek
The Town of Queen Creek, a suburban centre located about 37 miles southeast of central Phoenix, was incorporated in 1989. The area, previously known as Rittenhouse, has an agricultural history dating back to the early 1900s.
Queen Creek Olive Mill
The Queen Creek Olive Mill is Arizona's only working and operating olive mill. It is an agri-tourism destination offering farm-to-table dining, a variety of gourmet products, and a chance to learn how olive oil is made.
The Queen Creek Olive Mill was founded by the Rea family in 2005. I first visited the mill within a couple of years of its opening after reading a newspaper article about the place while I was visiting family in the Greater Phoenix area. At that time, the Mill was a small shop offering tours of the process and a few products for sale. Over the years, it has grown and expanded.
Under the supervision of a professional olive oil sommelier, it produces award-winning extra virgin olive oil and a variety of flavoured oils, crafted in small batches. Other products include flavoured balsamic vinegars, stuffed olives, tapenades, spices and sauces, and small-batch, hand-crafted skin care products. These products, along with other gourmet food items, culinary tools, and giftware, are available for sale in their marketplace.
Their restaurant offers farm-to-table dining, both indoors and outdoors. Their large outdoor space is a beautiful place amid olive branches and blossoms in front of their olive grove. The 100-acre farm has over 7,000 olive trees. The Mill also grows its own citrus and garlic.
On the first-come, first-served 45-minute Olive Oil 101 class, you'll learn how they make their olive oil, how to use it, and how to correctly taste it. Check their website for information about their hours, products, menu, and special events.
Schnepf Farms
The family-owned and operated fourth-generation Schnepf Farms is known for their fall pumpkin festival and their U-PICK peaches. They have been growing peaches for over 50 years and grow over 8 different varieties that ripen at different times throughout the month of May
There is, however, more to Schnepf Farms that pumpkins and peaches. Their U-Pick garden contains many vegetables. Their bakery offers pies, cupcakes, brownies, pastries, and cinnamon rolls. Schnepf Farms also hosts a variety of special events throughout the year.
San Tan Mountain Regional Park
Enjoy the beauty of the Sonoran dessert at San Tan Mountain Regional Park. The 200-acre park contains trails of varying levels of difficulty that are open to non-motorized use for hiking, bicycling, and horseback riding. There are several picnic tables. Restroom facilities and water are available at the San Tan Visitor Center.
Things To Do In Tempe
Tempe, located just 20 minutes east of downtown Phoenix, is home to Arizona State University (ASU), one of the largest public universities in the USA. The city has a youthful vibe. It boasts a vibrant downtown and plenty of opportunities for outdoor recreation and activity.
Mill Avenue
The seven blocks of Mill Avenue between the Rio Salado River and University Drive and its side streets form the heart of downtown Tempe. Vibrant Mill Avenue is lined with bars, restaurants, and boutiques. It is a fun area to stroll through. Pop in and out of interesting shops, seek out public art, and stop for refreshments along the way.
Mill Avenue hosts a variety of events and festivals throughout the year. One of the festivals I have attended (twice) and enjoyed is the Tempe Festival of the Arts, which takes place in late March and again in early December. Artists from around the country have their works on display and for sale in tents lining Mill Avenue and side streets. There is music, entertainment, and food.
Note: Hayden Flour Mill, one of Tempe's most iconic buildings, sits on the southeast corner of Mill Avenue and Rio Salado Parkway. The current building dates to 1918, but mills have existed on that site since 1874. The mill stopped operating in 1998. The mill and its seven silos, added in 1950, changed hands a couple of times before the town of Tempe took it over. It operated briefly as an event venue between 2012 and 2014. Current redevelopment plans may see it converted into multi-use restaurant and museum space.
Tempe Town Lake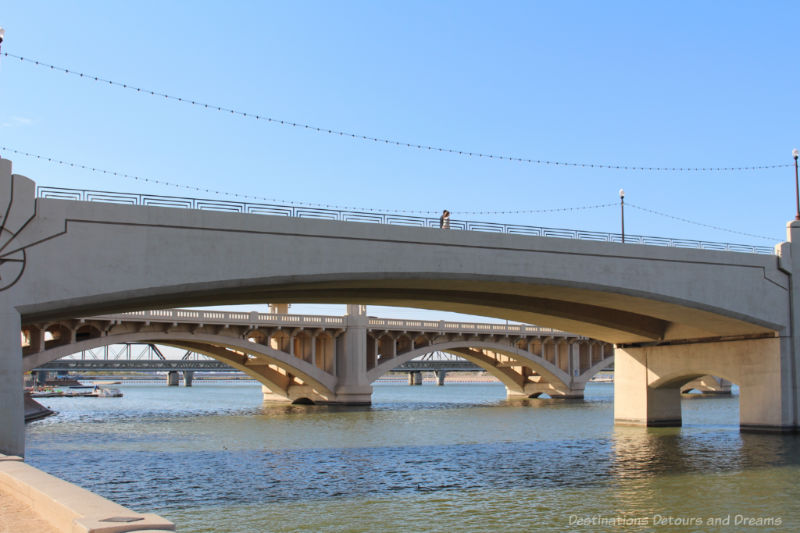 Tempe Town Lake is an artificial reservoir that was completed in 1999. The more than two-mile-long lake and the adjacent 25 acres of Tempe Beach Park provide a recreational area.
Walk, run, or bike along the seven-mile scenic loop around the lake. The lake is stocked with trout, bass, catfish, and sunfish. You can fish, but you do need an Arizona fishing license. There are beach volleyball courts, a splash playground, and picnic areas.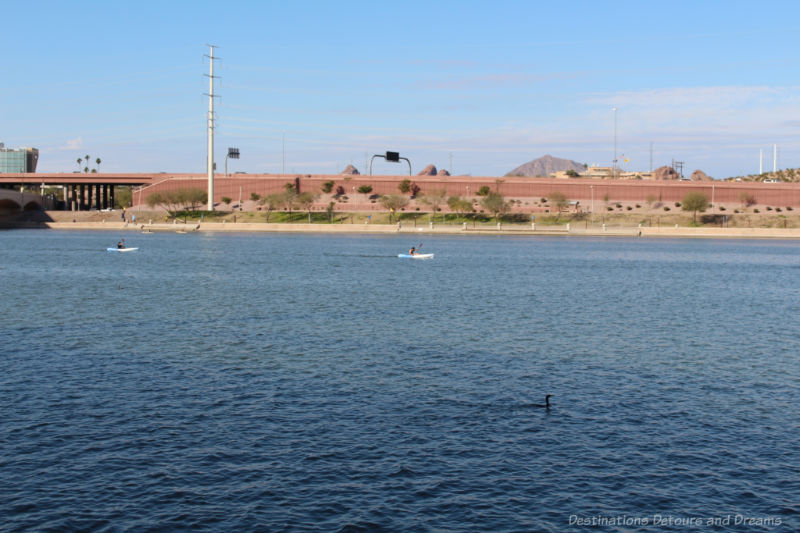 Various watercraft rentals are available at shops on the north and south shores of the lake. You can also use your own watercraft if it is one of the approved types and you obtain a permit. Visit the Tempe Boating Permits & Regulations webpage to see which types of watercrafts are permitted and to apply online for a permit.
There is a sandy beach on the north shore. Note that wading or swimming in the lake is not allowed.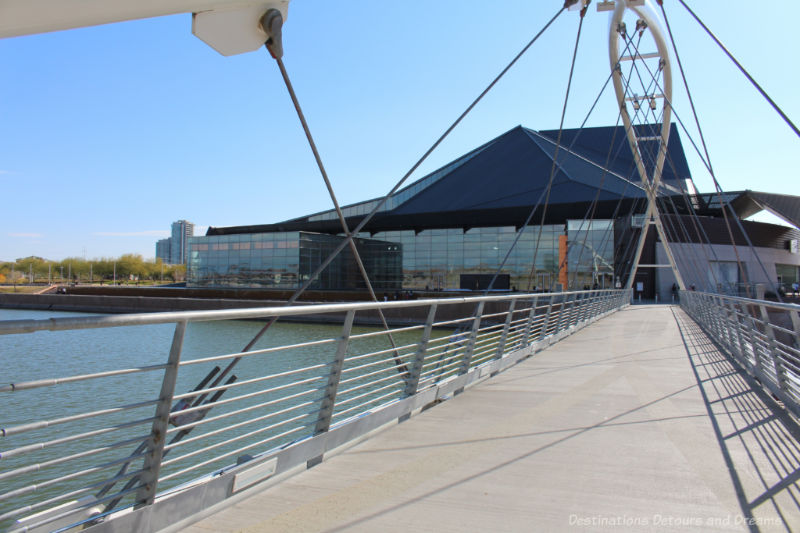 A pedestrian suspension bridge connects the north and south shores of the lake. It is lit up with vibrant blue hues after dark. The Tempe Center for the Arts, a publicly-owned performing and visual arts centre, sits on the shore at the south end of the bridge.
Tempe Marketplace
Tempe Marketplace is an open-air shopping centre with over 100 shops and dining establishments. It features a vibrant outdoor environment, lush landscaping, pop-up art installations, and more than 300 events a year.
Arizona Heritage Center at Papago Park
The Arizona Heritage Center at Papago Park has extensive exhibits about the history of Arizona and the beginnings of the sprawling Phoenix metropolis. Among other things, you can learn about the Camp Papago Park World War II POW camp, get a behind-the-scenes look at the construction of Roosevelt Dam, and see a World War II At-6 training airplane.
I have not yet had the opportunity to visit this museum myself, but it has garnered good reviews from those who have visited.
Arizona State University
Located just east of Mill Avenue, Arizona State University (ASU) is one of the largest public universities in the USA. The attractive campus features broad pedestrian malls, interesting architecture, and beautiful landscaping. I once attended a three-day writers' conference on the university campus. It was a lovely setting for the conference.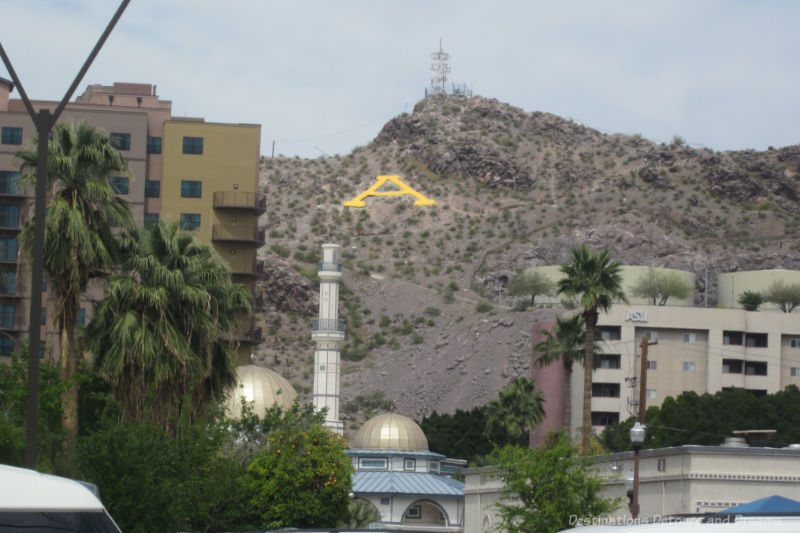 The Old Main Building, which now houses the ASU Alumni Association, was built in 1898 and was the first building in Tempe to be wired for electric lighting. The ASU Art Museum has three floors of year-round exhibits that rotate seasonally and a ceramics research centre. ASU Gammage, the last work of great architect Frank Lloyd Wright, is a multi-purpose performing arts centre. The ASU Desert Arboretum Park is a 2.5-acre botanical park tucked into the side of Tempe Butte. Palm Walk, a pedestrian corridor lined with palm trees, is a popular spot for photography and selfies.
Never miss a story. Sign up for Destinations Detours and Dreams free monthly e-newsletter and receive behind-the-scenes information and sneak peaks ahead.
PIN IT