Visiting Salt Spring Island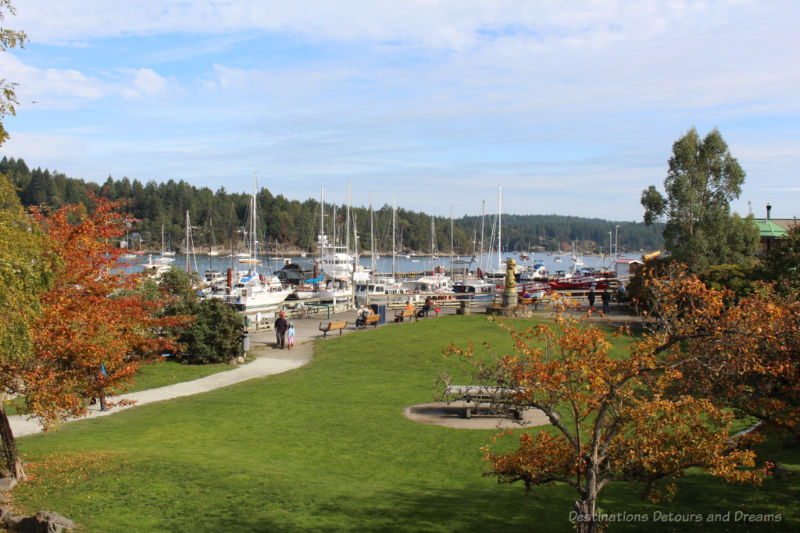 Salt Spring Island in British Columbia along Canada's west coast is home to old forest, spectacular ocean views, artists, artisan food producers, and an eclectic population
(Last updated July 2022)
Salt Spring Island is the largest of the southern Gulf Islands in the Strait of Georgia between mainland British Columbia and Vancouver Island on Canada's west coast. I first visited the island in November 2018 after my daughter moved there. When I told people where I was going, roughly half of them gave me blank stares. They didn't know where Salt Spring Island was. Those who had been there spoke favourably about its natural beauty, Saturday market, and laid-back vibe. Others who knew of the island but had not personally visited it associated it with hippies, artists, new Agers, organic farming, and a few famous people who live or have lived there (e.g. children's artist Raffi, Randy Bachman of the Guess Who and Bachman Turner Overdrive, artist Robert Bateman). All of these things and more combine to give Salt Spring Island its unique character and make it a great place to visit.
Salt Spring Island History
Salt Spring Island Natural Beauty
Farm Produce and Artisanal Food
Salt Spring Island Artists
Salt Spring Island Saturday Market
Salt Spring Island Health Wellness and Spirituality
Ganges
Salt Spring Island Community Life
Staying On Salt Spring Island
Getting Around Salt Spring Island
Getting To Salt Spring Island
Salt Spring Island Tourism Information
Salt Spring Island History
Salt Spring Island is part of the traditional territory of the Saainch, Cowichan, and Chemanius First Nations. Indigenous use of the island dates back at least 5,000 years. Permanent settlements fluctuated over the years.
In 1857, nine slaves who'd bought their freedom arrived. In the mid nineteenth century, many Hawaiians, who called themselves Kanakas, also settled on Salt Spring, often after years working and exploring with the Hudson's Bay Company and other companies. Other early immigrants to the islands included British immigrants, African Americans from San Francisco, and other Americans, Europeans and Australians who had been attracted to Canada as part of the gold rush or were former Hudson's Bay Company employees.
Settlers were given the approval to pre-empt land in 1859. The land was rugged and much of the land that was to be farmed had to cleared of huge Douglas Fir trees. There were no roads and no regular transport to and from the island.
Today, the island is home to just under 10,500 year-round residents. That population includes farmers, artists, artisans, healers, and free-thinkers.
To explore more of Salt Spring Island history from the 1850s to 1950, visit Salt Spring Island Museum in Ganges. The free museum is open on select days spring through autumn. I did not get the opportunity to visit the museum on my visits to the island thus far, but would like to on a future visit.
Salt Spring Island Natural Beauty
Salt Spring's stunning natural beauty brings both visitors and residents to the island. The 70-square-mile-island contains old-growth forests, mountains, parks, beaches, and inland lakes. A drive through the island takes you through towering forests and past spectacular coastal views.
There are nine freshwater lakes on the island, most of which offer recreational opportunities. The largest is St. Mary's in the northern part of the island. The next largest is Cusheon Lake in the central part of the island.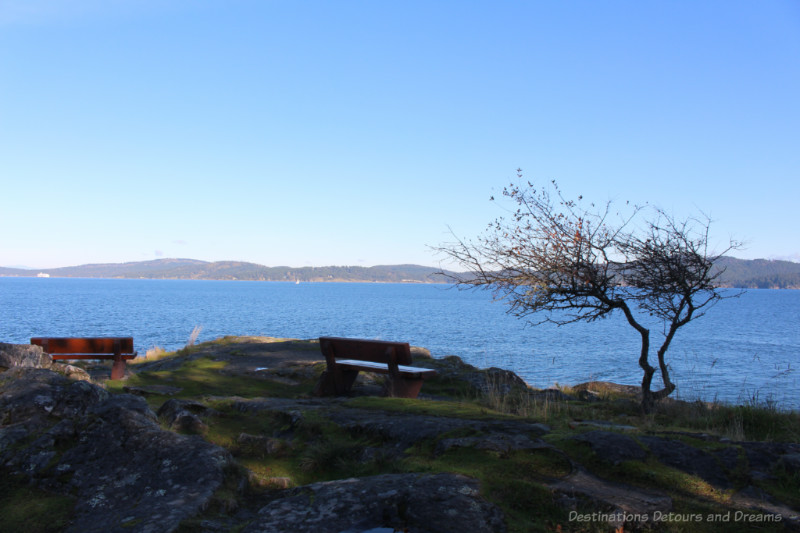 The mixture of forest, field and shore habitats on Ruckle Provincial Park makes it one of the most productive wildlife viewing areas on Salt Spring Island. There are sea lions and killer whales out at sea and mink and river otters along the shoreline. Deer are commonplace throughout the island. The view over Swanson Channel is peaceful and enchanting. Mount Erskine Provincial Park has some of the best views on the island, but note that the trail is rocky and steep. Baynes Peak in the day-use-only Mount Maxwell Provincial Park is one of the highest points on the island and offers superb views. However, note that the gravel road to the peak is steep, narrow, and rough.
Nature's relaxation effect and lowering of the heart rate may well be a major contributing factor to the island's laid-back vibe. I take a lot of photographs when we travel, but, as we made our way through the island, I found myself often leaving the camera alone even when it was handy. Absolutely every spot was photo-worthy. I just wanted to relax and take it all in.
Ways To Enjoy Salt Spring's Natural Beauty
Hiking
The Capital Region District (CRD), which is the regional government for Victoria, surrounding municipalities and districts on Vancouver Island, and the southern Gulf Islands, publishes a Trails at a Glance guide. The guide lists 21 trails on the island ranging from easy to challenging and from 245 metres to several kilometres in length.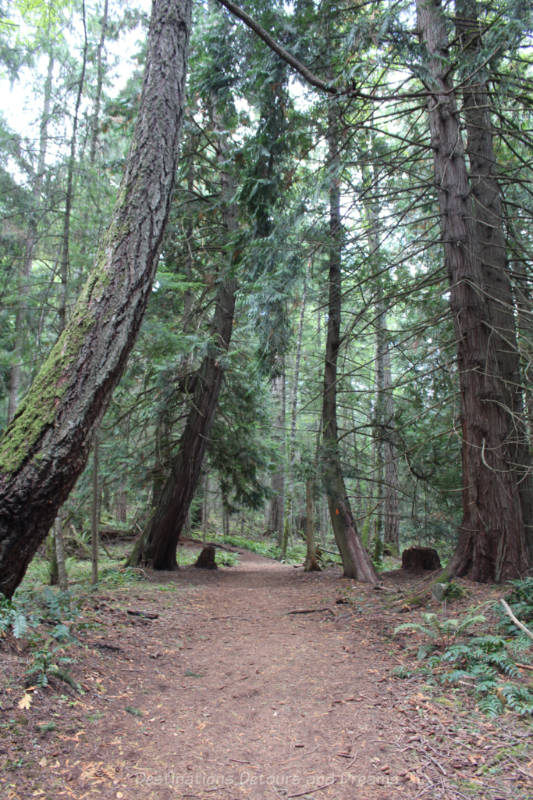 For a bit of whimsy on your hike, look for fairy doors along the Mount Erskine Trail. (Note that this is not considered an easy trail.) The fairy doors may be hard to spot and looking for them can be a bit of treasure hunt. As of June 2022, there were supposedly 6 doors to be found. If you don't find them all, it is possible some have been removed. Some people do not like the doors being there because visitors leave trinkets at them that shouldn't be part of nature. Roger Blunt is well-known on the island for the fairy doors he creates and sells around the world. You can find his work in Ganges' stores and you may find him at the Saturday market.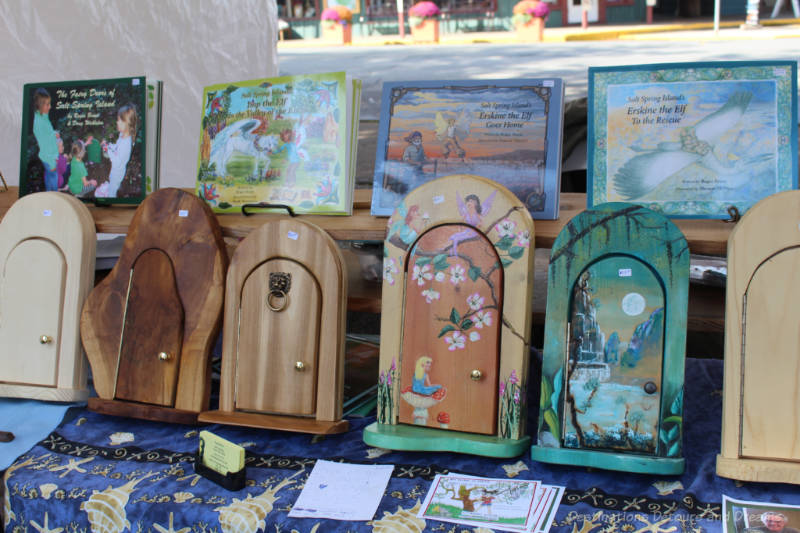 Water Activities
There are opportunities to kayak, paddle board, swim, boat, and fish. Whale watching and sightseeing tours are available. St. Mary Lake and Cusheon Lake offer gradual and shallow entrances to the water. The clear waters surrounding the island teem with marine life and make this a premium spot for scuba diving, especially in the areas around Beaver Point in Ruckle Park and Beddis Beach. If your favourite water activity is simply walking along the beach, there are plenty of opportunities to do that as well. See a guide to Salt Spring Island beaches here.
See Rare Ecosystems
Salt Spring Island is home to 35 rare ecosystems including Garry Oak and Arbutus. Salt Salt Spring Island Conservancy has 8 nature reserves on the island, some of which have trails. Please follow all advice and rules to protect the wildlife and plants.
Farm Produce And Artisanal Food
Although the island was rugged and needed to be cleared when settlers pre-empted land starting in 1859, by the early 1900s, Salt Spring was developing a farming reputation and was known for its large fruit harvests. There was dairy, poultry, and sheep farming.
Today Salt Spring Island is known for its organic produce. Roadside farmstands are a common sight. Often the produce is left unattended with a "honour box" for you to deposit your payment. Salt Spring Island lamb is prized. Local seafood is served in restaurants.
Ways To Enjoy Salt Spring Island Produce
Visit the Salt Spring Island Apple Festival held one weekend in fall (late September or early October)
Visit a cidery: Salt Spring Wild Cider or Ciderworks at Salt Spring Island Apple Co.
Visit a winery: Garry Oaks Estate Winery or Salt Spring Vineyards
Visit a craft brewery: Salt Spring Island Ales
Visit a cheese maker: Salt Spring Island Cheese Company
Visit a craft distillery
Spirits crafted from fermented local honey at the family-owned Salt Spring Shine Craft Distillery include a gin containing the essence of ten botanicals, vodka, Honeycomb Moonshine, and Apple Pie Moonshine. The tasting room is open spring, summer, and fall.
Stroll through the Farmers' Market in Centennial Park in Ganges on Tuesday afternoons from 2 – 6 pm June through October.
Stroll through the famous Salt Spring Island Saturday market, which runs from the first weekend in April to the last Saturday in October. See more about the market later in this post.
Visit local restaurants to sample creative dishes made with local produced food. 
NOTE: Hours at tasting rooms vary by season. Confirm open dates and times on websites.
Salt Spring Island Artists
By the 1930s, people were holidaying on Salt Spring Island. In the 1960s, artist and craftspeople arrived seeking an alternative lifestyle and inspiration in the island's natural beauty. Today the island is recognized for its artists and artisans.
Ways To Explore Art On Salt Spring Island
Take a self-guided Salt Spring Island Studio Tour.
Follow the map to over twenty studio locations around the island where you can see the works of various artists, talk to the artists, and watch them at work. Featured artists and artisans include painters, potters, sculptors, glass artists, fabric artists, and artisan food creators. Note that hours for each studio may vary by season and some studios may not be open at all during winter months.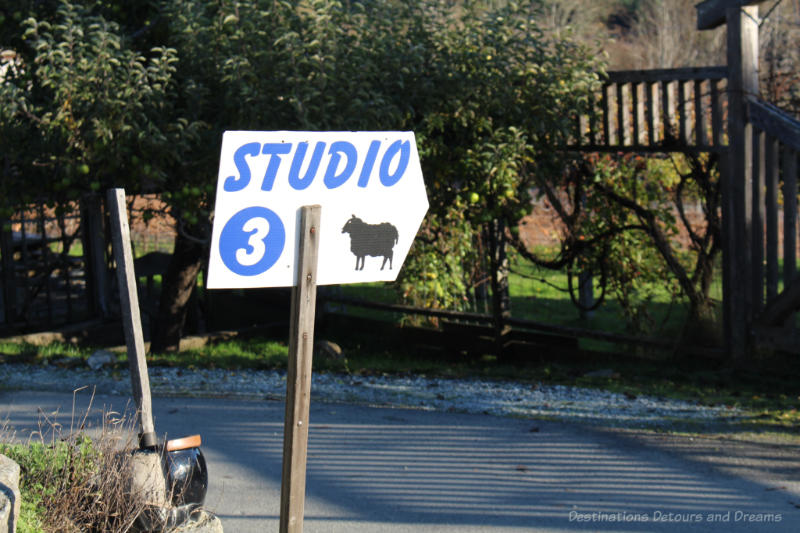 Browse through the galleries and shops in Ganges
Check out the latest lobby exhibit and/or performance at ArtSpring
Visit the Saturday Market
Salt Spring Island Saturday Market
Salt Spring Island's food producers and artists meet at the island's famous Saturday market. Each Saturday from the first weekend in April until the end of October over 140 food producers, artists, and artisans set up booths in Centennial Park in the heart of Ganges. The quality of products, all of which must be "vendor produced and sold," is superb and you'll have opportunity to chat with producers. There is live music and entertainment.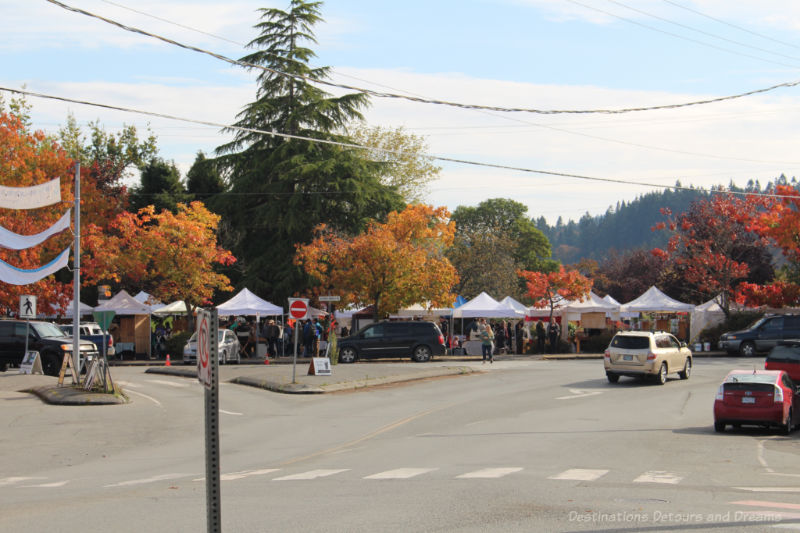 I visited the market in October. It had a relaxed, community feel that invited one to take time, linger over stalls, and talk to producers. The market is much busier in summer months, the height of the tourist season. It also draws day visitors from nearby Vancouver Island. In spite of it being busier at that time I suspect much of that community feel remains.
Salt Spring Island Health Wellness and Spirituality
Salt Spring Island has a reputation for wellness, alternative healing, and spirituality. You can find yoga, massage therapy, reiki, crystal light therapy, energy healing, aromatherapy, pranic healing, nature-based healing, meditation, reflexology, and more.
An event I attended on the island with my daughter that was a combination of spiritual and recreational was the Thursday night Dance Temple at Beaver Point Hall.
For more information on health, wellness, and spirituality on Salt Spring see the Salt Spring Tourism site.
Ganges
The main town on Salt Spring Island is Ganges located toward the northern end of the island along a sheltered harbour. It is here where the island's main stores are located. It is a pretty and charming town well-suited for leisurely strolls and browsing. There are a number of art and specialty stores. True to Salt Spring's eclectic nature, clothing stores tend to be either upscale or thrift stores. There are a number of coffee shops and restaurants.
Salt Spring Island Community Life
Salt Spring Island is both rural and cultured. It remains rugged in many parts. As an island, it stands alone and can become isolated during winter storms. Its population is an eclectic mix of people. There is a strong sense of community.
Ways To Soak Up The Salt Spring Island Vibe
See a movie at a century-old community hall. The Fritz Theatre is located in Centennial Hall north of Ganges. It was built in 1896.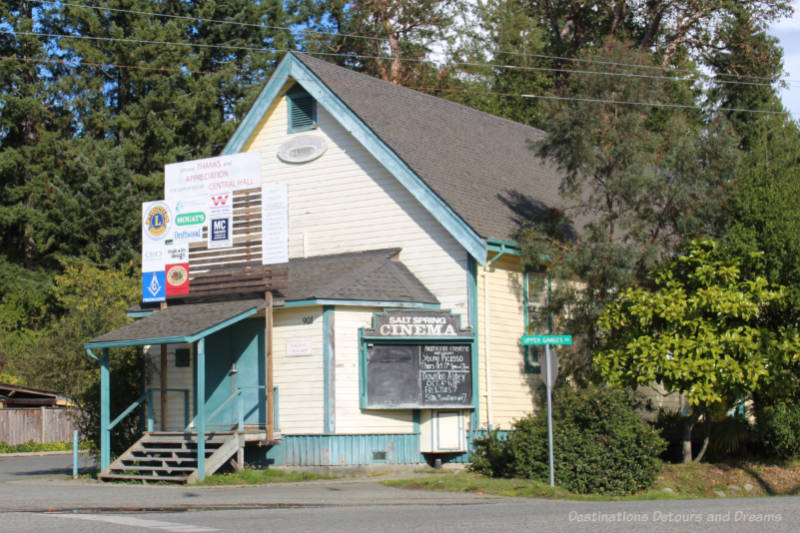 Hang out in a coffee shop in Ganges or Fulford.
Hear some live music or attend a community event.
Moby's Pub has entertainment on some nights of the week (and a trivia night on Tuesdays). The Treehouse Cafe features live music on summer evenings.

Other events include plays, talks, films, art shows, concert, and recreational events. The FISHBOWL is the number one resource for things to do on the island. Visit its Facebook page or look through its print editions.

The Gulf Island Driftwood magazine also has an Events page.

Salt Spring Island Exchange is the website islanders use to buy and sell goods and services, seek jobs, and communicate key information. The events page contains a varied list of upcoming events.

Browse the used goods for sale on Friday and Saturday mornings at the Lion's Club Garage Sale. Note the sale does not operate during July and August.
Attend a book reading, games night, or other event at the Salt Spring Public Library in Ganges.
Staying On Salt Spring Island
There are no chain hotels on Salt Spring, but there are other hotels, motels, bed and breakfasts, cottages, resorts, and campgrounds. Airbnb properties range from rustic cabins with outdoor plumbing to luxurious villas. Many are studio suites attached to an owner's property or in a separate cottage on the property. We've enjoyed stays in three such Airbnb properties on the island. See Salt Spring Island Tourism or Airbnb for options.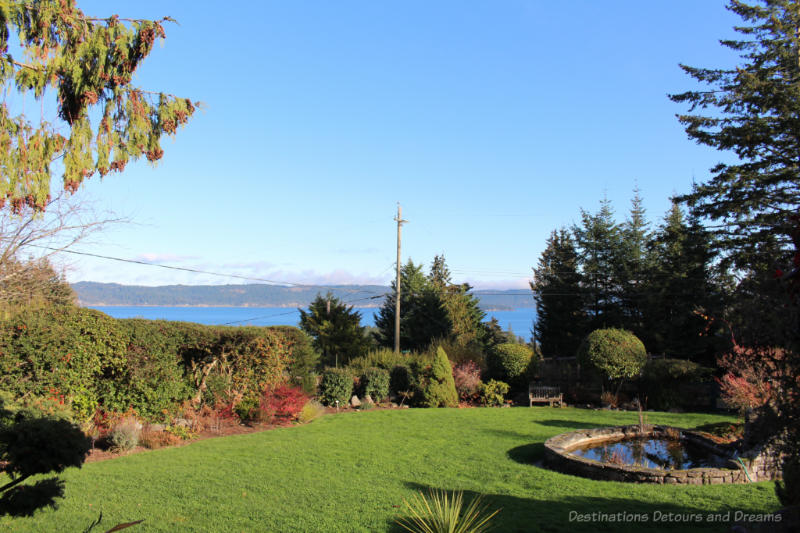 Getting Around On Salt Spring Island
There is a public transit system that operates buses on five routes but frequency is limited. Some routes have only two buses a day. There is also a taxi service.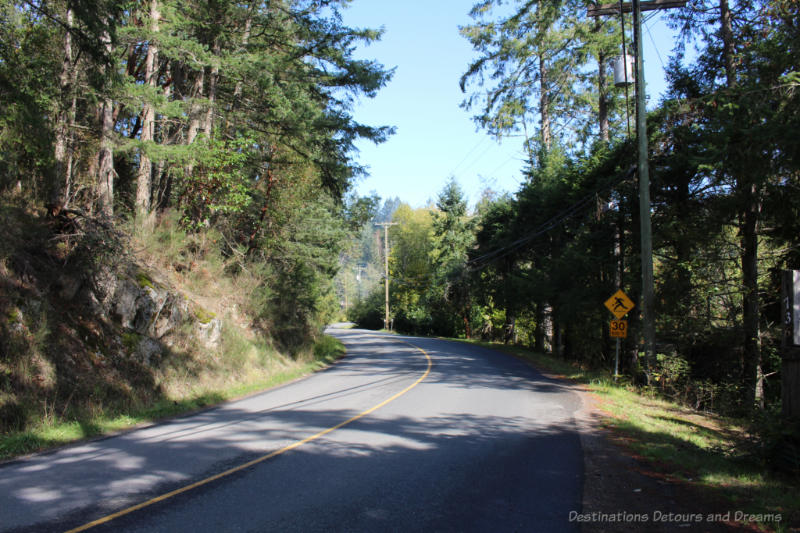 The best way to explore the island is by car. There is one company on the island that rents scooters and cars. The car rental rate is expensive. We found it more economical to rent a car on Vancouver Island (in our case at the airport) before taking it on the ferry to Salt Spring. If you have an electric vehicle you want to take to the island, you'll find several charging spots. Salt Spring Island has the largest per-capita ownership of electric vehicles in Canada.
Bicycle rentals are available. Given the narrow winding roads and sometimes steep climbs, I personally think relying on cycling for seeing the island is dangerous.
There are no traffic lights on the island. Nearly every road is scenic, but there are curves and hills. Hitchhiking is common on the island.
See Salt Spring Island Tourism page on getting around the island.
Getting To Salt Spring Island
BC Ferries operates three ferry routes to and from Salt Spring Island. The route from Swartz Bay on Vancouver Island to Fulford Harbour on the south end of Salt Spring Island takes 35 minutes and covers 5 nautical miles. Depending on the specific day, seven to eight ferries operate daily on this route. Reservations are not accepted on this route.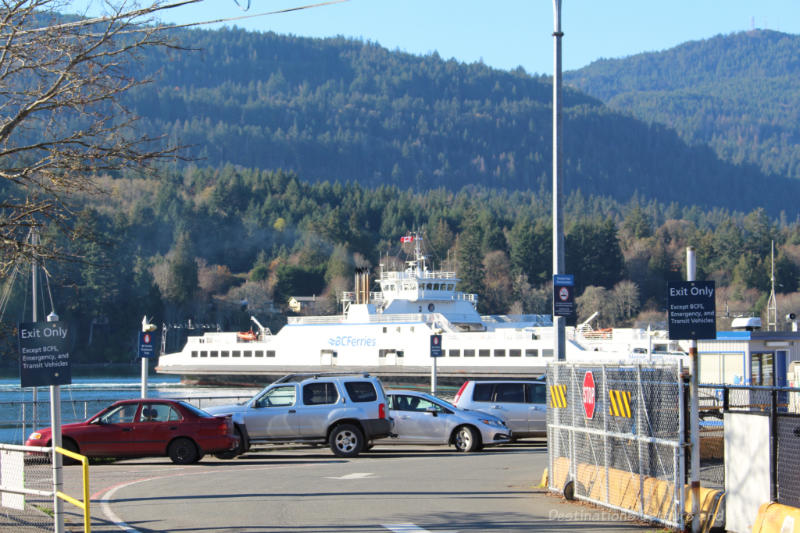 The route from Tsawwassen near Vancouver on the British Columbia mainland takes anywhere from an hour and a half to almost three hours depending on the individual sailing. Some sailings stop at other Gulf Islands enroute. Routes and schedule times vary by day, but in general there are only 2 sailings a day. Reservations are recommended. Because of the limited schedule, many people choose to get to Salt Spring from the mainland with two ferry rides – taking the ferry from Tsawwasen to Swartz Bay on Vancouver Island and then taking the ferry to Salt Spring from there.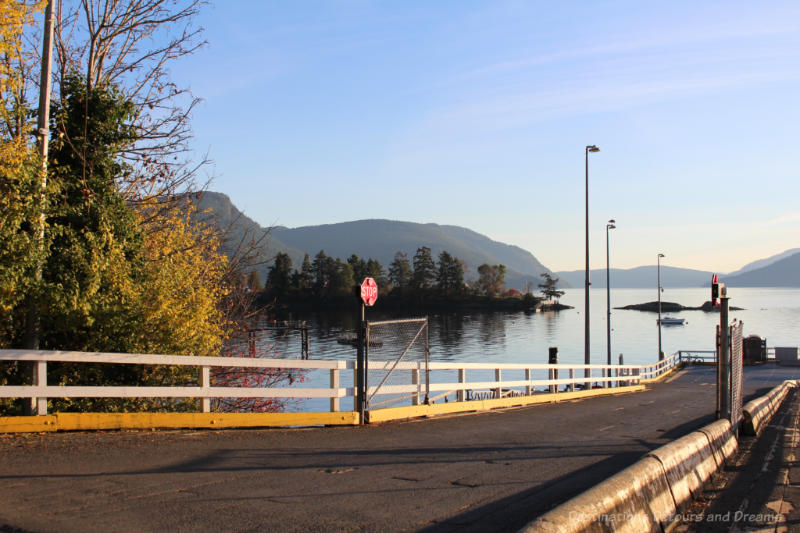 The third ferry route runs between Vesuvius Bay at the northwest end of Salt Spring to Crofton in the District of North Cowichan on Vancouver Island. There are approximately 8 to 10 sailings a day. The route takes 25 minutes and covers 2.8 nautical miles. Reservations are not accepted.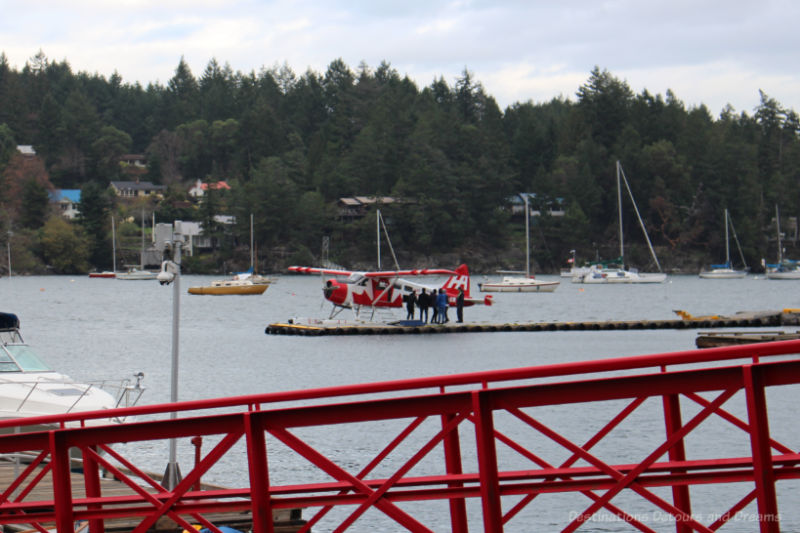 Harbour Air Seaplanes operates three to five flights daily, depending on the season, between Vancouver Harbour and Ganges Harbour on Salt Spring Island.
Salt Spring Island Tourism Information
Visit the Salt Spring Island Tourism web site, the Salt Spring Market web site, or the Salt Spring Tourism office at 121 Lower Ganges Rd in Ganges for more details and information.
Never miss a story. Sign up for Destinations Detours and Dreams free monthly e-newsletter and receive behind-the-scenes information and sneak peaks ahead.
PIN IT