Ten Things To Do In Phoenix, Arizona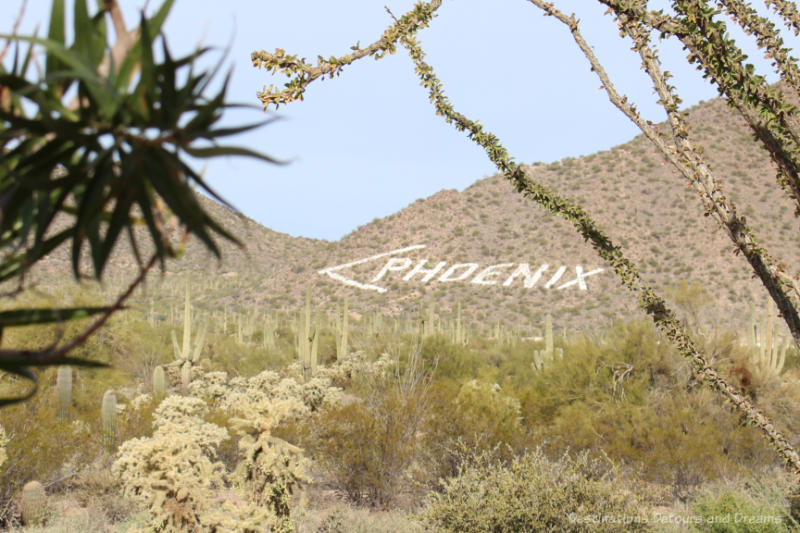 Phoenix Attractions: Best things to see and do in Phoenix, Arizona
Phoenix, the capital city of Arizona, is at the heart of a large metropolitan area that encompasses several cities, thousands of square miles, and over 4.5 million residents. It is located in the Salt River Valley in the Sonoran Desert, a subtropical desert with a rich diversity of plants. Warm temperatures, sun, and a multitude of attractions make the Greater Phoenix Metropolitan area a popular tourist destination, particularly in winter months.
Each city and community within the metropolitan area offers its own attractions. Activities such as golf, desert and mountain hiking, and watching baseball at Cactus League Spring Training games in February and March are popular throughout many communities within the area.
Phoenix is the fifth largest city in the United States. It covers an area of over 500 square miles in which you'll find both towering skyscrapers and desert preserves. Surrounded by low mountains, the city itself is fairly flat and sits at a mean elevation of 1,086 feet.
Phoenix feels new. It is a relatively young city in that it was incorporated as a city in 1888 after being settled as an agricultural community in 1867. Massive growth occurred after World War II when high-tech companies began to move into the valley and air conditioning made the hot summers more bearable. Its population grew from just over 65,000 in 1950 to nearly 1.5 million by 2010 with millions more in nearby suburbs. Yet, it also has an ancient history. The Hohokam people occupied the Phoenix area from 300 to 1500 AD. They created miles of irrigation canals to make the desert land arable. The paths of these canals have been used to create modern irrigation channels.
Tourist season typically runs from November through April, when temperatures are pleasant enough for outdoor activities (although keep in mind that temperatures in December and January can dip to freezing at times). You'll find lower prices in summer, but along with that you'll deal with extremely hot temperatures and you may find seasonal attractions closed.
A car is the best way to get around Phoenix and Greater Phoenix. There is a light rail and a bus system, but both are limited in size and overall reach. An extensive freeway system provides a more efficient means for getting around, although parts of it can get congested during rush hours.
Here are my recommendations for the top things to see and do in Phoenix. Note, there are numerous other things to see and do within the entire metropolitan region. This post focuses on attractions within the boundaries of the city of Phoenix. For information on things to do in other parts of the metropolitan area, see Ten Things To Do In Scottsdale, Arizona and Ten Things To Do In Mesa, Arizona. For things to do in other communities within the Greater Phoenix East Valley, see Greater Phoenix East Valley Guide.
1. Desert Botanical Garden
You'll find over 50,000 desert plants at the Desert Botanical Garden in Papago Park. Six major easy-walking trails loop through sections of the garden. The diversity of Sonoran Desert plant life is on display with great views of the Papago Buttes, Piestewa Peak, and Camelback Mountain in the background. Along one trail, you'll find ideas and strategies for working with nature in a desert environment. Along another trail, you'll see how desert plants have been used by native people for food, medicine, and building. There is an herb garden, an edible garden, a wildflower garden, a bee garden, a shade garden, and a hummingbird garden.
In spring and fall, the Butterfly Pavilion is full of butterflies. Special events are hosted throughout the year. Two of the most notable are the Chiles & Chocolate Festival in November and Las Noches de las Luminarias during the Christmas season.
You can read more about the Desert Botanical Garden in my posts: Phoenix Desert Botanical Garden, Butterfly Exhibit, and Spring Blooms.
2. Heard Museum
Internationally recognized for the quality of its collections, exhibitions, programming, and festivals, the Heard Museum is dedicated to the advancement of American Indian art. Twelve exhibition galleries showcase the culture and traditions of the past and present Native peoples of the Southwest, as well as Native peoples around the world. Traditional and contemporary works of art are on display. There are outdoor sculpture gardens, a café, and a trading-post style shop.
3. Pueblo Grande Museum and Archaeological Park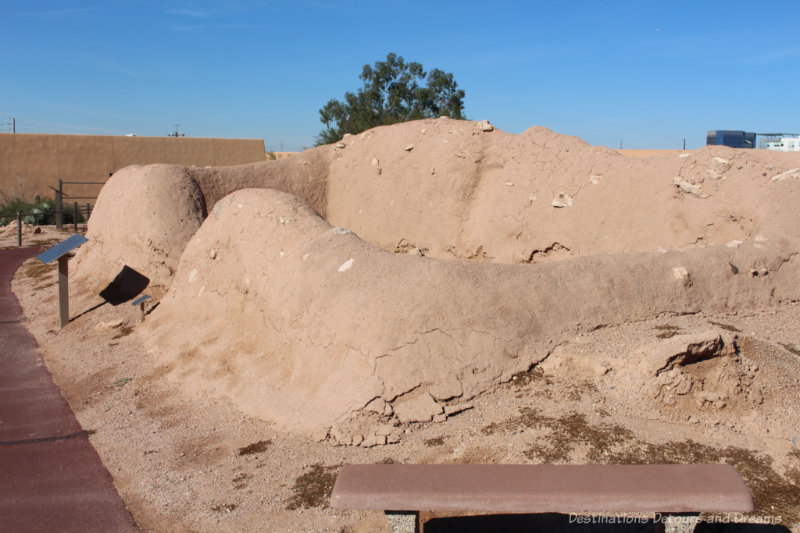 Explore the ancient heart of Phoenix at Pueblo Grande Museum and Archaeological Park, situated on the 1,500-year-old site of a Hohokam settlement. It was one of the largest Hohokam communities in the area. Outdoor pathways take visitors past excavated ruins. Placards contain information about the uses of specific rooms and about Hohokam life. More information and a variety of artifacts can be found inside the museum buildings.
The museum and archaeological park provide a fascinating look into an ancient sophisticated society. You may also be impressed, as I was, with the work done by archaeologists to uncover the life of the Hohokam. As you walk through the ruins, planes flying overhead in and out of nearby Sky Harbor Airport provide a contrast to the ancient settlement and remind you that you are in the heart of modern Phoenix.
4. Phoenix Art Museum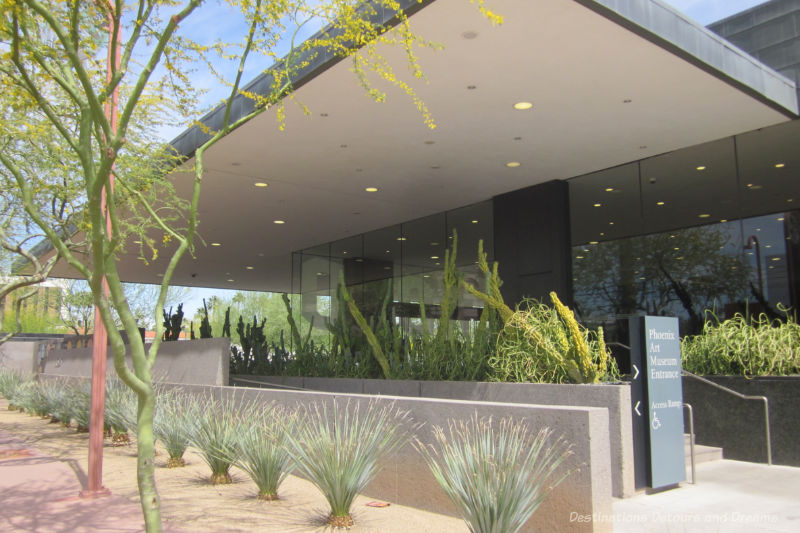 The Phoenix Art Museum in the heart of downtown presents and preserves more than 20,000 works. Its permanent collections include historical and contemporary Asian art, European historical masterpieces from the 14th through the 19th centuries, American and Western art, fashion design, modern and contemporary art, and photography. The detailed miniature rooms in the popular Thorne Rooms exhibit replicate American and European rooms at 1:12 scale. A variety of special exhibitions augment the permanent collections. Allow several hours to fully explore the museum.
5. Musical Instrument Museum
The Musical Instrument Museum has a collection of more than 8,000 instruments from more than 200 countries. Instruments are displayed in groups by country as well as by types of instruments. Information about the instruments accompany the displays. Video and audio recordings allow the visitor to experience the sounds of the instruments. There are also displays by types of music and a section featuring instruments of well-known musicians. There are opportunities to try your own hand at playing a few instruments.
The museum has a special focus on the kind of instruments played everyday by people worldwide. Its motto is "music is the language of the soul." There is so much to see and experience at this museum, it is easy to become overwhelmed. Plan to spend several hours or a full day. It is a museum that warrants repeat visits.
6. Papago Park / Hole-in-the-Rock
Pagago Park, home to the Phoenix Zoo and the Desert Botanical Garden, covers over 1,200 acres of park recreation. It is known for its generally easy hiking and mountain biking trails that interlace through sandstone rock formations.
Hole-in-the-Rock is the most prominent icon of the park. The landmark features a series of openings in the red butte caused by years of wind erosion. A short natural dirt and step path winds around the butte to the Hole-in-the-Rock where you have great views of the city. Boulders near the Hole-in-the-Rock appear to be solstice and equinox markers. The ancient Hohokam People noticed that rays of light through a hole in the ceiling changed position on the chamber's floor depending on seasonal movements of the sun.
7. Mystery Castle
Mystery Castle is a quirky, rambling south Phoenix house made mostly of recycled and salvaged material. Boyce Luther Gully starting building the house in 1929 after being diagnosed with tuberculosis. He left his wife and daughter in Seattle and moved to Phoenix. He did not die of tuberculosis as expected and continued to work on the house until 1945 when he died of cancer.
When he'd lived in Seattle, he and his daughter Mary Lou built sand castles on the beach. When the sand washed the castle away, Mary Lou asked her father to build her a strong castle to live in. She did not see the "castle" he'd built in Phoenix until she inherited the house after his death. She and her mother moved to Arizona to live in the 8,000 square foot, 3-story structure.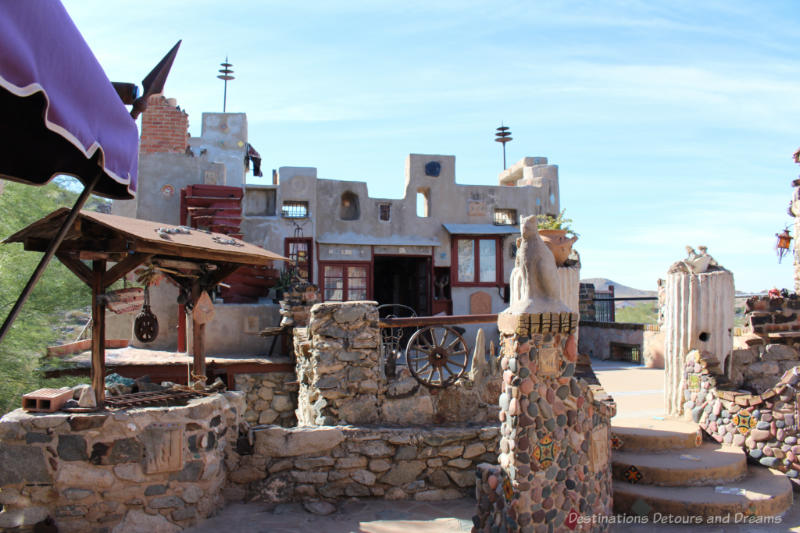 Guided tours take you through the house with its 13 fireplaces, several patio areas, and 18 rooms filled with items collected by Boyce and his daughter. Note that it is not wheelchair accessible. Walkways are uneven and there are occasional steep steps.
8. South Mountain Park and Preserve
South Mountain Park and Preserve, one of the largest municipal parks in the country, offers 58 miles of trails for horseback riding, hiking, and mountain biking for all activity levels.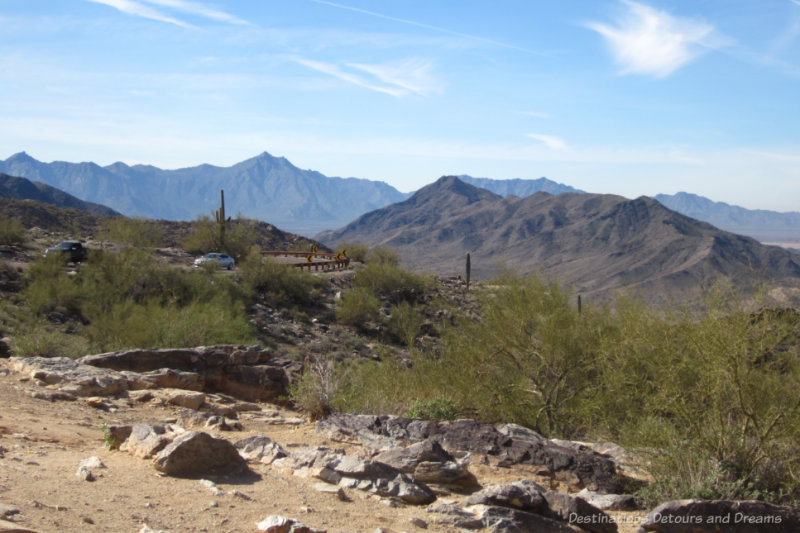 If you aren't interested in hiking, South Mountain is still worth visiting. The scenic 5.5-mile-long Summit Road takes you to Dobbins Lookout. Here, at 2,330 feet elevation, a stone ramada and small observation platform offer panoramic views of Greater Phoenix.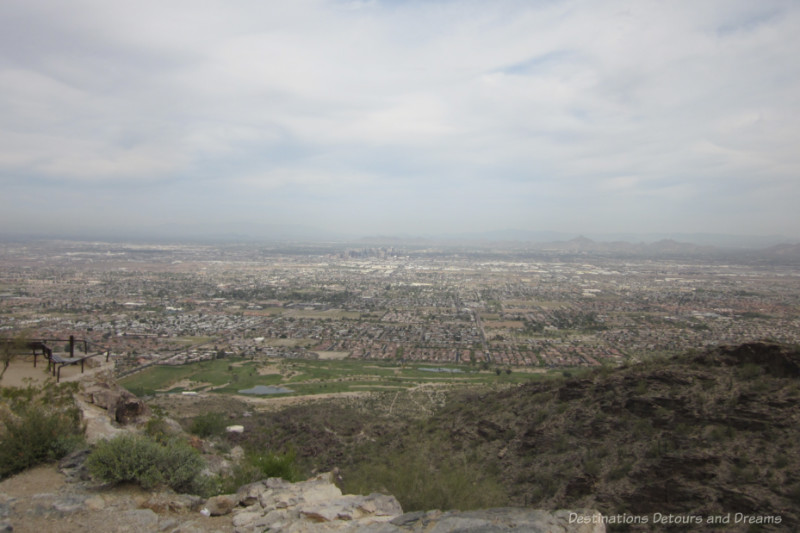 Note that vehicle traffic is limited on Sundays. The park's main roadway is closed at the one-mile mark on the fourth Sunday of the month for the entire day. On the other Sundays, it is closed from 5 to 10 am.
9. Rosson House And Heritage Square
Heritage Square in the midst of modern, downtown Phoenix reminds you of the city's Victorian past. Buildings in this last remaining residential block of the original townsite date to the late 1800s.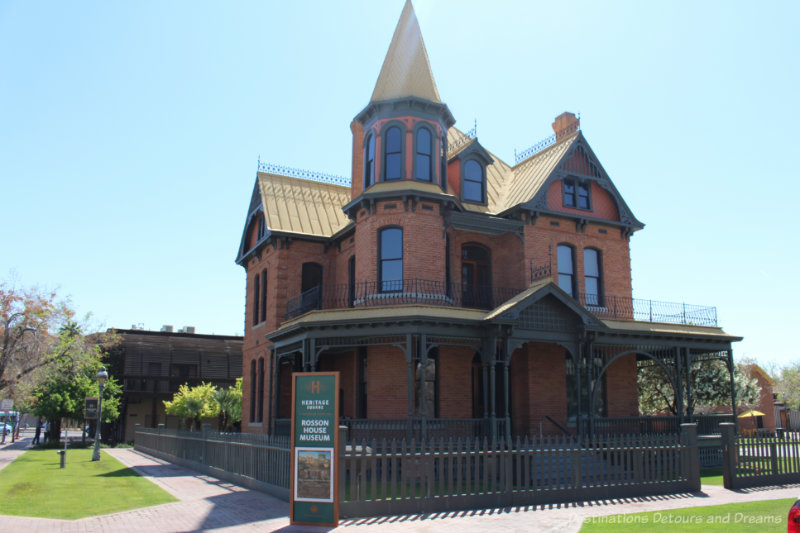 Rosson House stands majestically in one corner. Guided tours of the fully-restored 1895 Queen Anne Victorian house museum give you a sense of what life was like in Phoenix in that time period. 
At the other end of the square, you'll find the modern Arizona Science Center. Hands-on exhibits, a state-of-the-art-planetarium, and a 5-story high giant-screen theater provide entertainment and education for all ages.
10. Phoenix Zoo
The Phoenix Zoo is one of the largest non-profit zoos in the United States with over 3,000 animals including many threatened or endangered species. Four main trails showcase African animals, the wildlife and plant life of Arizona, creatures of the Tropics, and small animals from around the world for children to get close to. Visit early in the morning on hot days before animals disappear for afternoon siestas out of the sun.
Bonus: More Things To Do In Phoenix
Arizona Biltmore
The Arizona Biltmore has been an Arizona landmark since it opened in 1929 and became known as the Jewel of the Desert. For its first 44 years, the elegant hotel was not open to the general public. You stayed only at the invitation of the Wrigley's, the hotel owners. Many famous people, including thirteen presidents, stayed at the hotel over the years.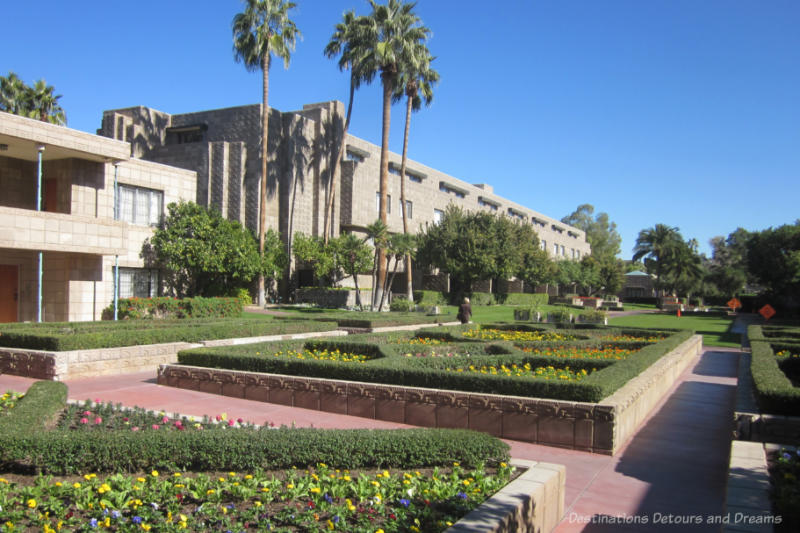 The hotel is associated with Frank Lloyd Wright although he was not the architect. It was designed by Albert Chase McArthur, a former student of Wright's. Wright spent six months as a consultant to the building project. A 2021 renovation updated the resort to add contemporary features while also restoring iconic past elements.
On hotel history tours, you'll see the pool where Irving Berlin wrote "White Christmas," learn about the famous Biltmore Blocks, discover the Mystery Room, and hear stories of famous visitors. Contact the hotel directly to find out about taking the tour.
Tovrea Castle at Carraro Heights
Tovrea Castle sits on a hilltop overlooking the Loop 202 Freeway and nearby Papago Park. It has been dubbed the "wedding cake house," because it resembles a tiered cake.
The castle was built as a hotel between 1928 and 1930 by Alessio Carraro, an Italian immigrant, who envisioned a desert resort community. His dream did not materialize. In 1932, stockyard magnate Edward Ambrose Tovrea bought the property and transformed the hotel into a private residence. He died a year later, but his widow Della lived there until her death in 1969. After her death the City of Phoenix purchased the land and restored the structure.
Docent-led tours are available. Demand, however, far exceeds the limited amount of tour space. Tours sell out months in advance. I'd wanted to tour Tovrea on several of our Arizona visits, but, even with planning what I thought was well in advance, was unable to find space on a tour. Today, a lottery system is used to assign spots in the tours. This is done months in advance.
Phoenix Sonoran Preserve
The Sonoran Preserve, in North Phoenix, comprises more than 9,600 acres. Three trailhead locations offer 36 miles of hiking trails, ranging from easy to difficult.
Camelback Mountain
Experienced hikers may wish to climb Camelback Mountain, named because of two rock formations resembling the head and back of a kneeling camel. Two challenging trails ascend 1,420 feet and offer panoramic views of the city.
Roosevelt Row Arts District and First Fridays
The Roosevelt Row Arts District in downtown Phoenix is a unique walkable neighbourhood that is home to art galleries, restaurants, boutique shops, and colourful street art. First Friday, which takes place on the first Friday of each month, is a self-guided art walk with access to over 70 galleries. Some vendors provide food and beverages to enjoy while you view the exhibits. You'll also find live music and artisan tents on the street.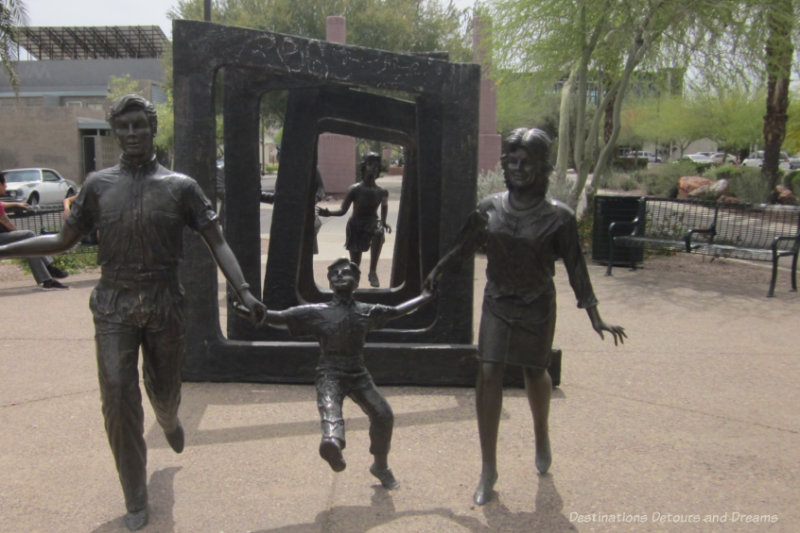 Penske Racing Museum
The Penske Racing Museum showcases a collection of cars, trophies, and racing memorabilia chronicling the career of Team Penske, formerly known as Penske Racing. Team Penske has over 40 years of racing experience and over 300 major race wins.
Never miss a story. Sign up for Destinations Detours and Dreams free monthly e-newsletter and receive behind-the-scenes information and sneak peaks ahead.
PIN IT