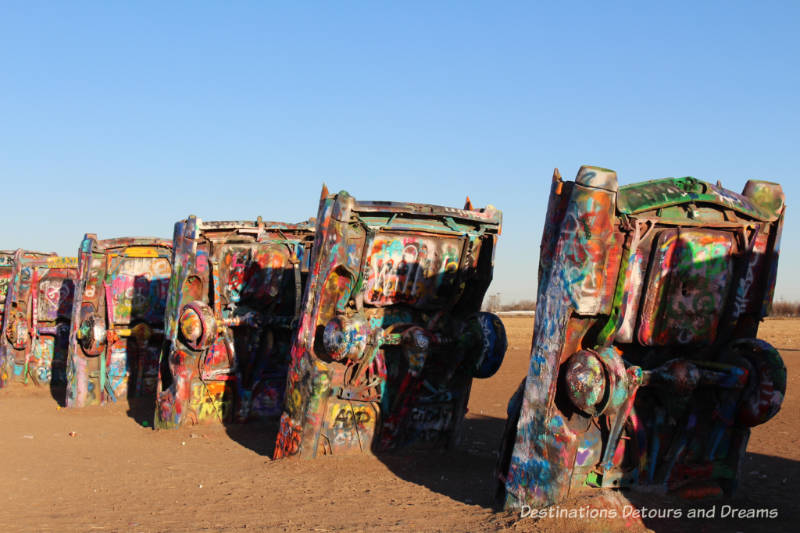 Old Cadillacs, buried part-way in the ground and spray painted,
are a roadside attraction near Amarillo, Texas
There are no shortage of offbeat roadside attractions in the United States. One of these, located alongside the old historic U.S. Route 66 at Amarillo, Texas, is Cadillac Ranch. Buried nose-down halfway into the ground are ten cars, all Cadillac models from the years 1948 to 1963, covered in layer upon layer of paint.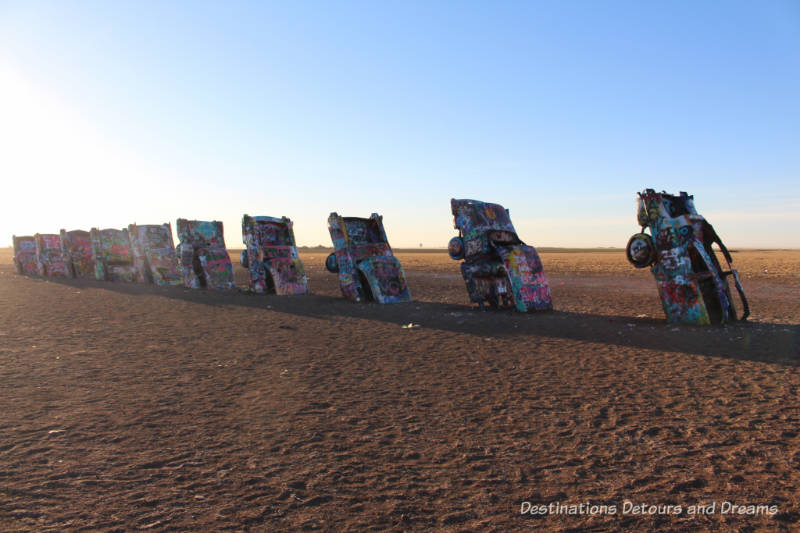 This attraction started as an art installation in 1974. It was created by a group of San Francisco artists known as the Ant Farm and sponsored by Texas millionaire Stanley Marsh. Most of the Cadillacs were purchased from junk yards. They were buried nose-down facing west at an angle purportedly the same as that of the Great Pyramid of Giza in Egypt.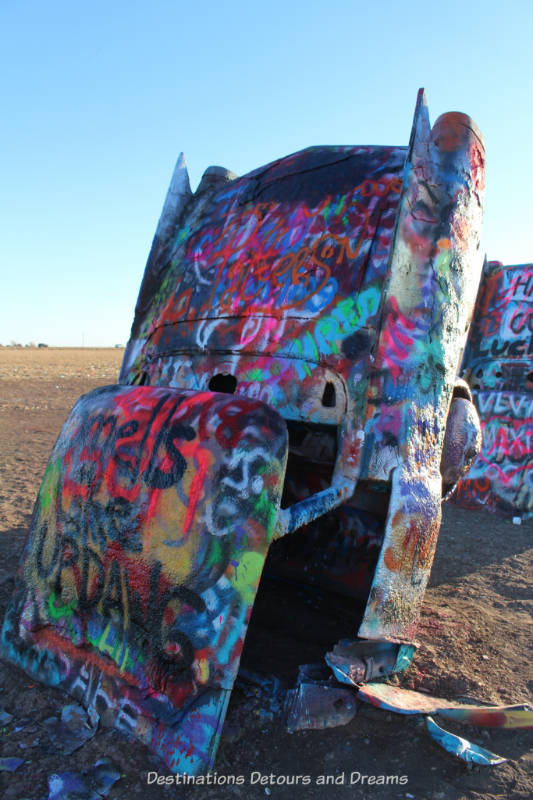 Originally the cars were left their normal colour, but shortly after 1976 people started painting graffiti on them. Over time, vandals smashed windows and doors and souvenir hunters stole chrome, radios, speakers, and even doors. The wheels are now welded to the frames to prevent more theft. Adding your own paint is welcomed and expected.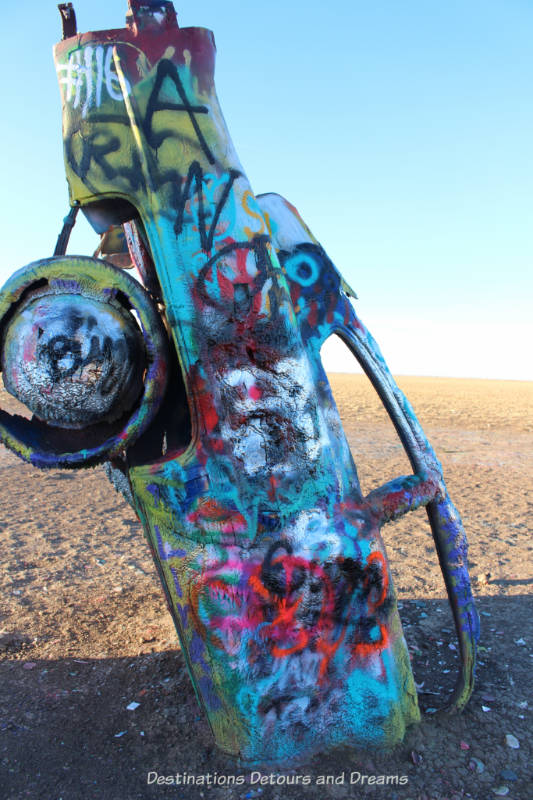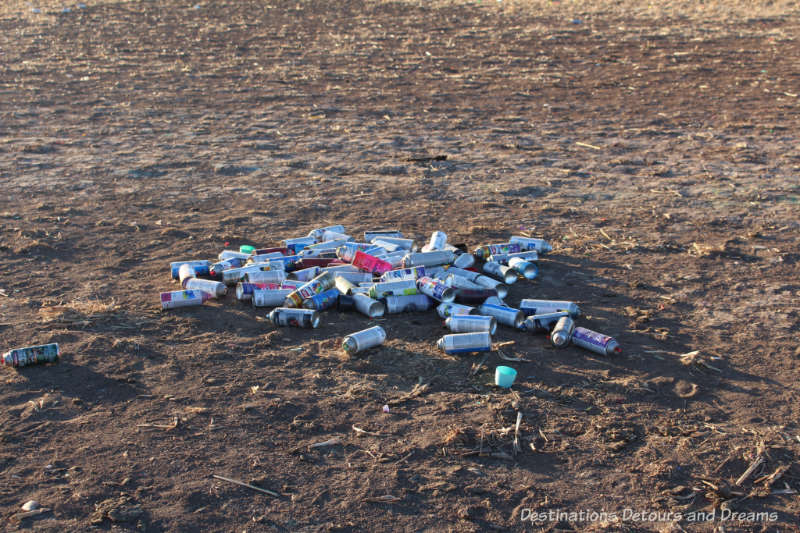 Several times over the years the cars have all been purposely repainted. Once they were painted pink in honour of Stanley's wife's birthday. They were painted black to mark the death of Ant Farm artist Doug Michels. In 2012 they were painted rainbow colours to commemorate Gay Pride Day. But it never takes long after one of these paint jobs for graffiti to take over.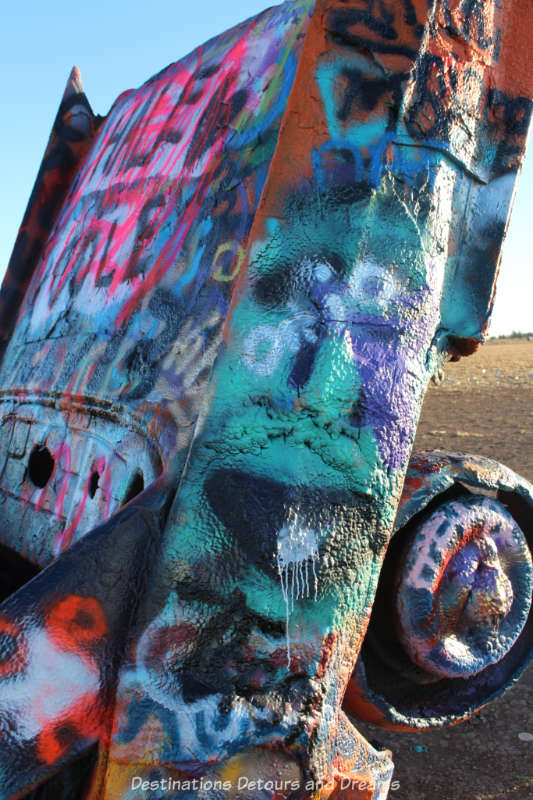 I read that Cadillac Ranch was created as an art tribute to the "Golden Age of Automobiles." Art means different things to different people and is open to various interpretations. Cadillac Ranch appeared to me as less of an art piece and more of a novelty item or even, dare I say, a pile of junk. The rusted cars with parts missing feel like a graveyard. The analogy of Cadillac Ranch as a symbol of the inevitability of death is the theme of Bruce Springsteen's song "Cadillac Ranch", released in 1980.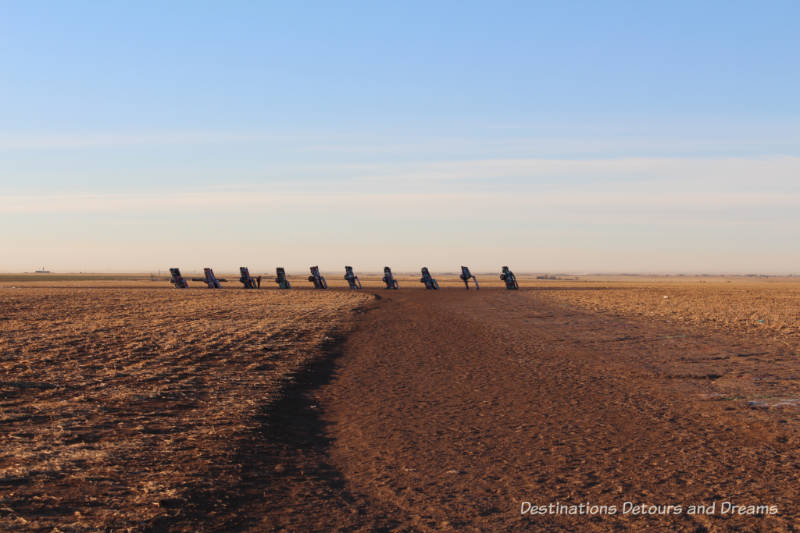 As Amarillo expanded, the original site of Cadillac Ranch became valuable property. In 1977, the cars were dug up and moved two miles west to their current location on the south side of Interstate 40, ten miles southwest of Amarillo, Texas. The cars are visible from the Interstate as a series of greyish bumps. To get to the Ranch and see the cars close up, take exit 62A to Hope Road and turn west on South Frontage Road.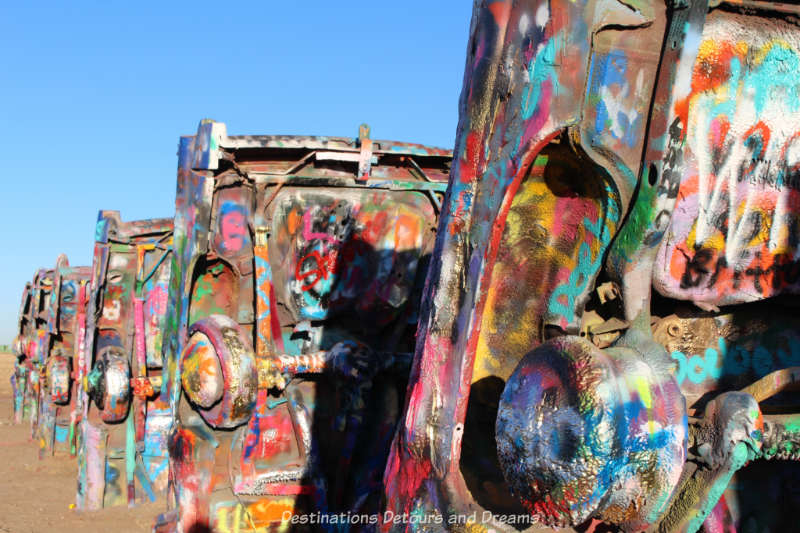 Cadillac Ranch is open 24/7. Don't forget to bring spray paint and have some fun adding to the colours. (I didn't think to bring spray paint when I visited.) Take a photo of your handiwork. It is likely to only last a day or two before being painted over. Take your empty paint can and other trash with you when you leave. There are already too many paint cans littering the field.
Never miss a story. Sign up for Destinations Detours and Dreams free monthly e-newsletter and receive behind-the-scenes information and sneak peaks ahead.
PIN IT