Craft Beer And Burgers In Sarnia, Ontario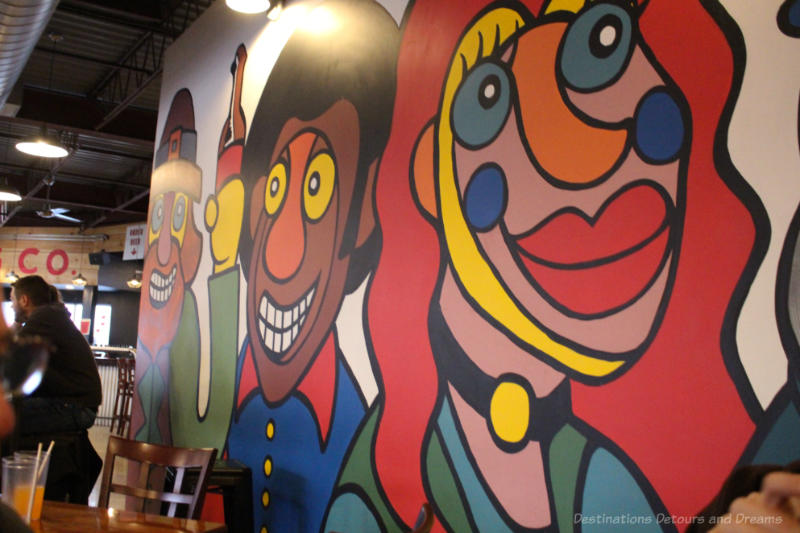 Refined Fool craft brewery and Burger Rebellion restaurant in Sarnia, Ontario, Canada
Refined Fool is Sarnia's first craft brewery. It opened in 2014 and for several years it remained Sarnia's only craft brewery. (Others have opened in Sarnia in the last couple of years and there are several other craft breweries in surrounding communities within Lambton County.) Refined Fool serves small-batch craft beer ranging from IPA to milk stouts to Belgian strong ale.
Sarnia is a Canadian city in Lambton County in southwestern Ontario. It is situated where Lake Huron flows into the St. Clair River, which forms the border between Canada and the United States. Directly across the river is Port Huron, Michigan.
I visited the Refined Fool Sarnia Midtown location on London Street. This larger second location was opened after several years of success at their first location on Davis Street in downtown Sarnia. The downtown location remains open as well.
On its website, Refined Fool says they are "a group of teachers, creatives, blue collars, entrepreneurs, musicians and pastors who care about beer, business, Sarnia, and each other. We started out as a foolish bunch of backyard brewers using propane burners and frozen hoses."
What first intrigued me about the brewery before I visited was the name of its brews. Names like A Zane Lost His Avocado Bag, Shirtless At Mother-In-Law's Retirement Party, Illiterate Librarian, When Christina Met Davis, So Many Aardvarks, Murder of Crows, and Joe Sent Me. Someone is having a lot of fun coming up with names!
Refined Fool has made 139 beers over the course of its existence. Over twenty are on their current offerings list. The Beer Archives page on their website lists the beers they've brewed in the past. With the exception of only a few (Lager 1, Lager 2, Lager 3, Lager 4), the names are unusual. "Shirtless" figures in the names of several.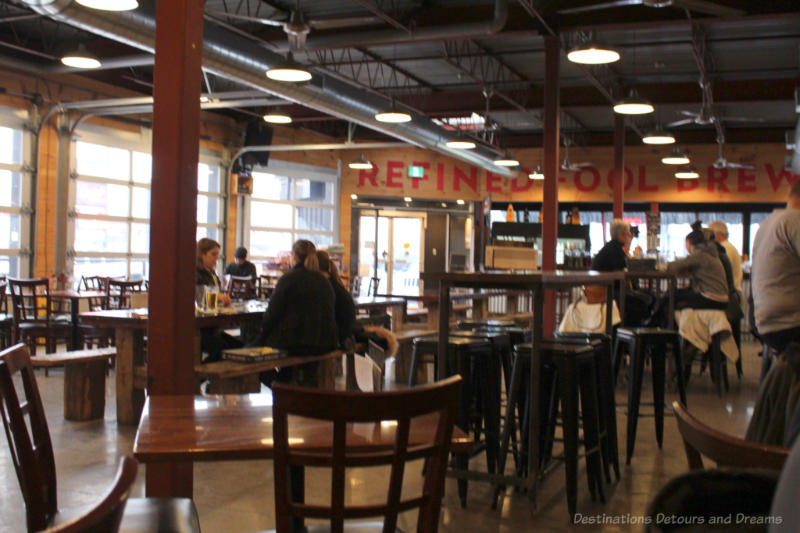 The Midtown location has a relaxed, welcoming atmosphere with colourful murals along one wall. There are plenty of tables for small or larger groups. There were families enjoying a meal, small groups visiting, and a larger group celebrating a birthday when we were there. Shelves near the front contain a collection of board games for your use. My daughter, son-in-law, and I played a game of Scrabble after our meal.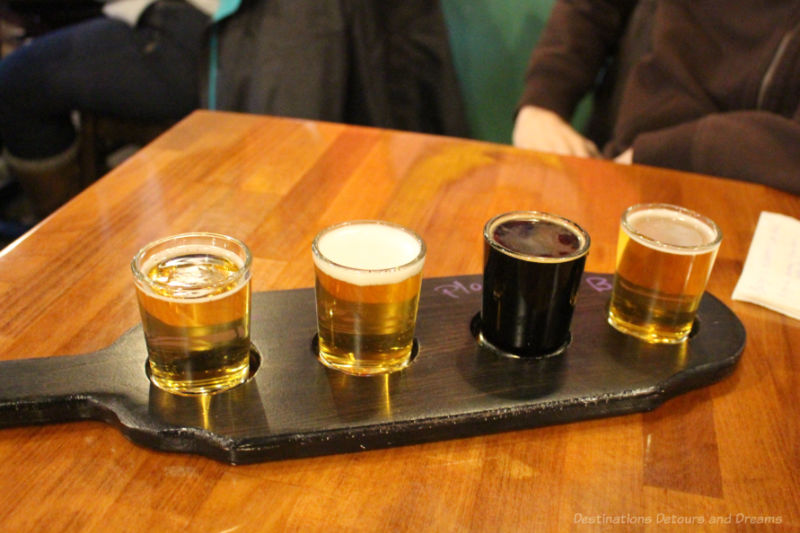 At the bar in one corner you can order a pint of your favourite brew or select a sampling of beers in 4-ounce servings. With so many brews on offer, there is a good chance you'll find one to your liking. Of the three I sampled I liked Bee R, a pale ale infused with local honey, the best. It was smooth and almost creamy. I would like to return and try others.
In the opposite corner is the Burger Rebellion kitchen. You order and pick up food at the counter. The names of the dishes on the Burger Rebellion menu are as interesting as Refined Fool's beer names. Burger choices include the Zealot, the Uprising, the Traitor, the Reformer, and several others. If you want a salad, you can choose between a Capitalism Bowl and a Marxism Bowl. Fittingly, the Marxism Bowl is cheaper. My burger was one of the best I've ever had.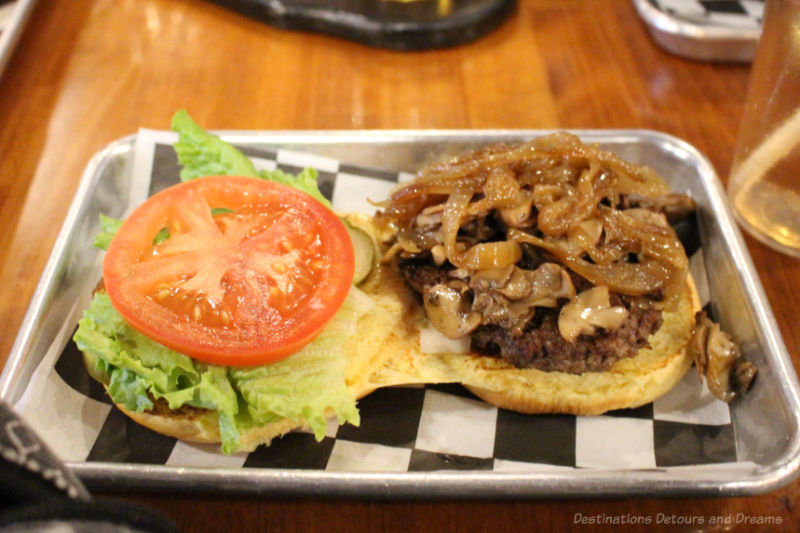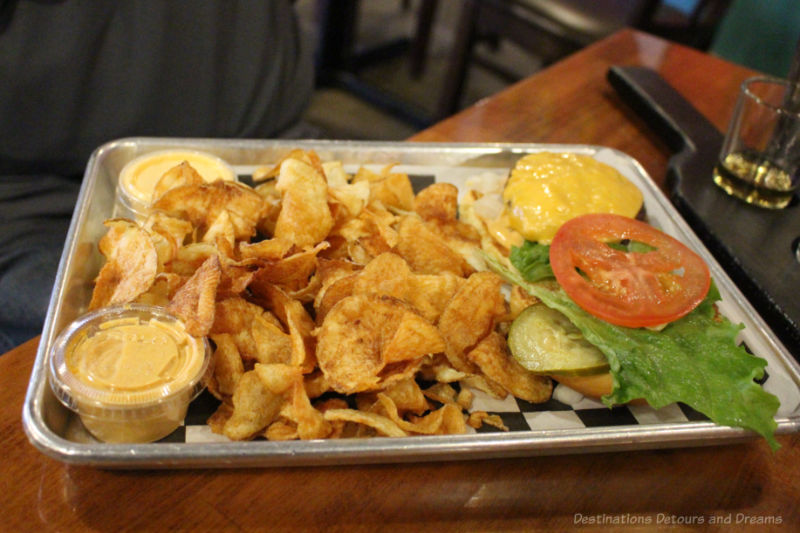 Burger Rebellion has two other locations. March Hare provides the food at Refined Fool's downtown location.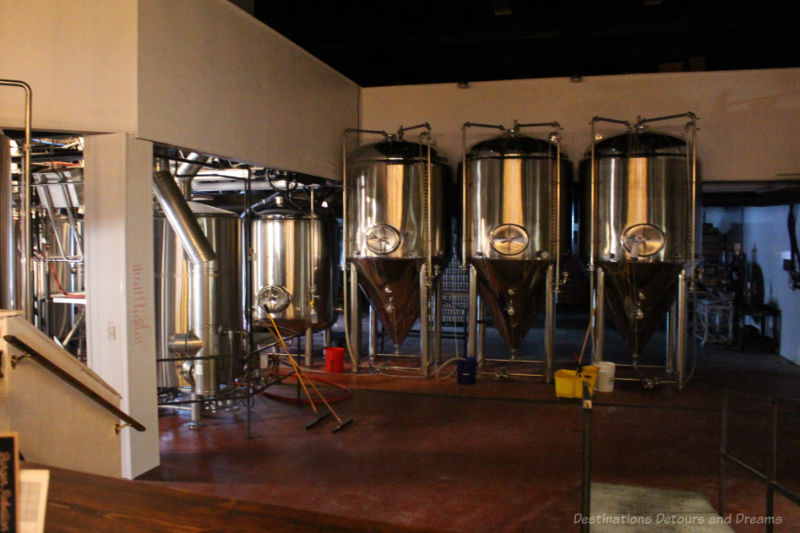 Both Refined Fool locations hold a variety of events. On their event calendar you'll find things like drop-in trivia night, board games afternoons, jigsaw competitions, concerts, and Sunday brunch with music.
A relaxed community-type atmosphere and good food and beer mean I'm very likely to return to Refined Fool on future visits to Sarnia.
Never miss a story. Sign up for Destinations Detours and Dreams free monthly e-newsletter and receive behind-the-scenes information and sneak peaks ahead.
PIN IT