Walking Through California History in Old Town San Diego
Explore Southern California history in a historic neighbourhood in San Diego, California
The neighbourhood of Old Town in San Diego is considered the "birthplace" of California. It was here in 1769 Father Junipero Serra established the first of 21 missions that became the cornerstone of California's colonization.
Today the area retains an "old town" feel with restored and reconstructed buildings from the period of 1821 to 1872 housing specialty shops, restaurants, galleries, and entertainment venues. It is an easy area to stroll through and feels worlds apart from the downtown highrises less than five miles away.
Old Town San Diego Snapshot History
The Kumeyaay Native Americans lived on the San Diego River for thousands of years. In 1769 Spanish colonization began with the construction of Mission San Diego del Alcalá and a military outpost called El Presidio Reál. Mexico gained independence from Spain in 1821 and San Diego's Mexican Era began in 1822 wen a new military command arrived in the town. Sun-dried brick adobe was the traditional building material of the day. Within a few years, streets of adobes surrounded an open plaza that hosted fiestas, bullfights, and games of chance.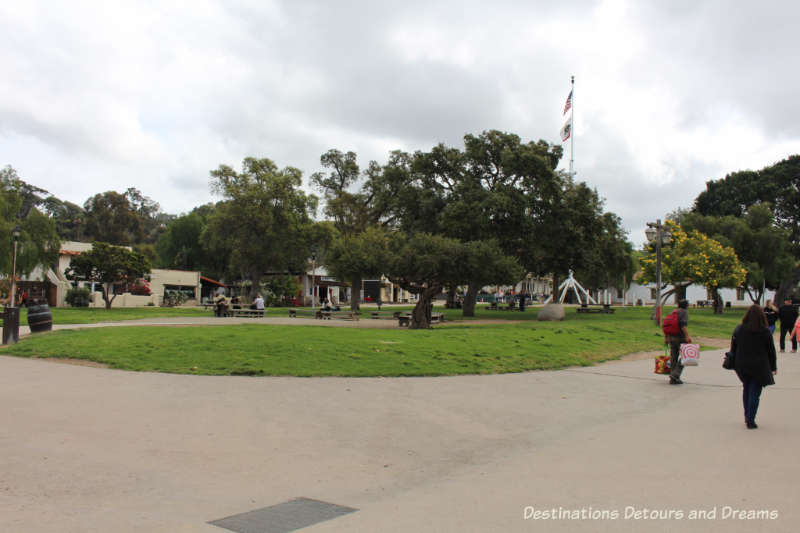 The Mexican Era ended abruptly in 1846 when the United States declared war on Mexico. The war divided San Diego families with some members loyal to Mexico and others supporting the United States. The town was occupied and won back several times. In 1846, it was captured by the United States. The Treaty of Guadalupe Hidalgo ended the war in 1848 and created a new boundary between the two countries. The American Era began.
The American Era was one of ups and downs. In 1850 San Diego was incorporated as a city. The town became insular by 1856 due to the decline of both the military presence and the Gold Rush boom. Fire was a constant threat. Storms in 1861 brought high tides and flooding. An 1862 earthquake was followed by a smallpox epidemic and years of drought. The 1869 discovery of gold in nearby Julian created a need for supplies and a boon to San Diego's economy. But by 1867 San Franciscan Alonzo Horton had begun creating "New Town" on the site of San Diego's current downtown. It shortly took over most of Old Town's business. In 1872, a fire destroyed a number of buildings in old Town, including the courthouse.
In 1907 sugar magnate John D. Spreckles bought the remains of La Casa de Estudillo in Old Town and began efforts to revive Old Town. La Casa de Estudillo had gained some popularity with tourists who believed it was the site of the fictional wedding of Ramona from Helen Hunt Jackson's popular 1884 novel "Ramona". That popularity encouraged local leaders to begin restoring other buildings. Old Town San Diego State Historic Park was created in 1968.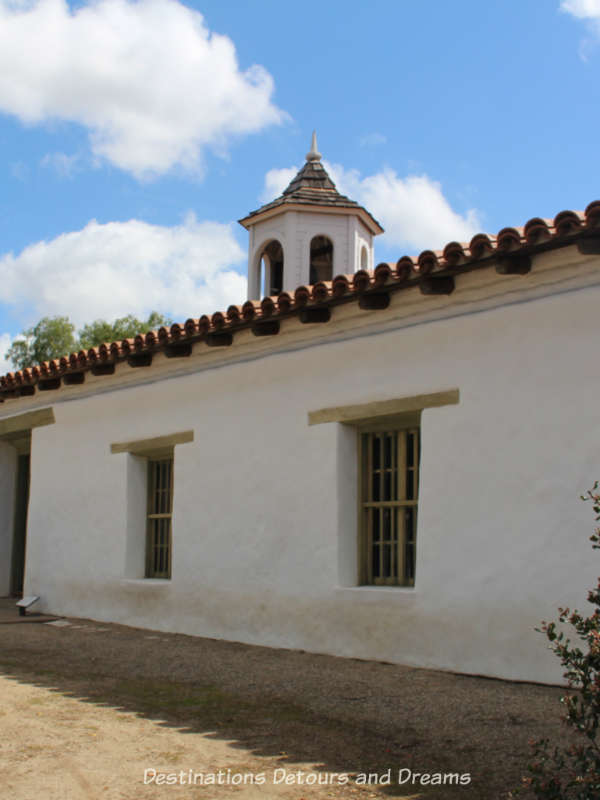 Old Town San Diego Neighbourhood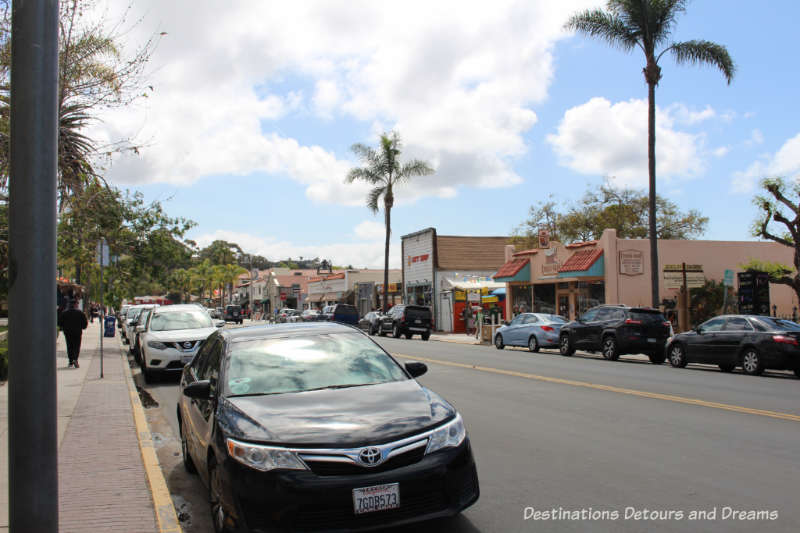 Old buildings on palm tree-lined streets contain a variety of restaurants and shops selling Indian jewelry, art, clothing, colourful Mexican handicrafts, souvenirs, and more.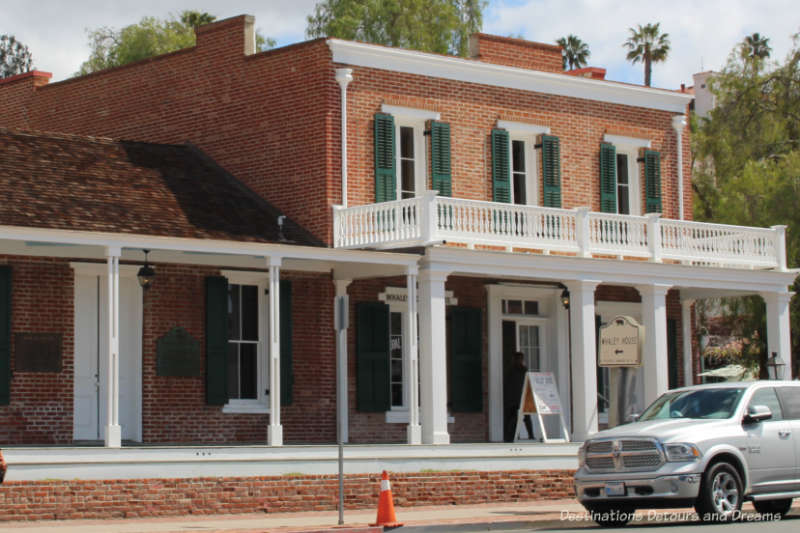 Historic Whaley House has operated as a museum since 1960. Businessman Thomas Whaley built the Greek Revival style brick building as his family home in 1857. Over the years he rented out part of the house and rented out the entire house for a number of years after he moved to New Town in 1885.
Whaley House has been dubbed "America's Most Haunted House." Rumours of ghosts roaming the halls have existed since the house was built. The house was built on the site of a public gallows. The most famous ghost is Jim Robinson, a drifter and thief who was hanged four years before the house was built. Shortly after the family moved in, they heard heavy footsteps moving about the house. Many visitors to the house have reported encountering Thomas Whaley himself. When Regis Philbin visited the house in 1964, he said, "there was definitely something going on in that house." I did not have time to tour the house myself and, therefore, have no stories of my own to reinforce or dispute the claims of hauntings.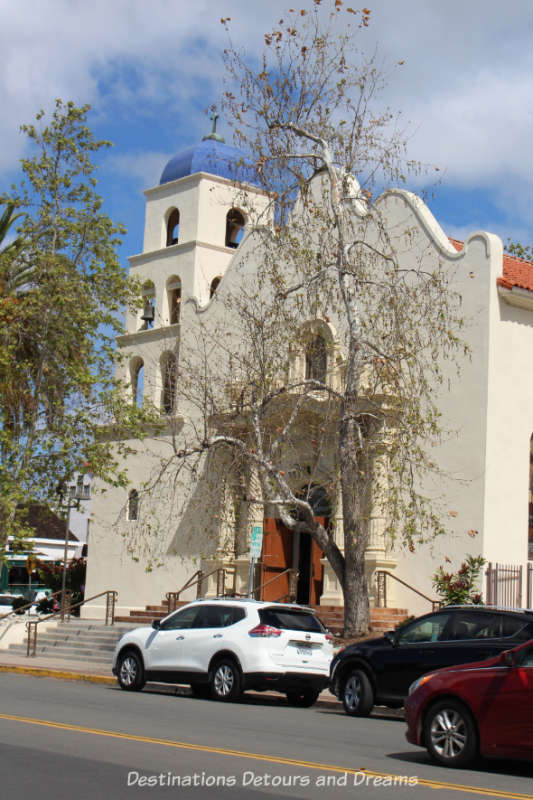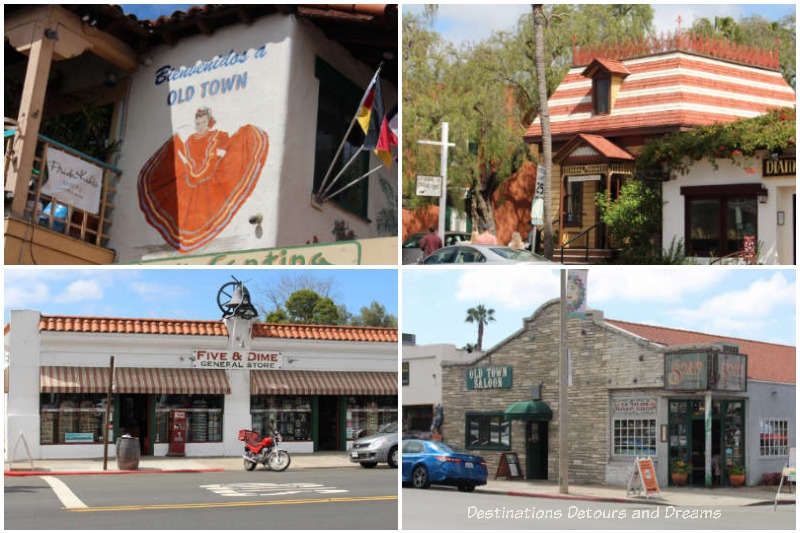 Old Town San Diego State Historic Park
Old Town San Diego State Historic Park occupies one end of Old Town. Restored and reconstructed buildings are now museums, shops, and restaurants. It's an odd but fun mix of history and modern day entertainment. The buildings and staff in period costume create the feeling of being in the early 1800s. A number of small museums offer the opportunity to learn more about the history. Yet you can wander into shops and purchase modern as well as nostalgic goods or see local artisans demonstrating their crafts.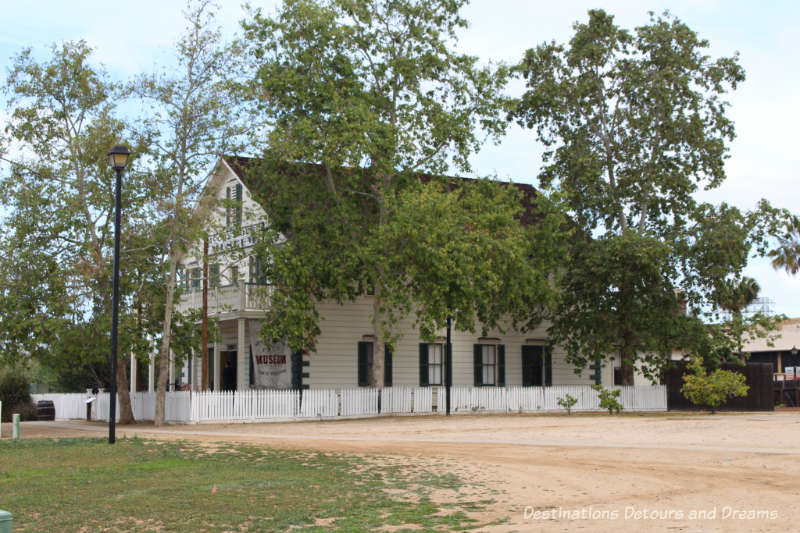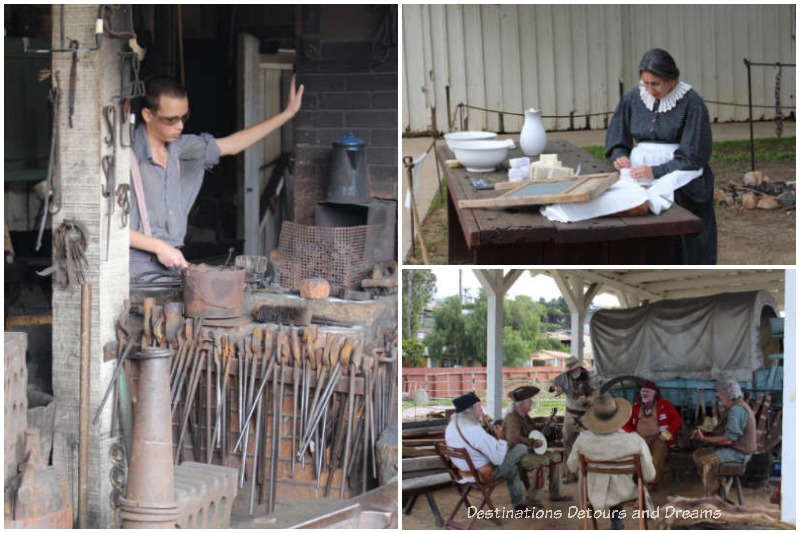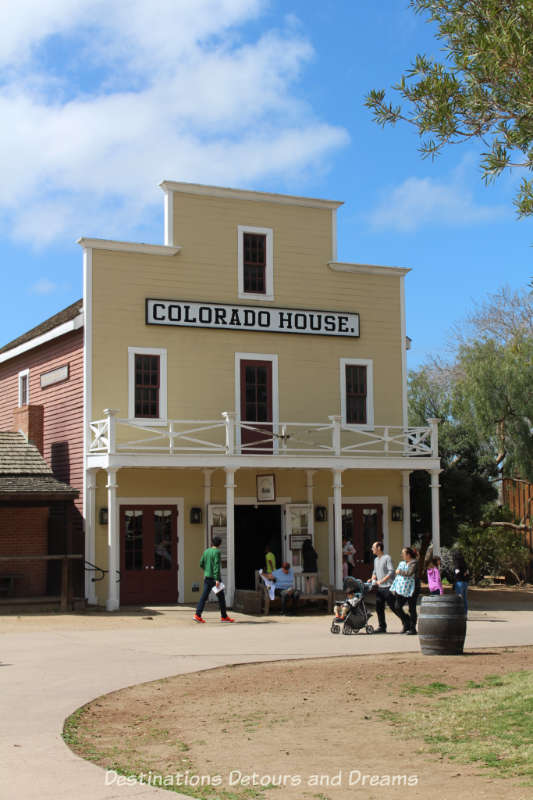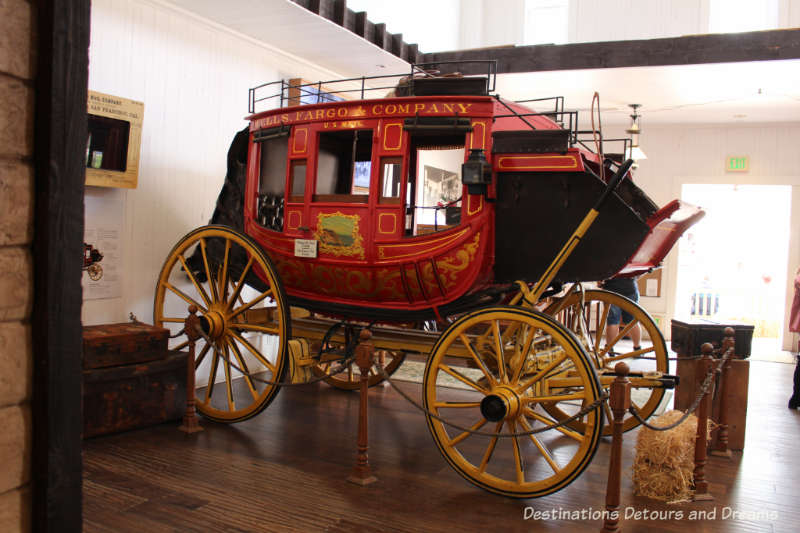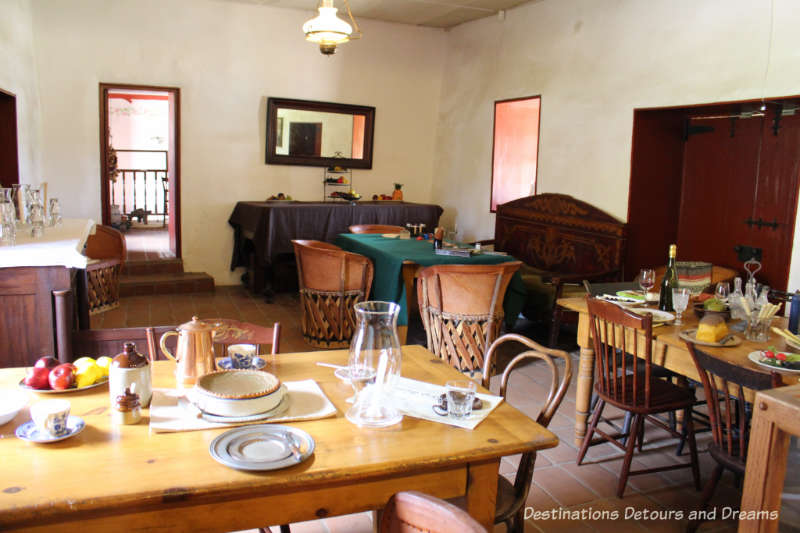 The more than twenty buildings include several adobe homes, a reconstructed adobe once used as a military hospital, the San Diego Courthouse which was the first brick building built in San Diego by the Mormons after the War with Mexico, the original wood-framed first public schoolhouse, the original Yuma/San Diego 1850s stage stop, and a reconstructed two-story pre-fabricated general store.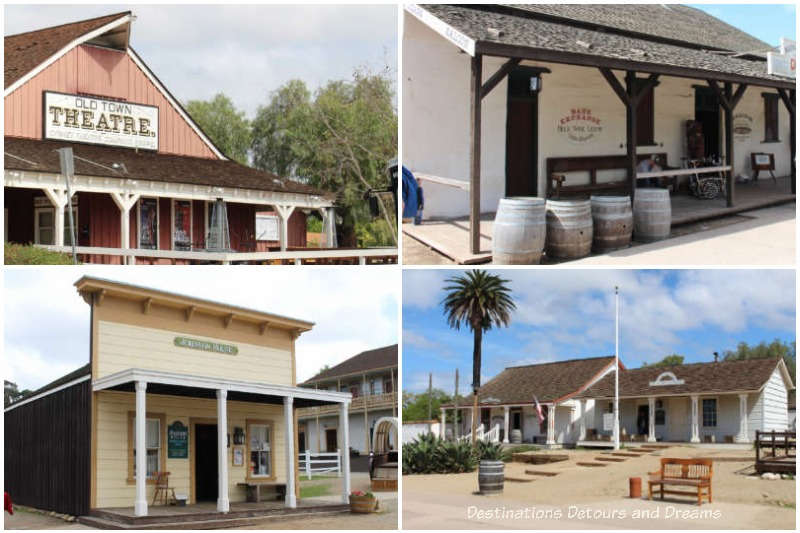 Fiesta De Reyes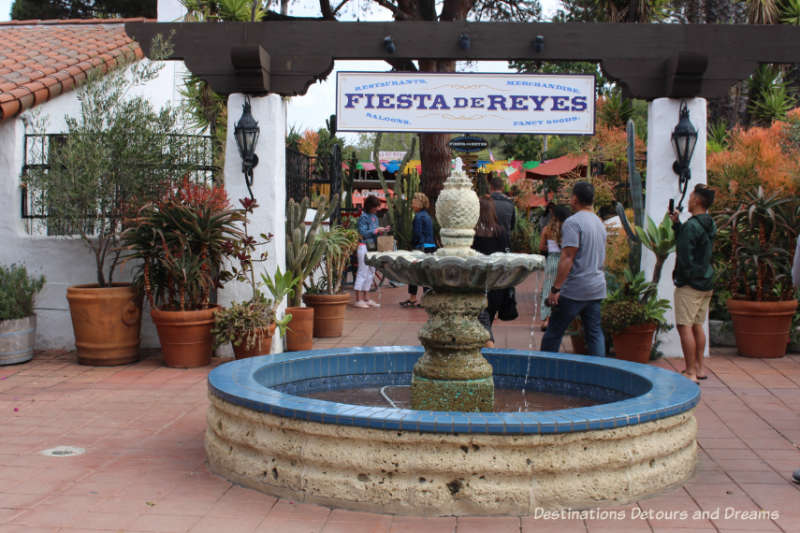 Fiesta de Reyes is marketed as "where history lives and the fiesta lives forever." It is comprised of 19 locally owned shops, three restaurants, and a 10-room boutique hotel. A stage in a centre courtyard features entertainment throughout the day. We saw folkloric dancers when we were there. The bright colours, tile work, Latin music, and Mexican handicrafts of Fiesta de Reyes evoke a feeling of Mexico that my husband described as "more Mexican than Mexico." It is the clean, lively, arty face of Mexico without uneven roads, street stalls, and weather-worn buildings.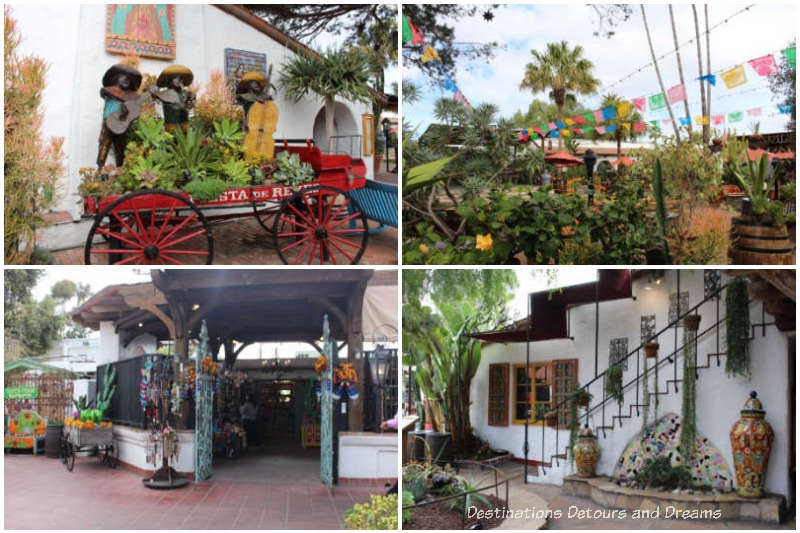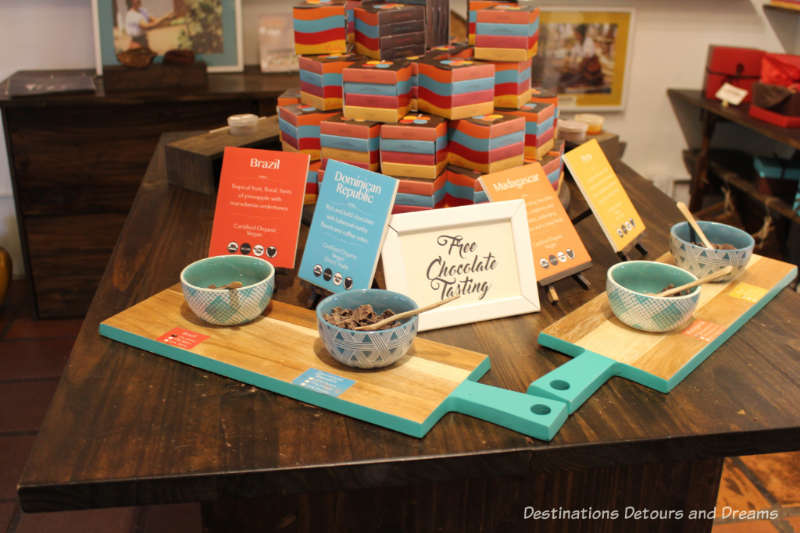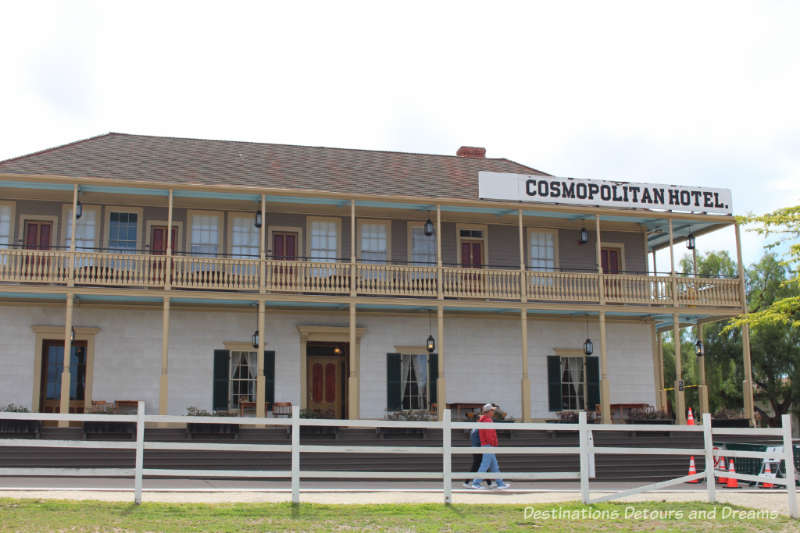 An adobe home built in 1827 by revolutionary Don Juan Bandini was transformed into a two-storey hotel, restaurant, and stagecoach office in 1869. In 1900 it became an olive cannery. It was a Mexican restaurant in the latter half of the twentieth century. Now, restored to 1870s style, it is a boutique hotel.
Visiting Old Town
Old Town is bounded by Interstate 8 on the north, Interstate 5 on the west, Mission Hills on the east and Bankers Hill on the south. The San Diego Old Town Market site contains a map of free parking areas. Several Metropolitan Transit System buses stop at the Old Town Transit Center. It is also a stop on the trolley light rail system green line, which is how we travelled to the site.
Entrance to Old Town State Historic Park and its museums is free. The Visitor Center and the museums are open daily from 10:00 am to 4:00 or 5:00 pm depending on the season.
There are other historical sites in Old Town I did not get to. San Diego Mormon Battalion Historic Site provides information about the long march from Iowa to San Diego by the Mormon Battalion, a volunteer unit of Latter-day Saints men who fought for the United States in the Mexican-American War. Presidio Park is the site where the first military outpost and mission were built in 1869. The mission was moved in 1773, but the fort remained on Presidio Hill. The park is 240 acres offering views of the city and grounds for picnicking and play, but no historical structures remain. Junípero Serra Musuem is located here. Housed in a 1925 Mission architecture building, the museum features exhibits relating to Spanish colonization and the early history of California. Heritage County Park is adjacent to Old Town in San Diego and features several restored Victorian homes and the city's first synagogue.
I spent only a few hours in this area, but you could easily spend an entire day. There is something for all ages.
Never miss a story. Sign up for Destinations Detours and Dreams free monthly e-newsletter and receive behind-the-scenes information and sneak peaks ahead.
PIN IT