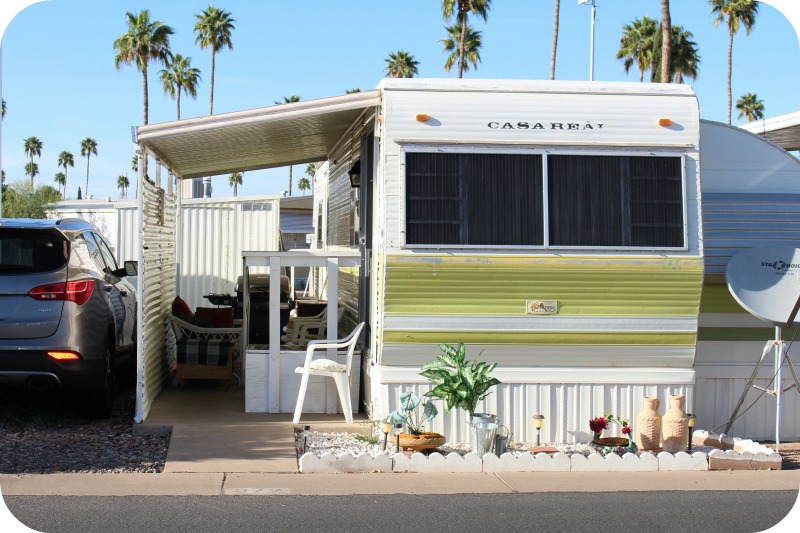 A snowbird experience living part of the winter in a park model trailer
This year I spent part of my snowbird winter in a park model trailer of approximately 350 square feet. It was exactly the type of accommodation I'd deliberately avoided in past snowbird winters, fearing the space would be too small and I'd feel as if I were camping all winter.
Snowbirds, people from Canada and the northern United States who spend a significant part of the winter in a southern, warmer location, live or rent homes of varying types and sizes for the winter, in regular neighbourhoods or inside 55+ communities. They live in "stick-built" homes, apartments, manufactured homes, trailers, recreational vehicles and campers.
My husband and I have spent the past three winters in the greater Phoenix area of Arizona. We lived our first snowbird winter in a rented patio home in a non-age-restricted gated community. Our second and third winters were in a two-bedroom, two-bathroom manufactured home within an active 55+ community. This winter saw us spending less time in Arizona. Looking for more heat than Phoenix offered in January, we spent five weeks in Panama. (You can read about that experience at Snowbirds Land in Rural Panama and Snowbirds in Pedasi – We are Not in Arizona Anymore.) With only one month planned in Arizona, we decided to give the small park model trailer experience a try.
Park model trailers, although considered recreational vehicles, are designed primarily for long-term placement, where they are connected to utilities. In the United States, park models must remain under 400 square feet to qualify as a recreational vehicle to benefit from vehicle status and not be subject to residential tax. The addition of an Arizona room or a storage shed expands available space. The common width for modern trailers is 12 feet. But older models from the 1980s and 1990s, such as the one we rented, were typically 8 feet wide. Some, also like ours, had additions known as "slide outs" or "tip outs" which extended parts of the trailer an additional 4 feet.
Like any type of accommodation (or everything else in life), there were positives and negatives with this experience. The location was great. The space was small but generally adequate for my husband and myself. It lacked room for entertaining, which meant we visited with family and friends elsewhere. I set my laptop up on the table and was able to write and work comfortably, but I had to move it for dinner time. There was a lot of storage space. Unfortunately much of it was cluttered in a disorderly and somewhat random fashion. The trailer was old. Decor was worn and dated and not to my taste, but the bed was comfortable. There was no washer or dryer in the unit. It turned out I didn't mind using the laundry facilities within the park. The room was large and I usually had it to myself. I used the time there to read or write. I had a choice of three times for morning water aerobics. My husband found other men to play pool with.
The nature of the trailer meant less separation between outside and inside. The trailer became cold overnight as temperatures dipped and stifling hot in mid-afternoon. Fortunately both the heater and air-conditioner worked well. We usually needed to use both in the same day.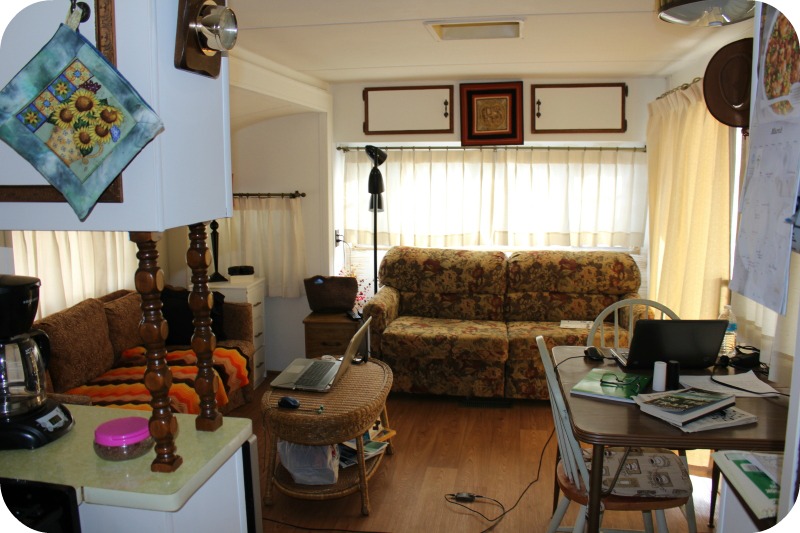 The 55+ park the trailer was in was different than the 55+ community we'd been in the previous two years. That community was made up of well-spaced-out manufactured homes with front and back landscaped yards. There were bushes in our back yard and trees and birds were visible from the back patio. We watched hummingbirds and the occasional woodpecker feed from the hummingbird feeder. The park in which the park model trailer was located contained a variety of trailers, small park models, larger single-wide and double-wide trailers, RVs which had more space than our unit, and campers. All were jammed pretty tightly side-by-side. There was at most two to three feet of frontage, leaving little room for greenery. We had a narrow side patio. The view we had was of other trailers. We heard the birds but didn't see them. The only visible greenery was when we looked into the sky and saw the leaves of the royal palms, which were planted around the park.
Did it feel like camping? In a word, yes. Some might find the idea of camping for an entire season appealing, but I was never much of a camper and when I do camp I expect to experience nature. This was urban camping.
Could I spend the entire winter in this type of accommodation? Probably not. At least not this particular unit in this particular place. Over the last few years my husband and I have realized we can live in less space with fewer things. An updated, redecorated, differently organized space of this size might work for us. But I would want enough room to have friends over for dinner and to accommodate our daughter or other friends and family for overnight visits. And I would like a more permanent work space. It wouldn't have to be large, but it would be nice not to have to move it anytime we needed the table for something else.
I should note that a couple of things tainted my perceptions. We arrived in Mesa at the height of a particularly bad allergy season. I suffered for most of the time we were there, living on antihistamines and going through a box of tissues every couple of days. An issue with a leaking hot water heater led the owner to replace the heater half way through our stay. Problems with that installation (or maybe the replacement heater) left us without hot water. The warmest it got was slightly cooler than tepid. The owner was unable to get someone to come look at the problem for two or three weeks. I took quick cool showers or used the shower in the restroom by the pool. We boiled water to wash dishes. This made the experience feel even more like camping. We left a few days earlier than planned. (Note we did get a partial refund on our month's rent.)
Many snowbirds spend their winters in units like this and have more positive experiences than I did. The units are economical to rent or to own. They are less work to take care of and easier to close up for the summer than other types of accommodation. For many people in this type of unit, the winter is more about life in the 55+ community than life in the trailer. Although on the surface the 55+ parks may look very much like each other, each one has its own personality and emphasis. The average age, activities offered, and nature of the community vary. Finding the community with a focus on the things you like to do and other residents with whom you can develop a connection are what makes these park models become a "home away from home." As for me, I've learned a little more about what I need to feel at home away from home.