Snowbirds Land in Rural Panama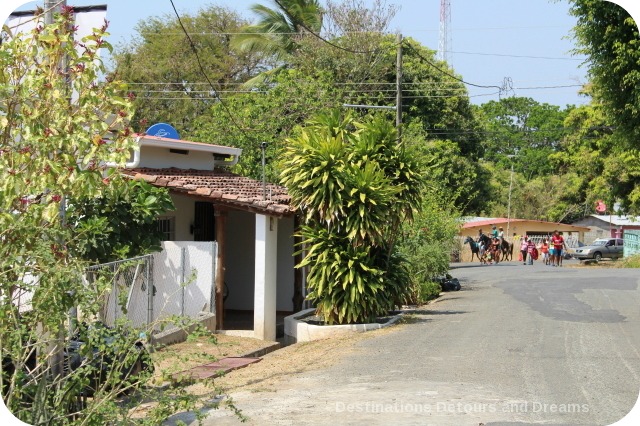 Canadian snowbirds escaping winter in Pedasi, Panama
Roosters started crowing somewhere between 2:30 and 4:30 in the morning, continuing almost constantly until mid-morning when the crowing tapered off to intermittent for the rest of the day. From time to time, dogs wailed as accompaniment to the cock-a-doodles. At sunrise, other birds joined the chorus. These sounds became familiar in our month-long sojourn in rural Panama.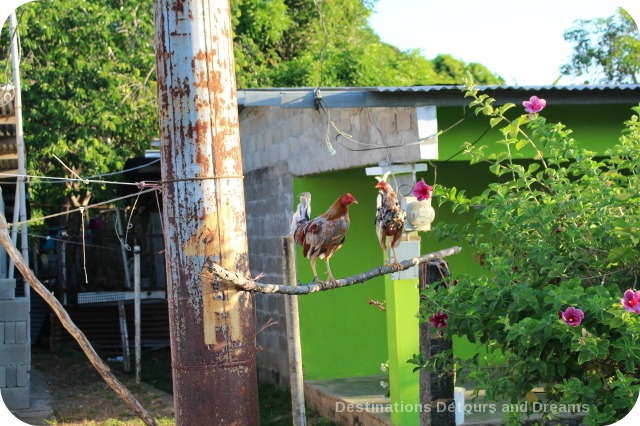 My husband and I have spent three snowbird winters in the greater Phoenix area of Arizona. This year was time to do something different. January in the Phoenix area is warmer than our home on the Canadian prairies, but temperatures still merit long pants and sweaters and sometimes dip to the freezing mark overnight. Over the last two years, our two beloved Cavalier King Charles Spaniels passed away, just a little over a year apart, leaving holes in our hearts  and freedom to travel further afield. We looked for some place HOT.
We wound up in Pedasi, Panama. Pedasi is a small town (population 2000 as of the 2010 census) at the southern end of the Azuero Peninsula along the Pacific Coast, about 350 kilometres from Panama City. It is a quaint, laid-back fishing town which has developed a small expat community over the last few years and attracts tourists to its nearby surfing beaches.
We rented a typical Panamanian house, complete with tin roof, which had been renovated by an American. A hallway along one side connected the front and back and provided access to the other rooms. A living room at the front, two bedrooms, a bathroom, and a kitchen at the back of the house. There was no eating area inside the house. Instead we used the table on the back patio. Free-standing, open shelves in the kitchen contained dishes and cookware. Everything was covered with towels. The owners told us they did that because geckos are known to get into traditional homes. I never saw a gecko in the kitchen, but I did spot a couple in the living room. My husband saw a gecko once in the kitchen.
There was an electric water heater attached to the shower, the only place in the house where hot water was available. To this Canadian, the combination of water and electricity sounds dangerous, but it was quite safe and is very common in Panama. An alcove on the back patio contained a stacking washer and dryer. Cold water only in the washer. The dryer was powered by a portable gas tank, similar to the propane tanks we use on barbecues in Canada. The dryer was unusable for the first week because the tank was empty. The owner had been unable to replace it. The stores in town were sold out. After he installed a new tank, we still only used the dryer for towels and sheets. Everything else we hung to dry in the second bedroom. Nothing took very long to dry. I suspect very few of the town locals had dryers. Washing was usually hung outside to dry. And we saw one of our neighbours using a wringer washer in her back yard.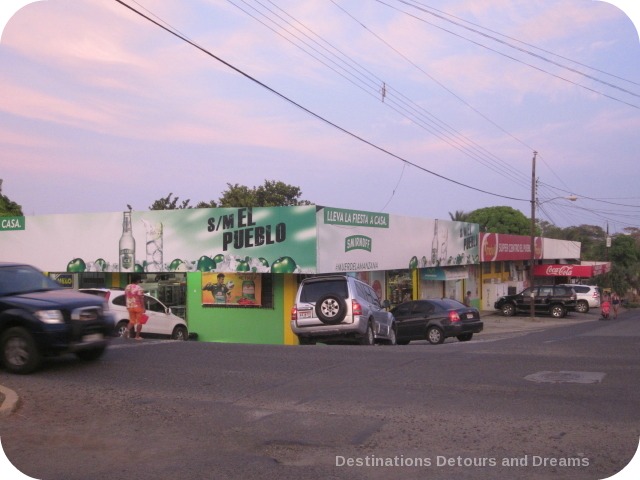 We were a five minute walk from the main store, not huge by Canadian and U.S. standards, but adequately stocked, although availability of particular items varied throughout the week depending on last stocking time. (There were a few smaller "mini" grocery stores throughout the town.) With the exception of a few North American brand items, prices were generally reasonable. The store had an in-house butcher and meat was inexpensive. Not surprising, as we'd seen fields of cattle on our ride from the city and we knew there were lots of chickens around. The chicken was tasty – most of it free-range. Meat cuts looked different than we were used to and this posed more of a challenge. The stewing beef I bought for a curry was a bit tough, but I should have simmered it for much longer. We'll never know about the piece of meat we thought was pork tenderloin. Not wanting to make the kitchen even hotter by using the oven, I attempted to roast it in the toaster oven. I set the dial to toast instead of bake and we wound up with shoe leather. The frozen fish we bought (corvina, a type of sea bass) was excellent.
I eventually figured out how to use the toaster oven to roast vegetables, but the choice of vegetables in the store was limited. Greens are not a big part of the traditional Panamanian diet. Starchy vegetables are a staple. Some vegetable items were already bagged and priced in the cooler – three carrots, a bunch of lettuce, two or three limp stalks of celery. For those which we bagged ourselves, such as peppers, onions, potatoes, tomatoes, and cucumbers, we took the bag to the meat counter to be weighed and priced before going to the check out.
There was a large selection of fruit, both local and imported. Local fruit included watermelon, canteloupe, papaya, oranges, and pineapple. Trucks with their beds full of fresh fruit for sale drove through town a few times a week. The pineapple, whether bought at the store or from the food trucks, was the tastiest I've ever had. We ate well. And if we didn't feel like cooking, this little town had an amazing selection of good restaurants.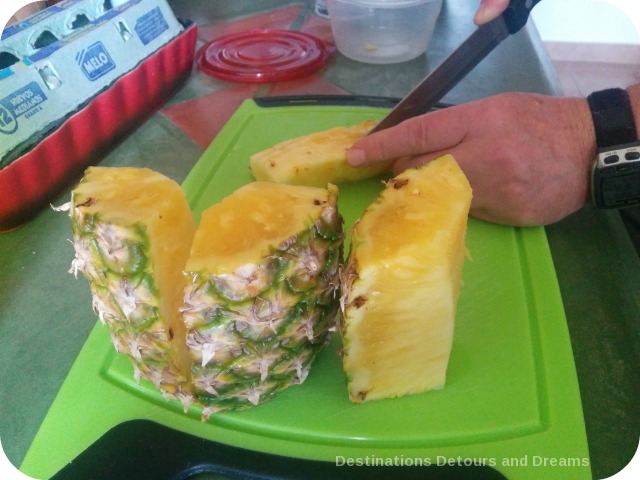 Our days alternated between exploring the area and relaxing, with a beach day thrown in once a week or so. I wrote. We read. I had some ebooks on my iPad, but mostly we read the selection of second-hand paperbacks we'd brought with us, intending to leave them behind. Halfway through our stay, my husband had read them all. Smiley's, a restaurant popular with the expats, had a small bookshelf where people left books. He found more reading material there.
We had Internet access of sorts. We purchased a SIM card with data access for the USB stick in the house router. That gave us wireless Internet access at approximately dial-up speed. We were able to stay in touch with family and friends, but some things we just didn't do. I was unable to publish the blog posts I'd painstakingly prepared ahead of time. The cellular connection I had with my phone travel plan was faster and I published through that. About a week into our stay we learned the town had free "high-speed" Internet available at hot spots throughout the main part of town. We were able to access it from our house. I wouldn't classify it in the same high-speed category as we've gotten used to in Canada, but compared to what we'd been using it seemed lightning fast. The speed slowed down at times and access to some sites, such as YouTube, was blocked, but overall it was a better option. I am seriously reconsidering my online priorities as a result of this experience.
Our lack of Spanish hindered us in some ways, but was not a major obstacle, mostly because people were so friendly, patient, and willing to help. But some degree of fluency in the language would have enabled us to interact more with our neighbours and get through reading labels in the grocery store much quicker. I regretted not working harder at the Spanish class we took three winters ago and at not doing something more after that class.
Ironically, one of the things I found the hardest to adjust to was the one of the main reasons we'd chosen Pedasi – the heat. Temperatures were in the low thirties Celsius (high eighties, low nineties Fahrenheit) with the humidity making it feel a few degrees warmer than that. The bedroom had an air conditioner unit we used at night. We were able to sleep comfortably, but afternoons were tough. Each room had a ceiling fan, but that made little difference during the day. Most of our days were spent outside in the shade of the back patio during the earlier part of the day, on the front porch later in the afternoon. We enjoyed the days with breezes. I discovered I could work in reasonable comfort at the patio table in the afternoon if I moved it to the shadiest part of the back patio and positioned a portable fan to blow directly at me. The living room was comfortable in the evening with the ceiling fan and the portable electric fan on. It always felt cooler at the beach with the breeze off the ocean.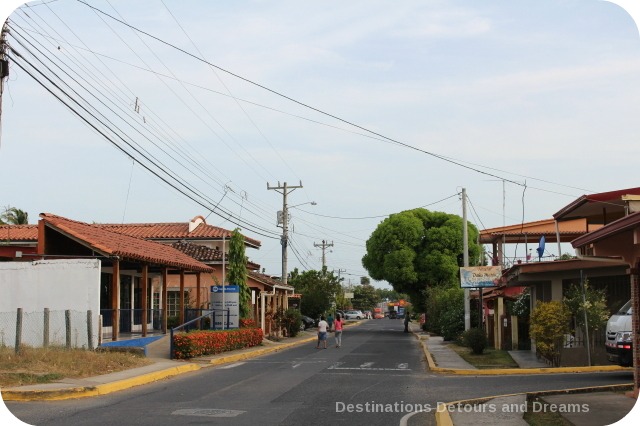 There is a lot more to say about our time in Pedasi. We enjoyed it and often looked at each other and said, "I can't believe we're here." Our stay had some similarities to our time in Arizona and yet was vastly different. Read Snowbirds in Pedasi – We are Not in Arizona Anymore for those comparisons. I end this post with more of the sounds we became used to in our time in Pedasi.
∼ Latin music playing at neighbour's homes or other houses we walked by
∼ Cracks of fireworks every forty-five minutes or so during a Saturday evening fiesta
∼ Words blasting from a truck loudspeaker, advertising fruit and vegetables for sale, getting louder as truck came closer
∼ Short car honks as drivers passed houses of friends or someone they knew on the street
∼ Holas and Buenos from people passing our house as we sat on the porch or as we passed each other while walking
PIN IT