London's American Bar Classic Cocktail Experience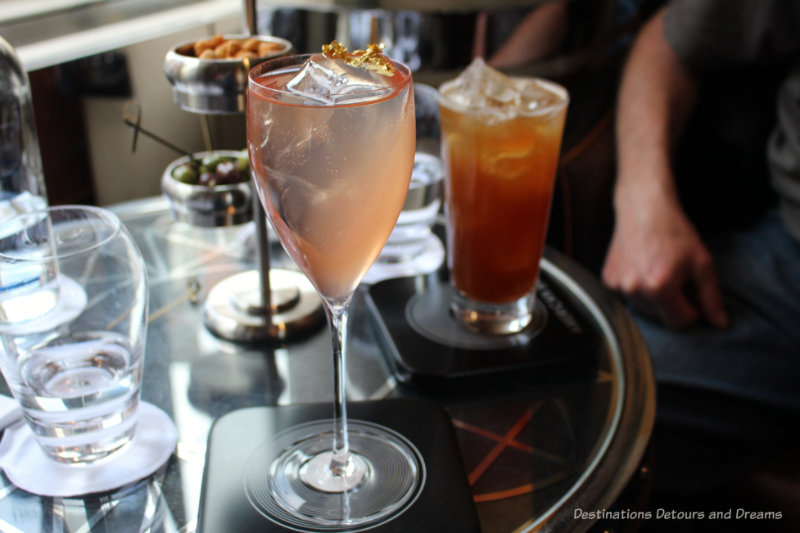 The timeless elegance and classic experience of the American Bar at the Savoy Hotel in London, England – Britain's oldest surviving cocktail bar
A day trip into London on one of my vacations in England included a special experience – a drink at the iconic, art deco American Bar at the Savoy Hotel. The American Bar is Britain's oldest surviving cocktail bar. Serving "American-style" drinks, it first opened in 1893. This unique and notable bar was voted the World's Best Bar at the World's 50 Best Bars in 2017 and World's Best International Hotel Bar and Best International Bar Team at Tales of the Cocktail in 2018. With its elegant styling and white-jacketed waiters, the American Bar is a sophisticated step back in time.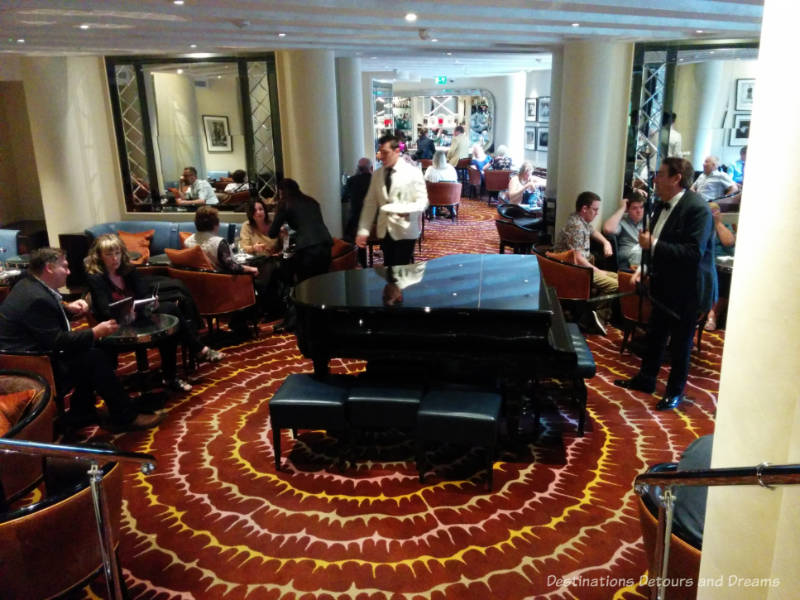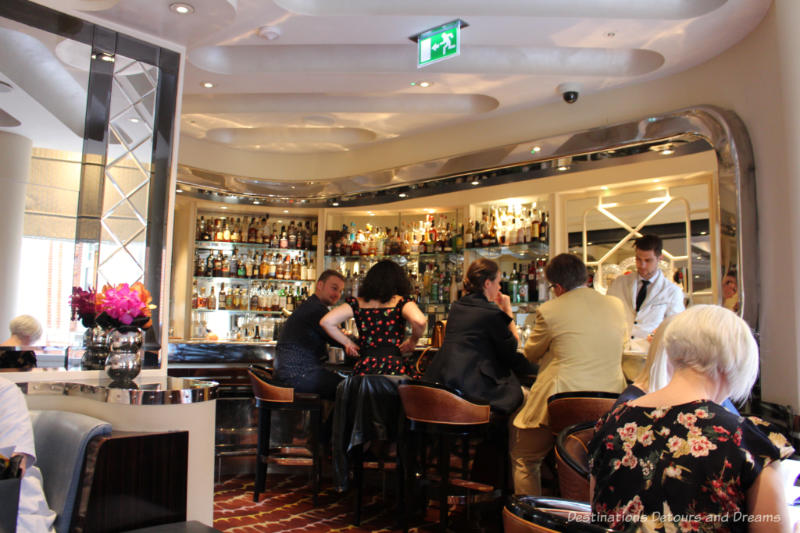 The bar serves a large variety of cocktails, beer, mixed drinks, and wine as well as non-alcoholic beverages, but is best known for its signature cocktails. When we visited, the 20 cocktails in the Savoy Songbook menu paid homage to the legendary musicians and songwriters that have entertained guests in the bar for decades with a selection of twenty songs that really define the atmosphere of the American Bar. Each cocktail's title refers to a memorable line in the song that was the inspiration for the drink. The list of artists represented include George Harrison, Prince, Frank Sinatra, and Elvis. The bar also produced a special live album featuring the 20 songs.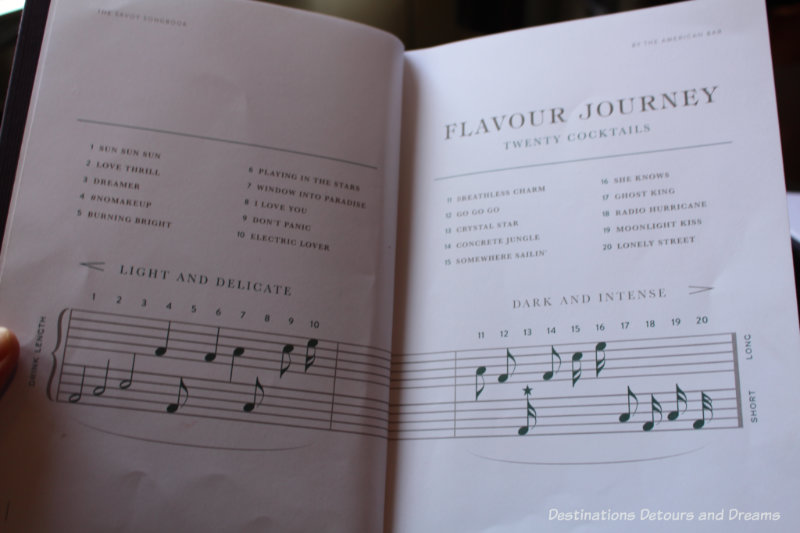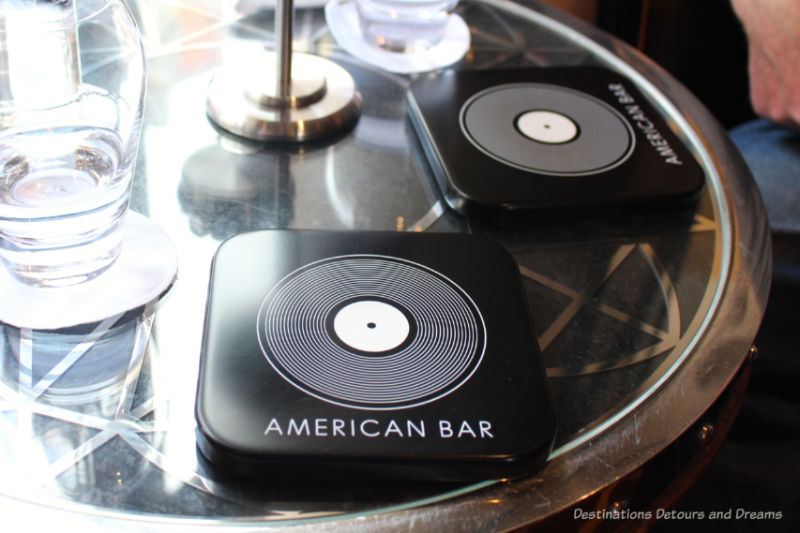 I ordered Cocktail #4 No Makeup, a tribute to the life of Aretha Franklin. The song I Say A Little Prayer For You inspired the drink, made with vodka, coconut wine, martini bitters, supasawa, spiced pineapple syrup, and champagne. It came in a lovely glass with gold leaf floating on top of the drink. A tray of olives, rice crackers, and cashews, which our attentive waiter readily refilled, accompanied our drinks.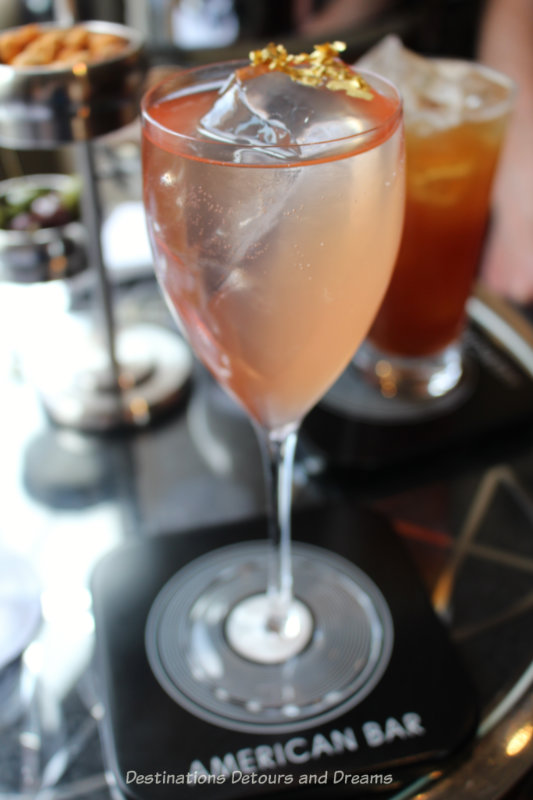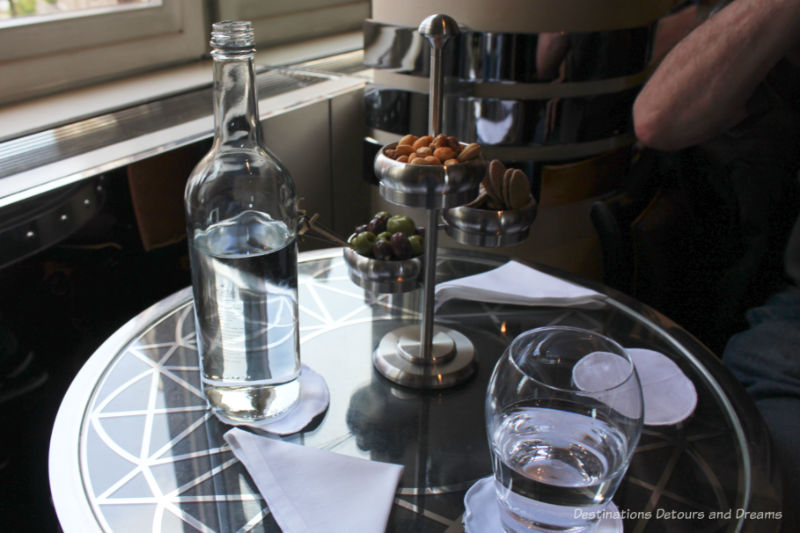 The American Bar changes its cocktail menu every year. A menu from a few years ago paid homage to iconic London landmarks, parks, and boroughs. Another menu, the Coast to Coast menu launched in 2017, was a journey across Britain from south to north.
The bar has had a variety of bartenders over its history. Harry Craddock became head bartender in 1925. In 1930, the Savoy Cocktail Book was published. It featured 750 of Harry's most popular recipes and art deco illustrations. The book has never gone out of print and you can find recent editions in stores and online. Original 1930 editions of the book sell for thousands of dollars.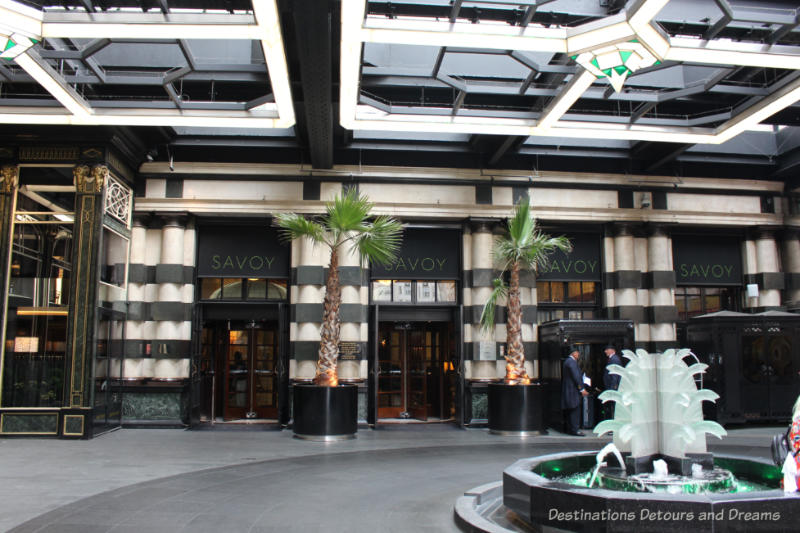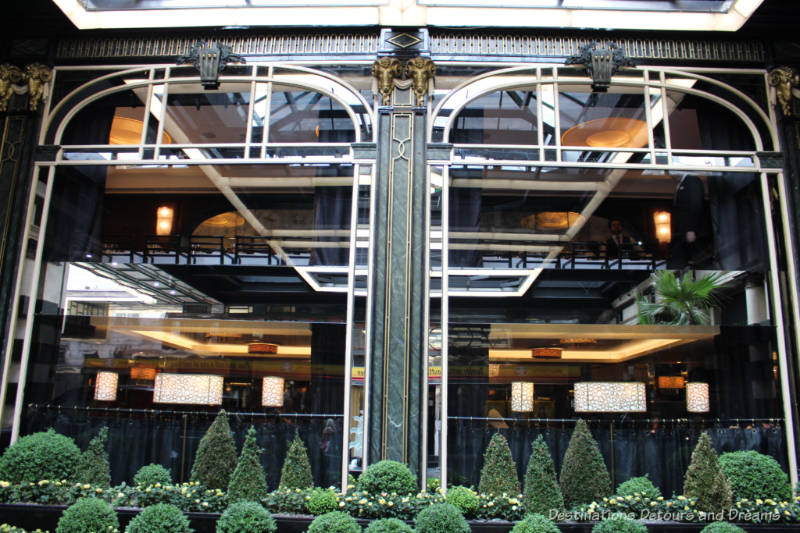 The Savoy Hotel has a reputation for luxury and character. It first opened in 1889 after nearly five years of building. Closed from 2008 to 2010 for extensive renovations, the renovated Savoy retains the two predominant design styles, English Edwardian from the time of the original construction and Art Deco dating from a significant expansion in 1910. Make sure to look around the lobby on your way to and from the bar. A visit to the washrooms (equally elegant) provides a glimpse beyond the lobby.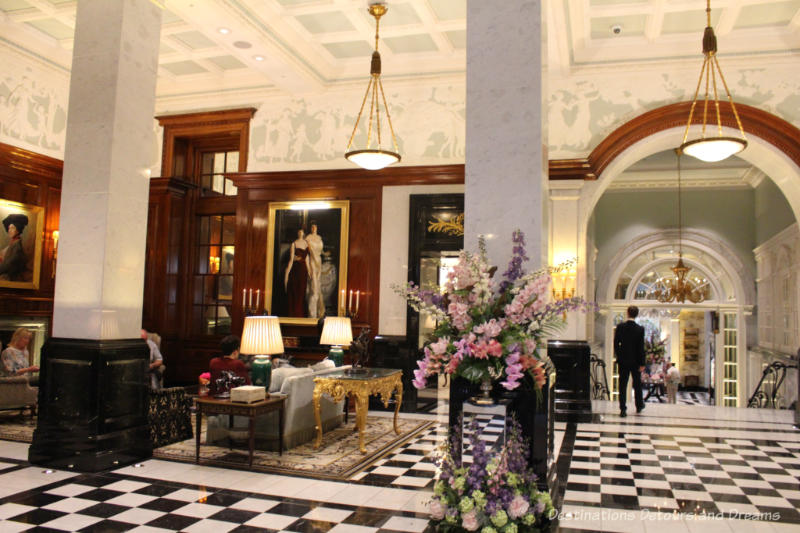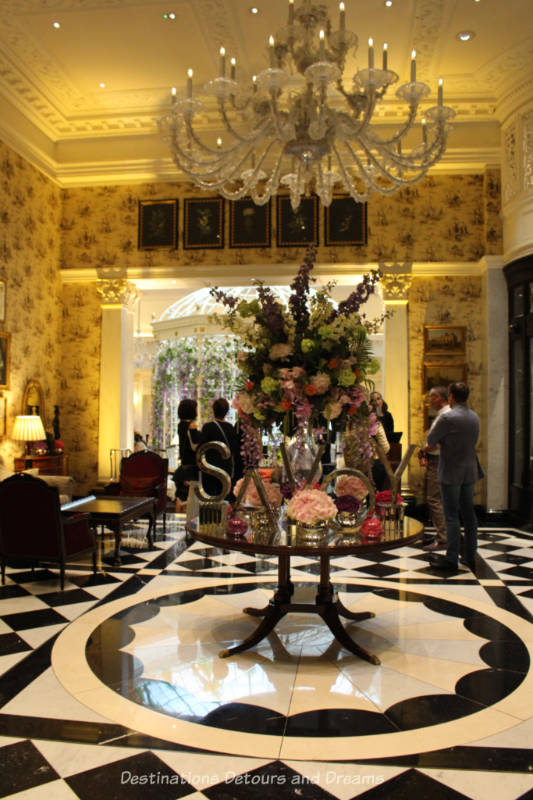 By now, if you didn't already know, you may have guessed that the posh American Bar is not cheap. Signature Cocktails started at £20 with most running between £25 and £30. But it is not about the price. The American Bar is more than a bar, it is an experience.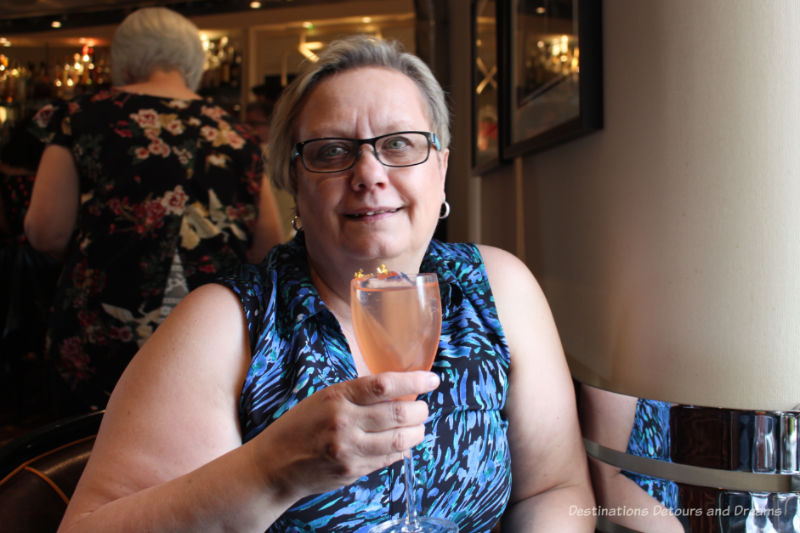 Check the American Bar website for opening hours. The bar does not take reservations. We had about a fifteen-minute wait to get it. Dress code is smart casual. No sportswear is allowed. Dressed for a day of activity in London, we were a little more casual than what I consider to be smart casual, but we were not turned away or made to feel unwelcome. There were others casually dressed. There were also others more dressed up. I wished I had dressed up to fit in with the atmosphere of the place. Perhaps a pretty cocktail dress. No matter how you're dressed, the American Bar is a unique experience.
Never miss a story. Sign up for Destinations Detours and Dreams free monthly e-newsletter and receive behind-the-scenes information and sneak peaks ahead.
PIN FOR LATER