Nevis Queen of the Caribbees

A small, lush, laid-back Caribbean island
(Updated November 2019)
When my husband and I told people we were vacationing in Nevis, the usual reaction was "Where?" They had not heard of the place. That was true when we visited several times in the mid-1980s and again, more than twenty-five years later, in the 2010s. Lately, I've come across several articles and comments about Nevis. I don't know if that means it is becoming more well-known. I certainly think of it as a little piece of paradise.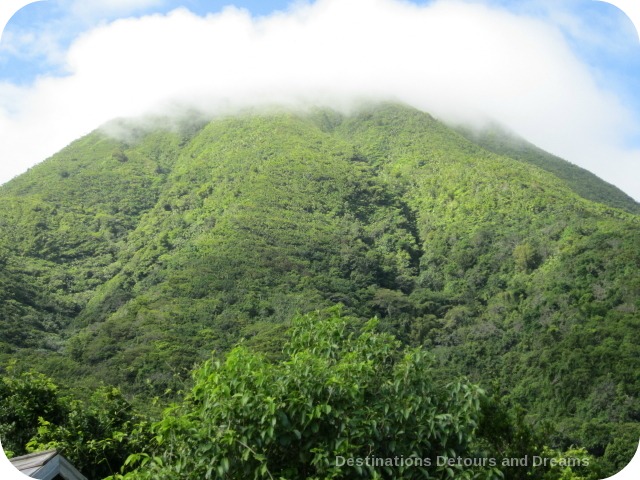 What and Where is Nevis?
Nevis is a five by seven mile Caribbean island with an inactive volcanic peak at its centre. It is about two hundred miles south of Puerto Rico and just west of Antigua. It is part of the inward arc of the Leeward Islands. Originally settled by Amerindians, it was colonized by the British in the 1620s. Although occupied briefly by the Spanish during the Anglo-Spanish War and subject to intermittent attacks during French-English warfare in the seventeenth and eighteenth centuries, it remained primarily under British rule until 1983, when it became an independent nation and part of the federation of Saint Kitts and Nevis. When it was a leading sugar producer in the eighteenth century, it came to be known as "Queen of the Caribbees." Today, Nevis has a population of just over 12,000 people. Its main town is Charlestown.
Why Go There?
The Caribbean temperatures, ocean views, and beaches are enough to put Nevis on a travel list, but it has a number of other charms as well. It is a small island with modern amenities and a rural feel. The pace is slow and laid-back. Goats wander alongside the main road. In the hills, you may spot green vervet monkeys, brought to the island by the British in the seventeenth century. In some parts of the island, wild donkeys serenade you at night. There are no traffic lights and no high rise buildings. Beaches are unspoilt and uncrowded. Charlestown has a small-town, old world feel with many eighteenth and nineteenth Georgian-style buildings remaining. People are friendly, but not pushy. The water is safe to drink, but if you want a treat buy Nevis Spring Water. It is cheap and the best tasting water I've ever had.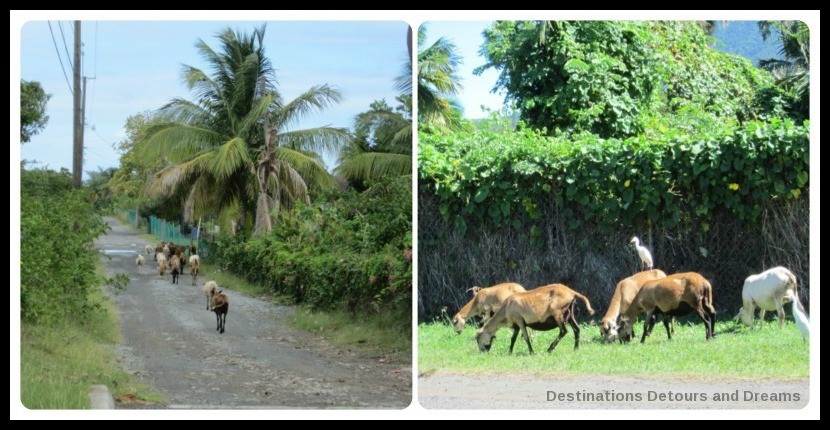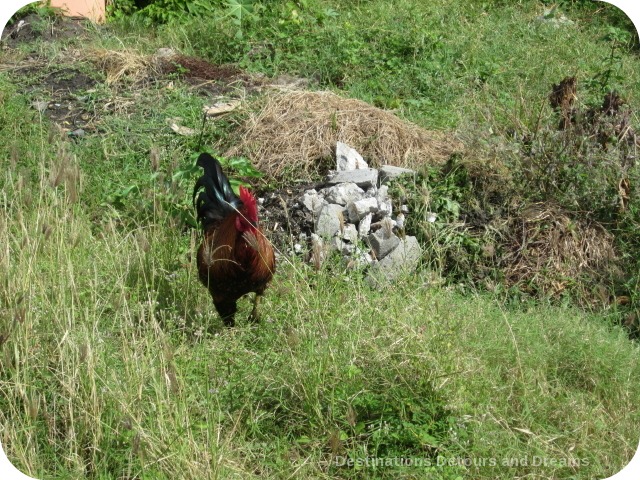 How to Get There?
In order to get to Nevis, you need to get to another Caribbean island first. The Nevis airport can only accommodate small planes and private jets. At the time of writing this post, regular flights were scheduled from Antigua, St. Maarten, St. Croix, and St. Kitts. A passenger ferry runs between St. Kitts and Nevis several times a day, landing in Charlestown. The forty-five minute ride is a nice way to approach the island, with great views of Mount Nevis rising from its centre. There is another ferry for vehicular traffic.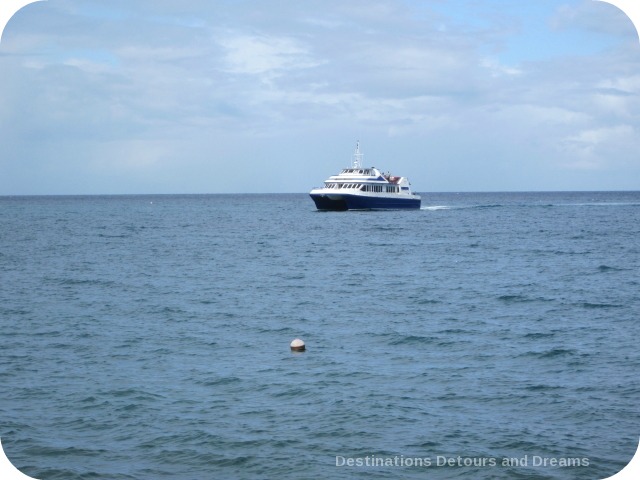 Where to Stay?
You won't find any mega-resorts or all-inclusive resorts on Nevis. Accommodation is smaller and more intimate. When we first visited in the 1980s, plantation inns were the primary accommodation for visitors. These former sugar plantations turned into inns offered a gracious stay with a colonial feel. Today, four plantation inns remain. Golden Rock Inn, a working sugar plantation until 1801, lies in the hills of Gingerland district in the southeast part of the island. Montpelier Inn, located 750 feet above sea level, has the feel of an English country house. It was the site of British Admiral Lord Horatio Nelson's wedding in 1787. Princess Diana vacationed here with Prince William and Prince Harry when they were young boys. Nisbet Plantation Beach Club once grew sugar and coconuts and was the home of Fanny Nisbet, Nelson's bride. It is located along a beach and features individual cottages. The great house at Hermitage Plantation Inn was built around 1660 and is decorated with period decor. Guest accommodations are in cottages around the yard.
Hotels include the five start Four Seasons Resort on Pinney's Beach, Mt. Nevis Hotel and Beach Club on Round Hills estate in the hills with fabulous views, Oaulie Beach Hotel, and Pinney's Beach Hotel. Villas and condominium-style accommodations can be found at Paradise Beach, Nelson Springs Beach Resort, and Hamilton Beach Villas and Spas. Guest houses are a more budget-conscious option. Visit the Nevis tourism site for more information.
Through Internet searches, you may also find privately owned homes available for rent. On our most recent visit we stayed at the cottage at Black Sand Cove, in a park-like setting on a secluded, out-of-the-way part of the island.

How to Get Around the Island?
The best way to get around the island is with a vehicle. There are several car rental companies. You need a Nevis driver's licence, which can be purchased at the local police station or arranged via the car rental company. You will have to show proof of an existing, valid driver's licence issued by your local agency. Driving is on the left side of the road. There is one main road which circles the island with smaller roads branching from it, taking you into interesting and scenic places. Traffic is light. The greatest difficulty we encountered was with foliage blocking signs, resulting in missed turn-offs. Fortunately, the island is small and it is easy to backtrack.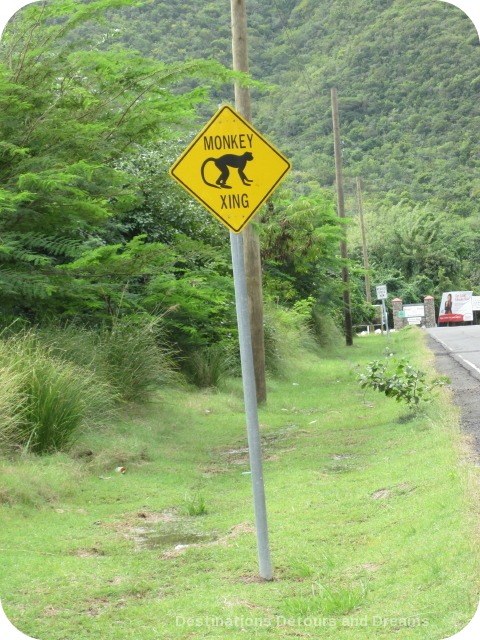 What to See and Do?
If you are looking for lot of nightlife, casinos, and shopping, Nevis is not the place for you. But there are plenty of other things to do and see, best enjoyed in the slow, laid-back style of the island itself.
There are a number of historic sites to explore, including ruins of sugar plantations, old churches (many still in use), and a Jewish cemetery. The ruins and historic sites are easily explored on one's own, and remain mostly untouched over the years. Many of the historic attractions are found along the main road that circles the island. The Nevis Tourism website contains a list of historic attractions.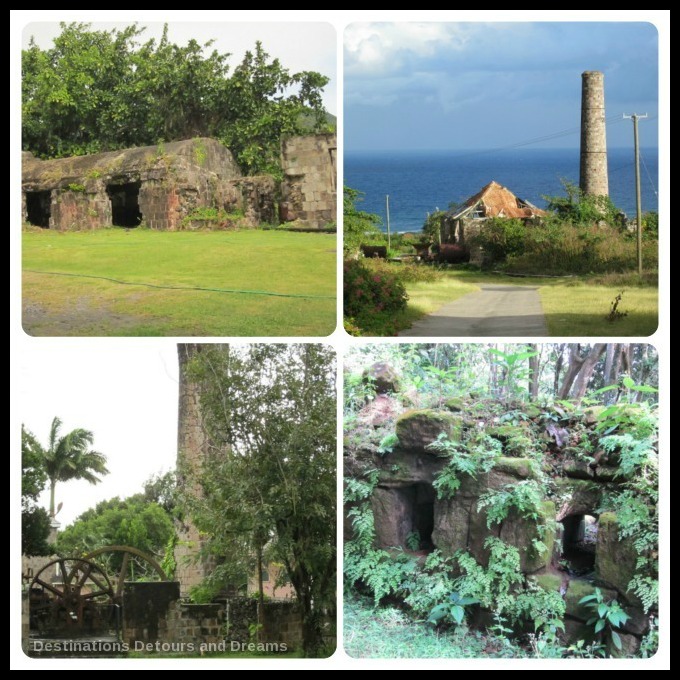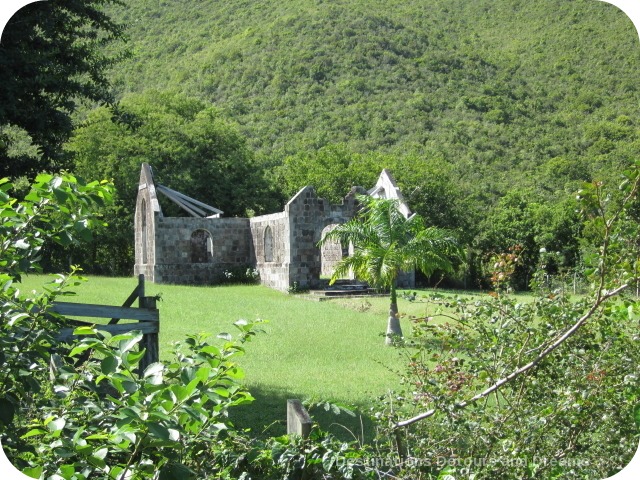 The Museum of Nevis History in Charlestown is a small museum with good background on the history of Nevis and the Caribbean. The Nelson Museum displays artifacts and memorabilia of the life and times of British Naval Admiral Lord Horatio Nelson. Nevisian Heritage Village contains displays of housing throughout history, as far back as the Carib Indian era.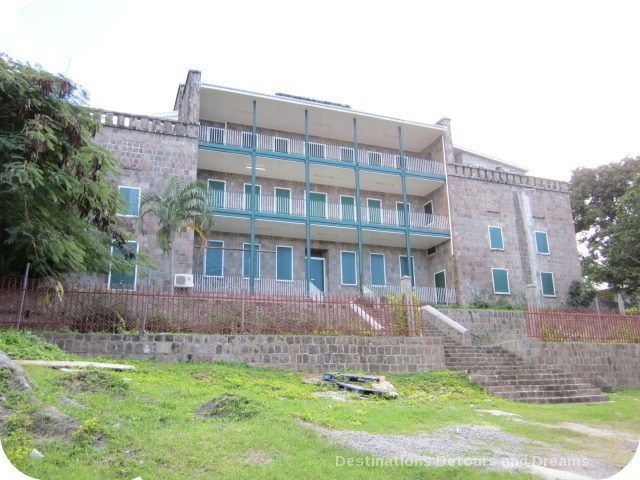 A volcanic hot spring flows into a small warm stream into the south end of Gallows Bay at the southern end of Charlestown. The water temperature ranges between 104F to 108F. The Bath Hotel, built in 1778, attracted the rich and famous who came to take in the therapeutic qualities of the hot water. It was the first luxury hotel built in the West Indies and thrived for 60 years. Since then it has had several uses. It reopened as a hotel from 1912 to 1940. It was used a training centre during World War II and more recently served as a temporary police headquarters while a new station was built.
People took in the hot spring baths at the Spring House, a two story masonry structure comprised of five thermal baths. Due to damages from hurricanes and other natural elements, the Spring House is now closed. However, an outdoor open pool has been constructed for people wishing to experience the healing powers of the water. My husband and I used the pool several times on our last visit. Often we had it to ourselves. Sometimes there was one or two locals there with us.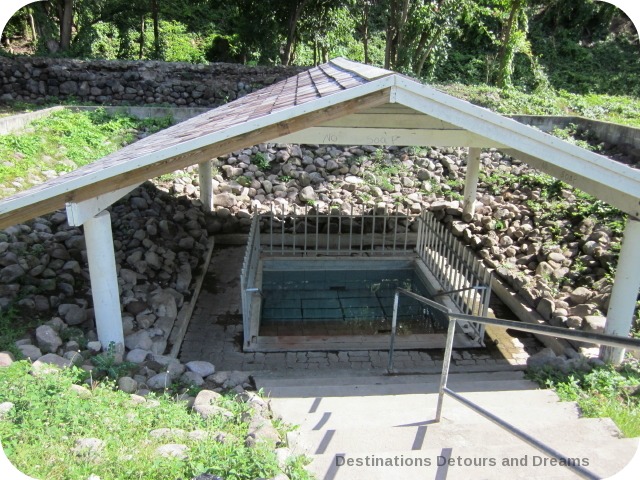 The Botanical Gardens of Nevis feature tropical flowers and shrubs, orchid terraces, and Asian art sculptures. It is a peaceful, tranquil place. A spot under the shade of its trees truly felt like an oasis on a hot day.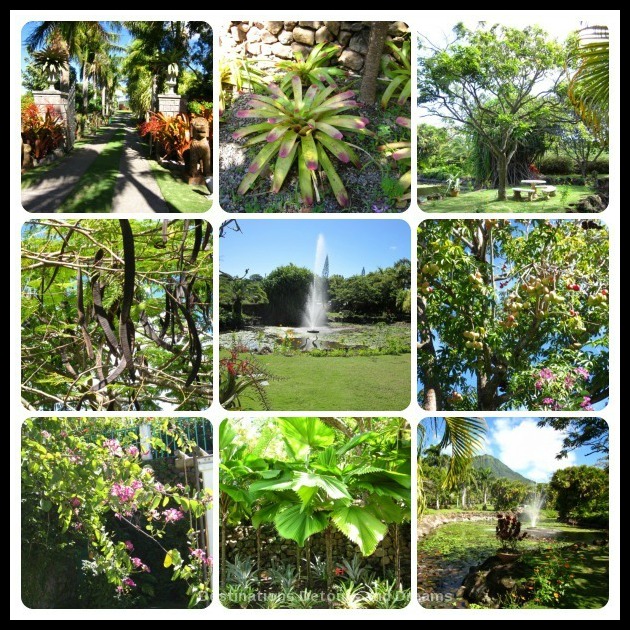 More active activities include cycling, horseback riding, or hiking. Tour guides are available to provide history and information on flora and fauna on hikes into the rainforest and up the mountain. Some hotels have tennis courts. There are two golf courses on the island.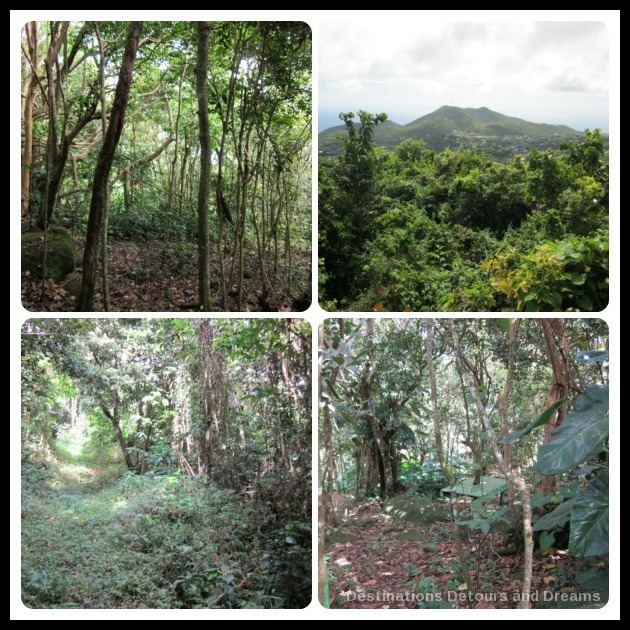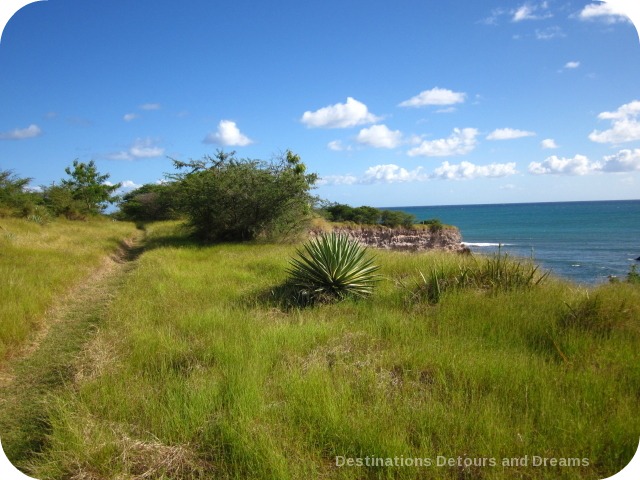 There are beaches and assorted water sports. All beaches are public and free. They are not crowded. In fact, you may be the only one there. And there are no vendors hassling you to buy something.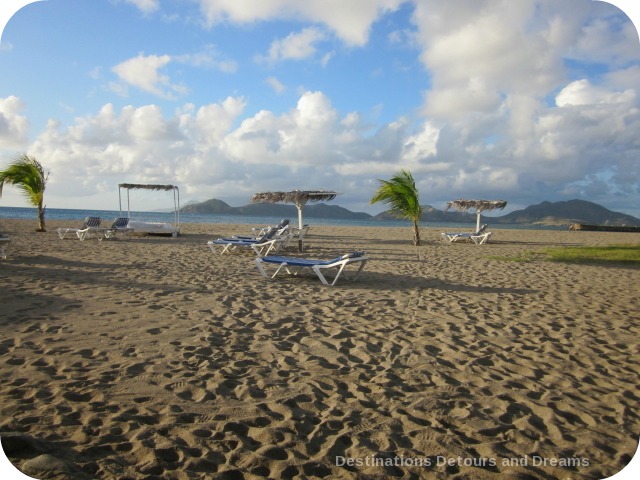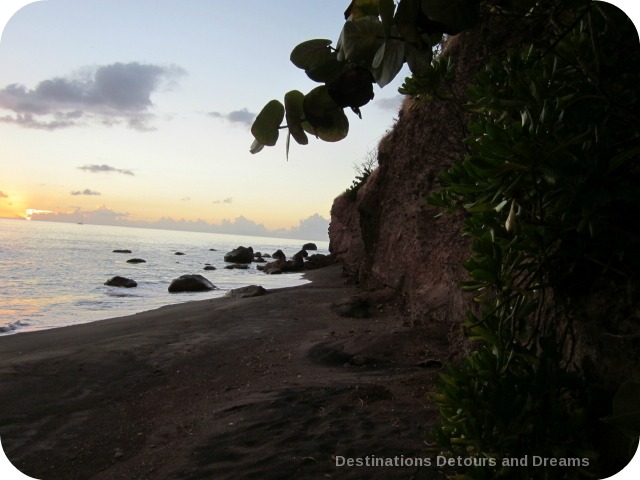 In case you're still not relaxed enough, you can take a spa treatment at one of the hotel spas. And if you really need to find a little bit of night life, the hotels and inns sometimes have evening bands scheduled. You need to phone ahead and reserve. Four Season's may have a band playing in their cabana. Or you can head to Sunshine's Bar on the beach.
Where to Dine?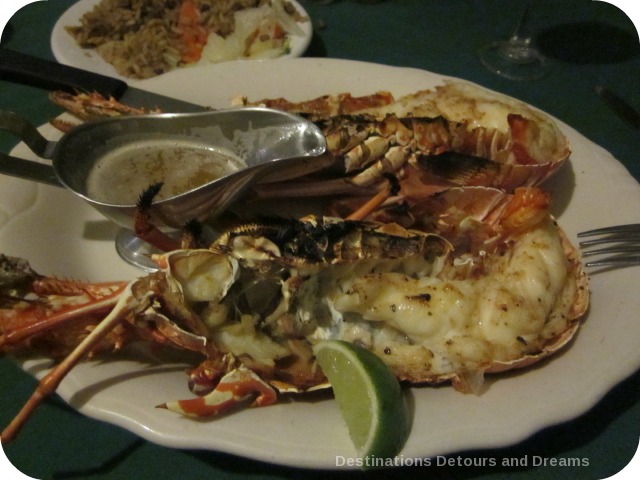 Nevis has a number of good restaurants. Even if you are not staying at a plantation inn, you can make a reservation for dinner at one of the inns. I recommend doing this to experience the ambiance of a time of privileged, gracious living. The food is generally excellent. Check to see if there are any special evenings planned. We enjoyed the West Indian buffet evening at the Hermitage. All of the hotels have restaurants.
Rodney's Cuisine offers genuine local cuisine. Try the "goatwater", a traditional meat stew. The restaurant is brightly decorated in the green, yellow, red and black colours of the St. Kitts and Nevis flag. When we visited, Rodney regaled us with the story of how she started her restaurant. We enjoyed a casual pizza meal at Mem's. Mem's offers traditional Nevisian fare on the weekends. Café Des Artes is a friendly shaded outdoor café in Charlestown open for breakfast and lunch and a good place to linger over a coffee or other beverage in the afternoon. There are several beach restaurants. On Friday and Saturday evenings there are cookouts in most villages. The largest is on Pump Road near Charlestown. Chicken and ribs, which were among the best I've ever had, are barbecued over steel drums set up under a large tent canopy. There are picnic tables and beer available for sale. We ate there one Friday evening. The majority of other patrons used this as a take-out restaurant and picked up food to take home.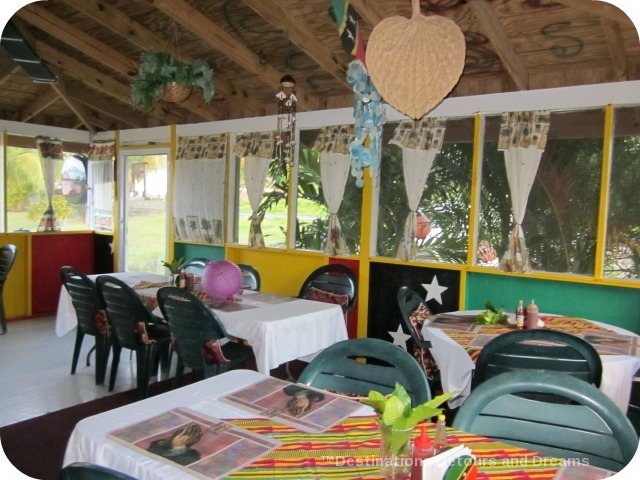 What Else?
The language in Nevis is English. The currency is the Eastern Caribbean Dollar. U.S. dollars are accepted many places, but change will be in Eastern Caribbean. There are 2 main banks in Charlestown with ATMs, dispensing EC dollars. There are several grocery stores in Charlestown, including a couple of modern supermarkets. There is a farmer's market in Charlestown just south of the ferry dock. It is best to check to see what are the best days – the days when boats bring in produce from Dominca.
The Nevis Tourism Authority markets Nevis as charming, tranquil, green, genuine, unspoilt, unpretentious, and unforgettable. I would certainly use all of those words to describe the place.
Have you visited Nevis? What did you think?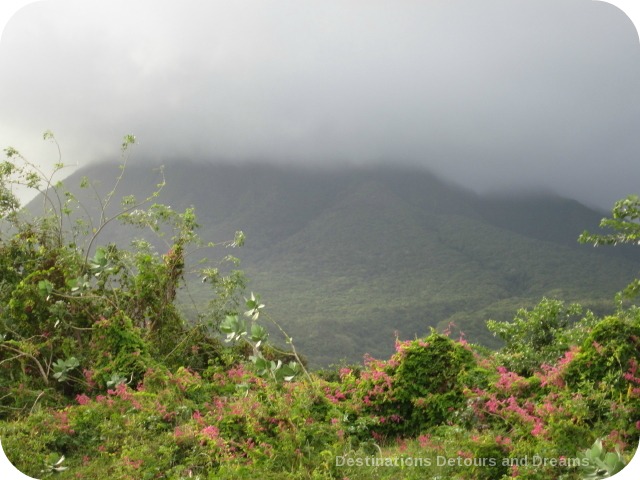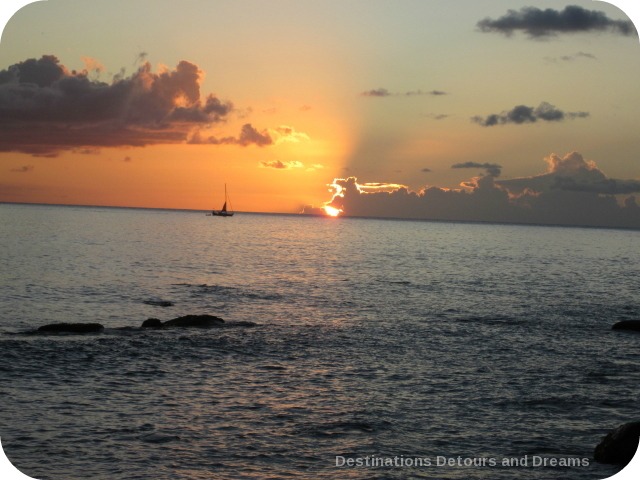 Destinations Detours and Dreams monthly e-newsletter contains behind the scenes information, sneak peeks ahead, travel story recaps and more. SIGN UP HERE
PIN IT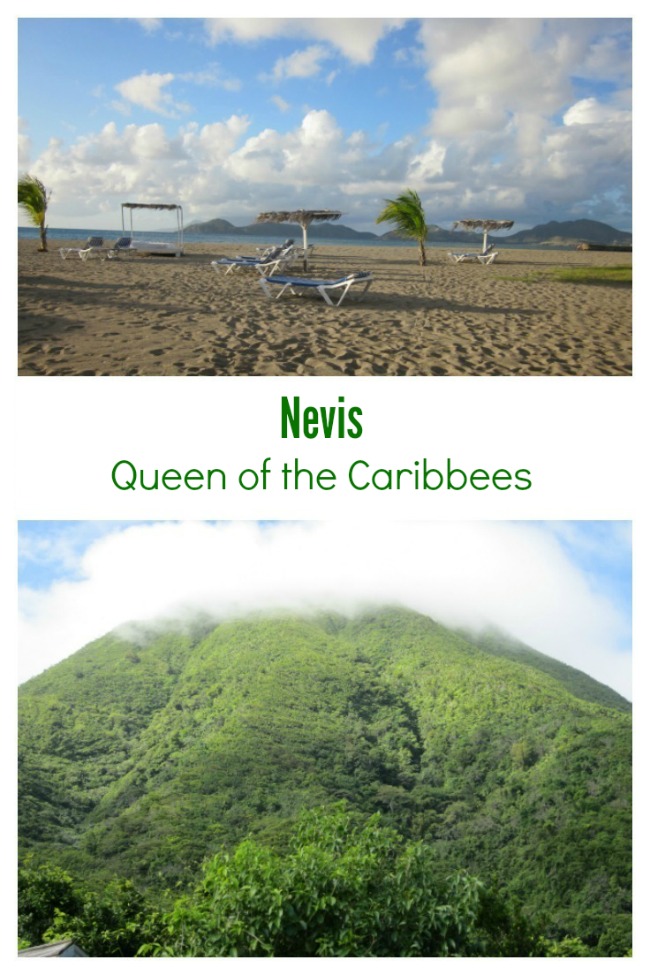 If you enjoyed this post, sign up for Destinations Detours and Dreams monthly e-newsletter. Get behind the scenes information and sneak peeks ahead in addition to a recap of the month's posts.