Alberta Ranching History at Bar U Ranch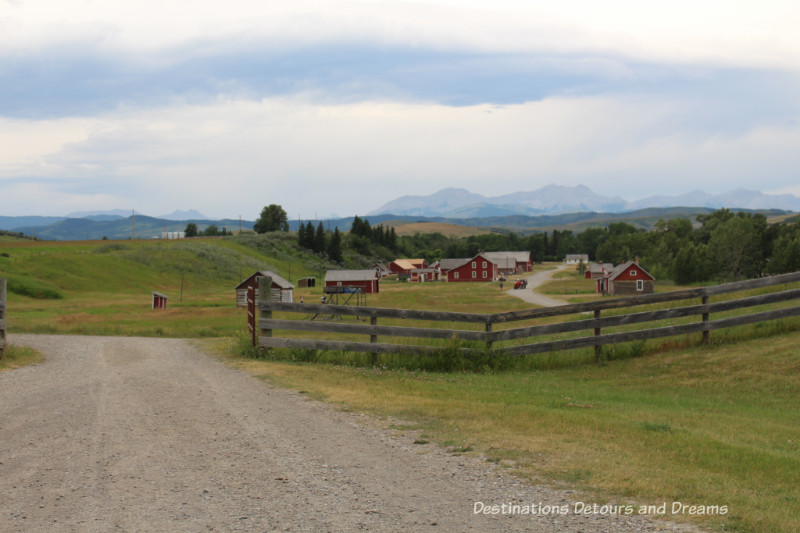 Bar U Ranch National Historic Site at Longview Alberta, southwest of Calgary, commemorates the history of the ranching industry in Canada.
Located on 367 acres outside of Longview Alberta, Bar U Ranch is the only National Historic Site of Canada that commemorates the history of ranching. It contains a collection of historic ranch buildings that tell the story of Bar U from 1882 to 1950, and provides historical information about ranching in Alberta. Bar U Ranch was once one of a small group of corporate ranches in Western Canada.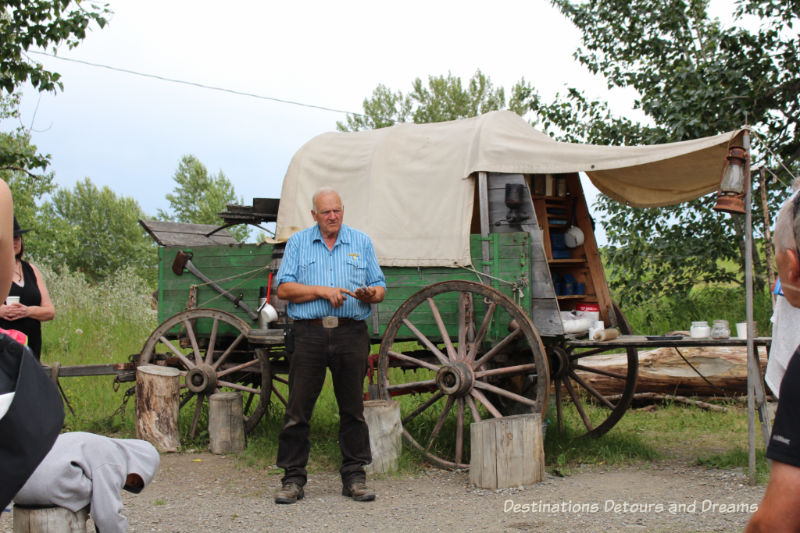 I learned the background of ranching in the area from an interpreter at the Round-up Camp. A round-up camp consisted of a chuckwagon, a bed roll wagon and tents. Round-ups were held twice a year for gathering cattle to be branded in the spring and for selecting those to be shipped to market in fall. The first round-up at Bar U occurred in 1884, the last in 1922. After the 1920s, round-up camps were not often used. Cattle were driven shorter distances to branding corrals built on the ranch or to railheads at Cayley or Brooks.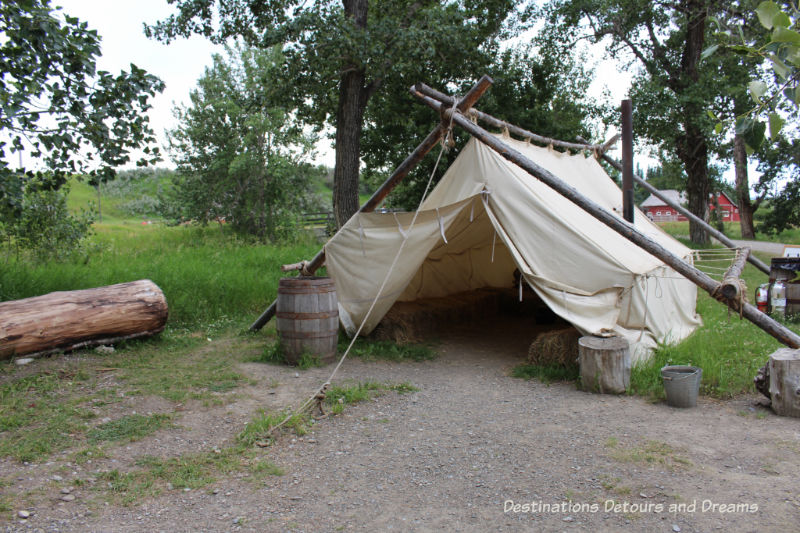 First Nations people occupied the area around what is now Bar U for thousands of years. Herds of bison roamed the grasslands of western Canada and were their source of food and material. After 1869, whiskey traders moved into Canada and began trading "firewater" to the First Nations people with devastating results. The newly formed North-West Mounted Police arrived to maintain law and order. After Treaty No. 7 was negotiated between the Canadian government and First Nations of southern Alberta, the government offered land leases to easterners and British citizens in order to make and keep the land Canadian. Settlers were needed to stop the land from becoming American by default. Later the government offered ranchers the opportunity to purchase a portion of their leased land. And so ranching began in southern Alberta. Bar U Ranch was selected as a historic site by Parks Canada because it had a good selection of original buildings, although many were not in great condition and needed restoration work.
The Bar U Ranch itself has a history dating back to 1881, when Fred Stimson, an experienced Quebec stockman, and the wealthy Allan family of Montreal formed the North West Cattle Company. They were granted two leases of land covering a total of 147,000 acres in southern Alberta, 15,000 acres of which were purchased when the government changed its leasing policy in 1891. Fred Stimson became the resident manager at Bar U Ranch. He set the foundation and infrastructure for the ranch.
George Lane purchased Bar U Ranch in 1902. He had arrived from Montana in 1884 and became foreman of North West Cattle Company. Under his ownership, Bar U Ranch achieved international repute. George Lane established a Percheron horse breeding operation at Bar U and kept increasing its numbers until he had the largest herd of purebred Percherons in the world. Percherons are a breed of draft horses originally from France. George Lane is most remembered as one of the "Big Four" who underwrote the first Calgary Stampede. In 1919, Edward the Prince of Wales visited the Bar U Ranch and was so impressed by the area and the cowboy life, he purchased a neighbouring ranch and named it E.P. Ranch.
George Lane died in 1925. Pat Burns, owner of a successful food empire, purchased George Lane & Co. holdings in 1927. Pat Burns died in 1937 and the Bar U Ranch came under the management of his nephew John Burns and a team of long-term employees, who introduced modern technology to the ranch.
The ranch had three different owners between 1950 and 1991: J. Allen Baker, the Wambeke family, and Melvin Nelson. In 1991, Parks Canada purchased 367 acres of the original ranch headquarters.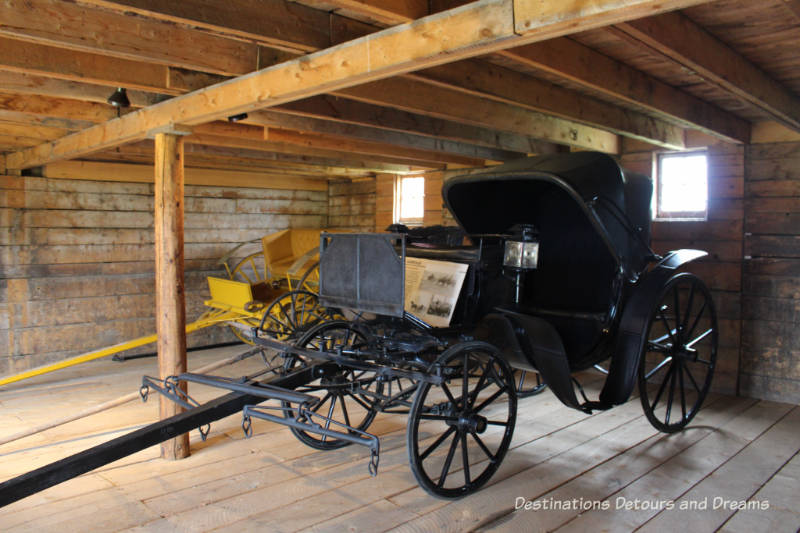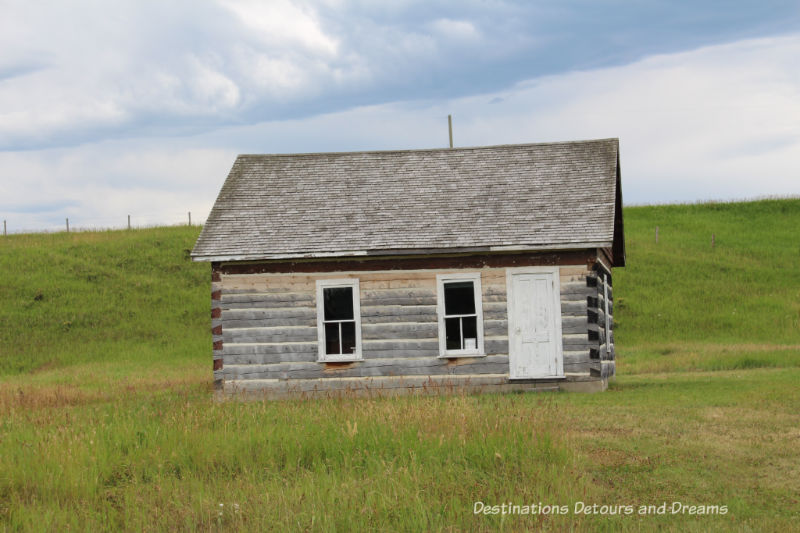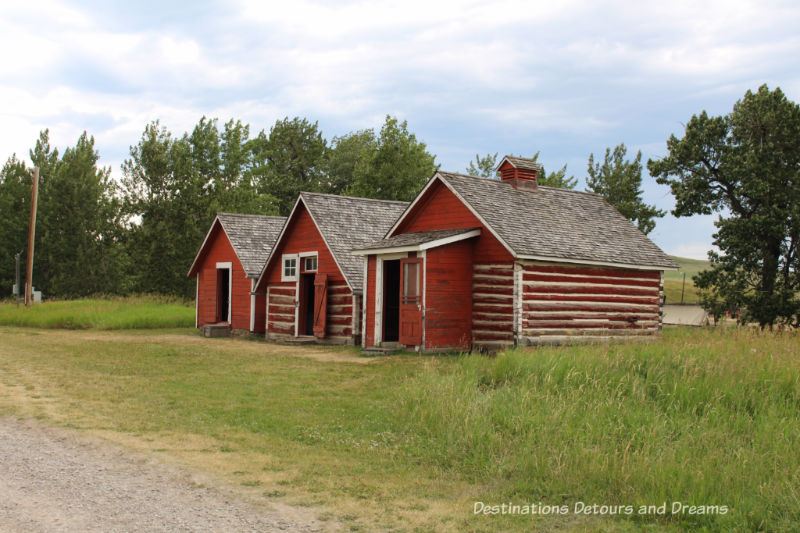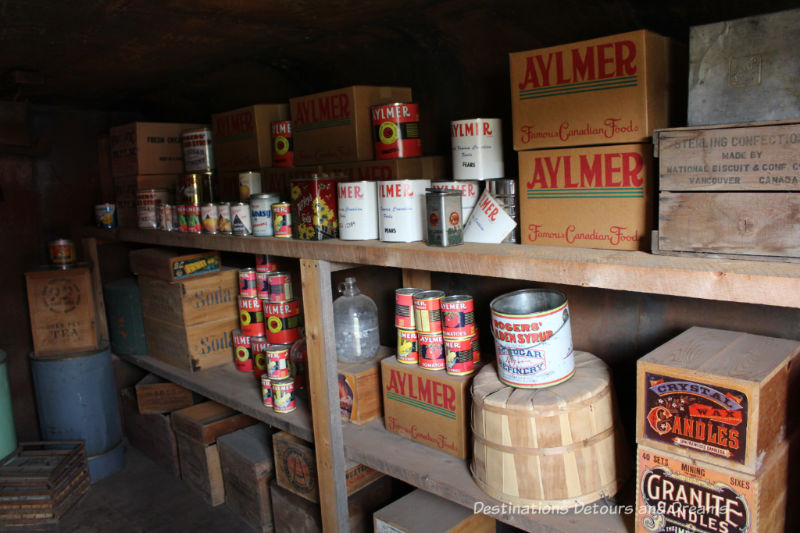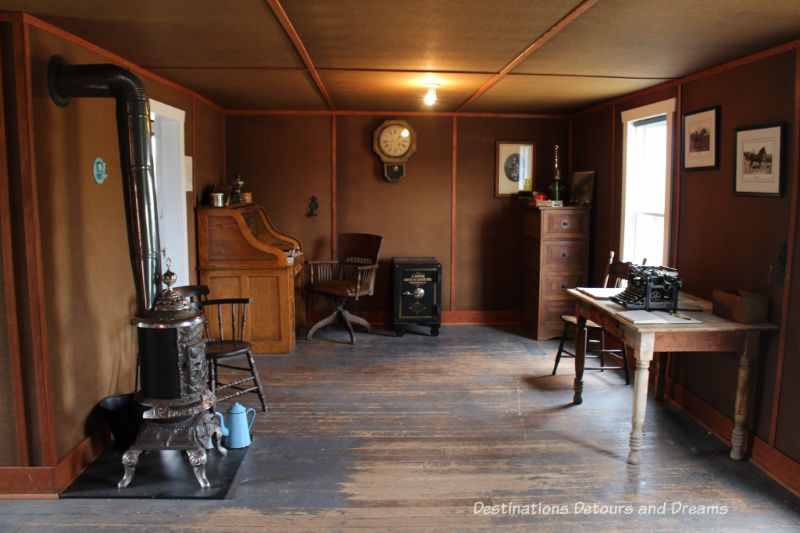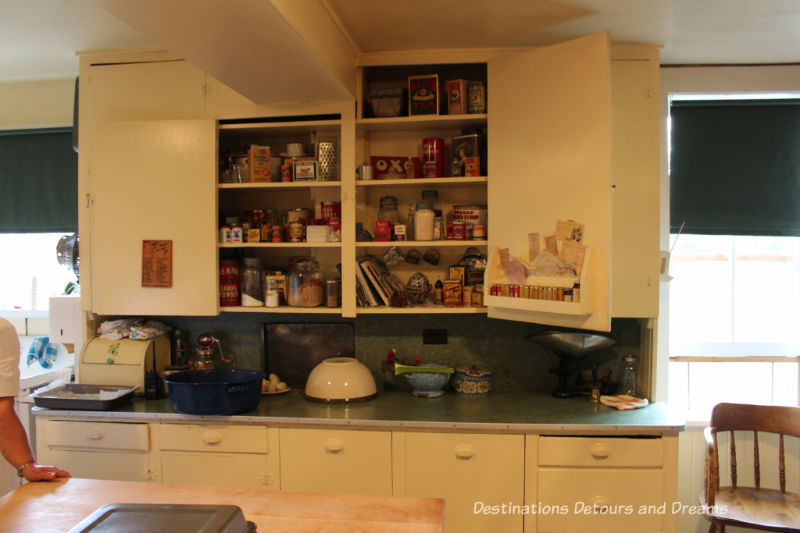 The cookhouse was built in 1910 after the first cookhouse burned down. It was where orders of the day were given each morning and cowboys relaxed at night. The cook had a bedroom on the main floor and full time ranch hands and chore men slept upstairs in the dormitory. There were fresh baked cinnamon rolls to sample in the kitchen when I entered. At other times, there may be cookies.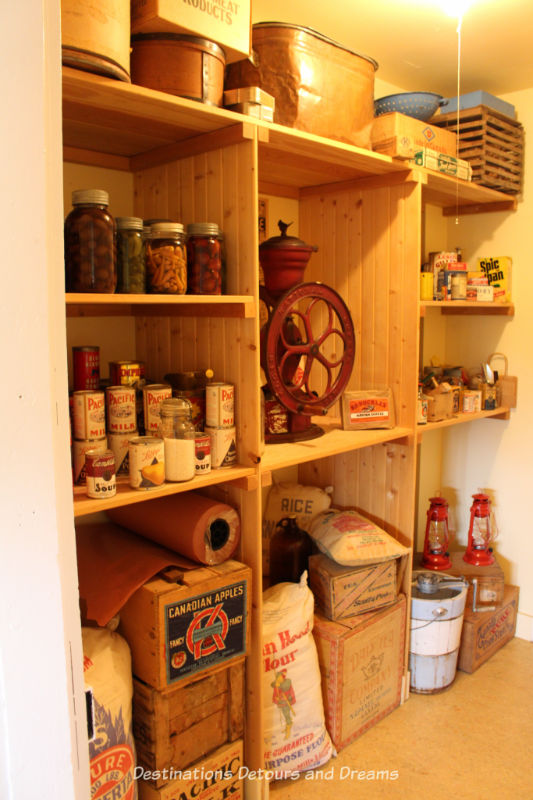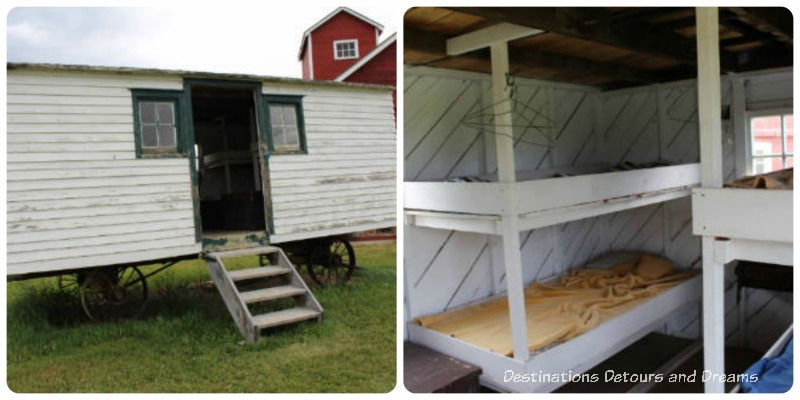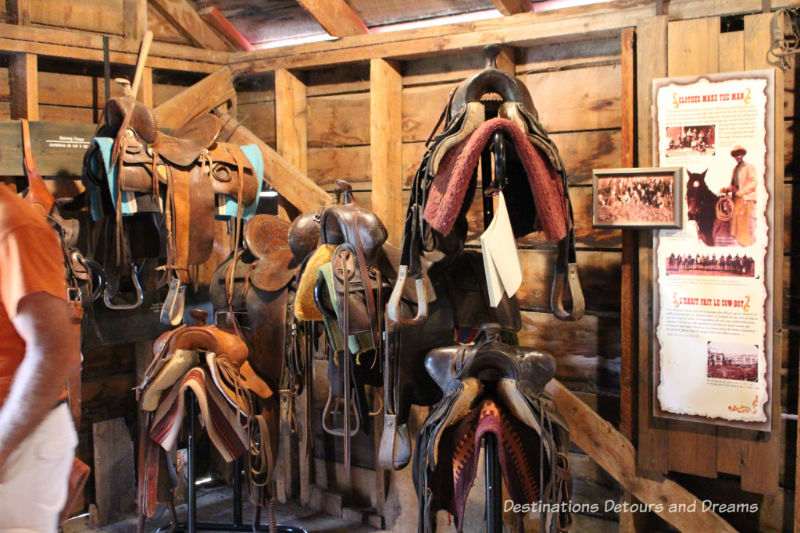 A collection of artifacts along with written information in the back of the Saddle Horse barn explain details of ranching and ranching life, from clothes and saddles to ranching chores such as "mucking out" and "jingling the horses" to leisure activities. The barn was built in 1882-1883.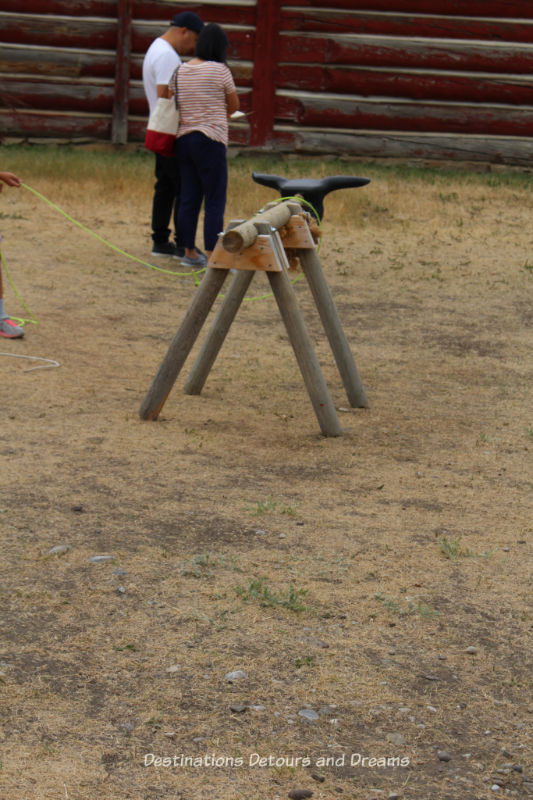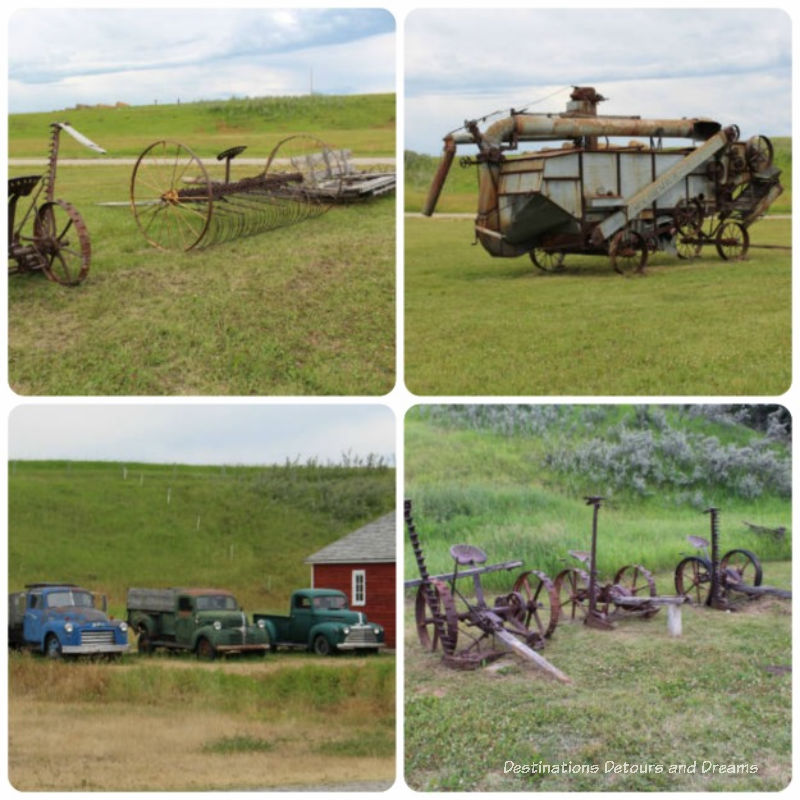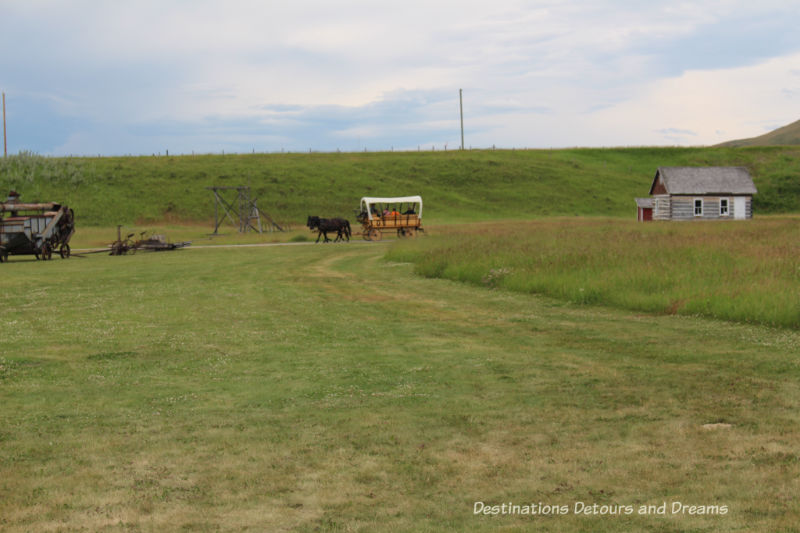 Horse-drawn wagons offer rides between the Visitor Centre and the heart of the ranch buildings. Or you can walk and check out some of the buildings along the way.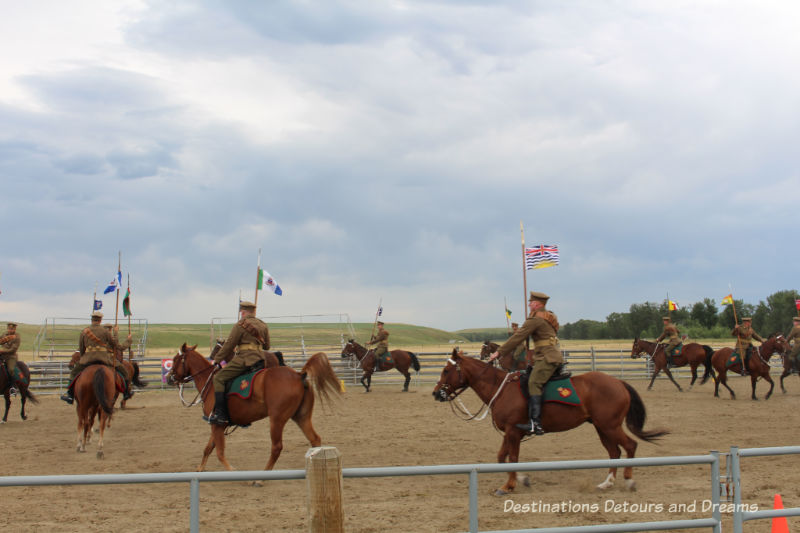 The Bar U Ranch is open daily 10 am to 5 pm from May 15 to September 30. Check their website for special events. The day I visited, there was a musical mounted ride performance by the Lord Strathcona's Horse regiment. Riders carried flags from each of Canadian's provinces and territories. They wore World War I uniforms in honour of the 75th anniversary of the Dieppe Raid, a battle in which many Canadians lost their lives. It was a hot day and the wool jackets were quickly removed after the ride. If you want to see a bit of the ride, view the two short videos below.
There is a restaurant on-site in the Visitor Centre prior to the area of paid admission. The restaurant serves traditional ranch food, such as homemade soups, chillies and burgers, as well as salads and sandwiches. We had lunch there and the food was very good.
Bar U Ranch is 100 kilometres southwest of Calgary on Highway 22 (known as the Cowboy Trail), just south of Longview, Alberta. It is open daily from 10 am to 5 pm mid-May to the end of September.
Never miss a story. Sign up for Destinations Detours and Dreams free monthly e-newsletter and receive behind-the-scenes information and sneak peaks ahead.
PIN IT